Lamb scottadito with summer fregola was the first thing I cooked from 'a change of appetite'; I had some local, organic lamb cutlets and Diana Henry's marinade of olive oil, lemon juice, oregano and chilli flakes was simply delicious. I couldn't wait to try her smoked mackerel, beetroot and poppy seed relish the following evening.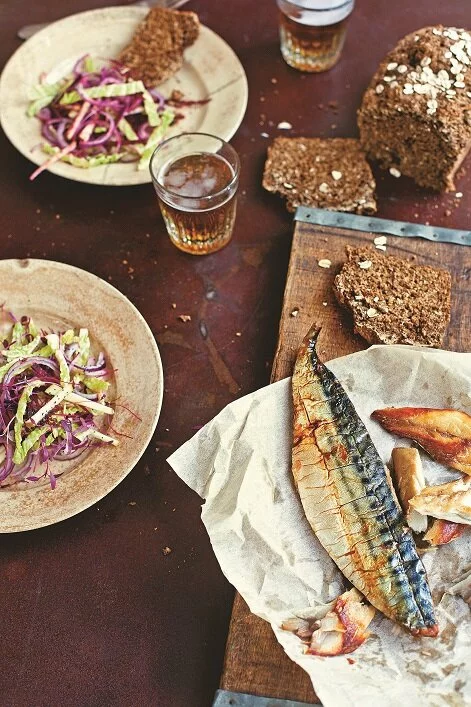 Next was the sweet-tart gooseberry, almond and spelt cake. Inspiring ideas to use the last of my purple sprouting broccoli before it flowers too. And so it continued – a pattern of hungrily reading Diana's beautiful prose then cooking my way through the enticing recipes immediately.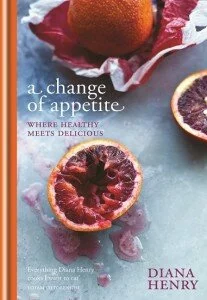 This is a book about healthy eating, and it arrived at my home at a time when the wild cherry tree is covered in blossom and the warmer weather is forcing me to shed those more forgiving layers of clothes. Lighter, less calorie-laden dishes are obviously welcome. But that isn't why I'm so keen to eat my way through 'a change of appetite' – it's just all so blooming tempting. Even Ruby, my six year old daughter who's begun looking suspiciously at my chocolate brownies recently (asking if I've sneaked in any beetroot) has bookmarked the date, apricot and walnut loaf cake. It's brimming with dried fruit, malted brown flour and healthy seeds, so I'll happily bake it for her. And scoff it too, it looks wonderful. Definitely one of my new favourites for a feel-good browse at the end of a busy working day, 'a change of appetite' is such an utterly beautiful book. The gorgeous photography helps but Diana Henry's recipes and descriptions are just as seductive. From her Persian salad (I note happily that most of the ingredients including borage flowers and violets are currently growing just outside the kitchen) to squid with couscous, chilli, mint and lemon, this may be healthy food but there's not a hint of self-denial. Written by a food writer who blatantly adores eating, none of the recipes are going to be joyless. In fact Diana stresses that her latest book is about food that's "accidentally healthy" and I love her assertion that: "I'm much more into living life to the full than I am into thinking of my body as a temple." Diana set out to "explore what a 'healthy diet' actually is and come up with dishes that were so good (and good for you, too, but first of all delicious that you wouldn't feel you were missing out" and there are lots of interesting facts and opinions about which fats are fine to use freely, which to keep an eye on and why switching from refined carbs to whole grains is sensible. The emphasis though is on drawing on the robust flavours of Middle Eastern, Scandinavian, Japanese, Thai, Burmese and Vietnamese food – with food so fabulously fragrant with herbs and spices, you don't crave excess fat, salt or sugar. With scandi salmon burgers, Sicilian artichoke and broad bean salad and Persian saffron and mint chicken amongst the many recipes still on my to-cook list, this book is influencing my planting plans as much as my shopping. While dried sour cherries and lots of interesting whole-grains are on the shopping list, Diana Henry has inspired me to be more imaginative in salads with the many garden herbs that are already emerging. And to grow more radish. Many hued radish in fact. Rather than use herbs as an afterthought in salads, Diana has reminded me that "…in the Middle East, they can be the salad." And with dill fronds mingling with flat leaf parsley, mint and edible flower petals (violets and borage I think) as well as mauve and pink radish in this Persian salad, look at how beautiful this can be: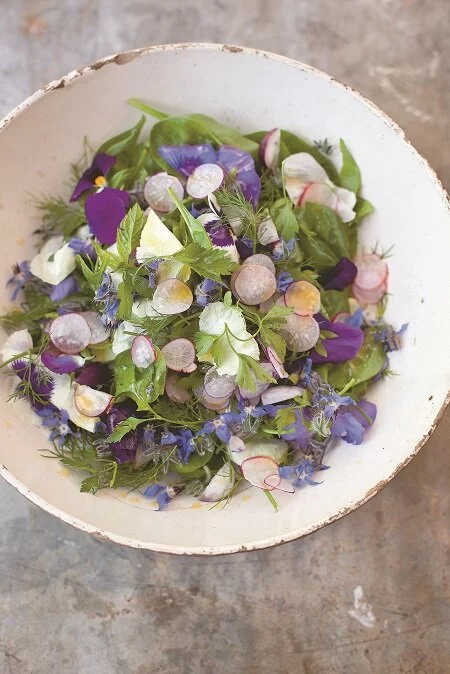 With thanks to Octopus books for my review copy of 'a change of appetite' by Diana Henry, published March 2014 and for the use of the lovely photos above from the book. If you're as addicted to books about food as I am, I can also recommend a read of this piece on Diana Henry's blog about her favourite cookery books. It may prove expensive though.