My newfound enthusiasm for cheese-making took me to Woefuldane Organic Dairy near Minchinhampton last week. Having experimented with simple soft cheese-making, including paneer, feta and ricotta, I was keen to find out a little about hard cheese-making.
Holmleigh, a small local dairy farm that supplies me with wonderful un-homogenised milk had mentioned that Woefuldane sometimes make delicious cheese for them and that these were the people to talk to locally about artisan cheese-making.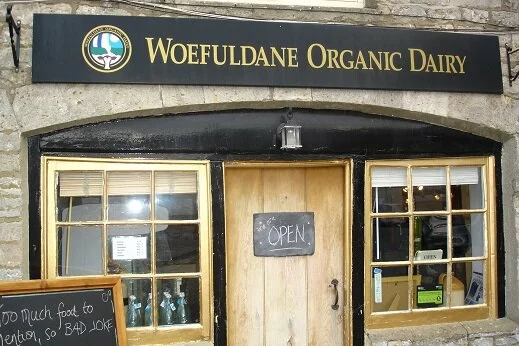 A small family business, Woefuldane farm is run by father Jonathan with the help of daughter Olivia – they're out in all weathers and for long hours to produce the gorgeous, creamy milk from their Shorthorn cows. Melissa is in charge of the dairy and, with the help of dairy maids Emma and Hannah, bottles the milk and also transforms it into ten different cheeses, butter and the most temptingly thick cream and yoghurt.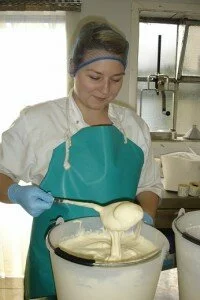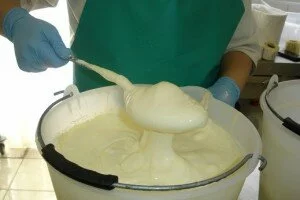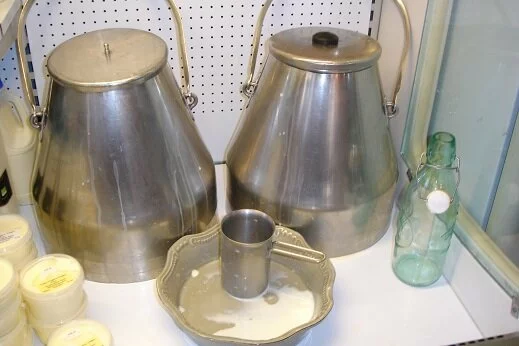 Much as I love my own area of the Cotswolds, when I stepped inside the little shop in the main square of Minchinhampton where son Henry sells the dairy produce, I wished I lived nearer. Locals filled their own containers from pails of creamy milk (a beautifully old-fashioned way of cutting packaging waste) and a counter of cheeses including Hampton Blue (a powerful roquefort bite and spectacularly blue), Double and Single Gloucester, smoked Forest Oak and Blue Heaven (a creamy soft blue cheese) tempted me. All of the cheeses are Woefuldane's own, as is the cream, milk and yoghurt. To complete the simple range of beautifully made staple foods, local eggs and ham are on sale. In a cosy corner a few tables offer the chance to dally over a good coffee and slice of cake or a simple lunch.
Back in the dairy, just across the yard from the farmhouse, it was great to hear about cheese-making from Melissa. Talking to her, it was evident how much of a part the quality of their milk plays in Woefuldane's cheese. The cows are out in the fields every day, even in winter (although they sleep under cover at night when it's cold) and Melissa says, "It's really important for them to get the exercise, it keeps them fit and they like it." She says that they're a "very old-fashioned farm", making hay, not silage: "It makes much better milk for cheese."
While we talked, Melissa was keeping an eye on a huge vat of milk to check if curds were forming for a Camembert style cheese. The milk had come straight from the cows at body temperature and was then heated to 30C before the starter culture was added; moulded culture is added to encourage a white mould to develop. Melissa recommended that once it's ripening the cheese ideally needs to be at a temperature of 12/13 degrees C and needs humidity – you can stand bowls of water near to it if this isn't the case.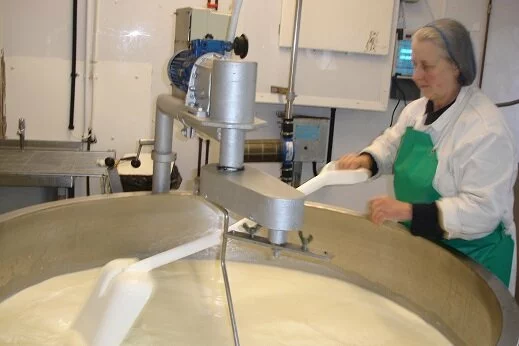 All of the cheeses at Woefuldane are made by hand, using time-honoured methods and there seems something beautifully satisfying about doing justice to such good quality milk in this way.
Hearing about the scalding, heating of curds in whey, draining, cutting into blocks, salting, pressing and ripening of hard cheese-making, I was as keen to try making some as I was to eat it.  Especially when I looked at the shelves of ripening cheeses.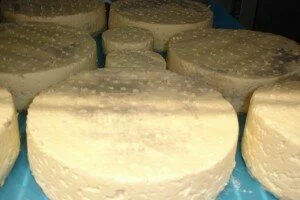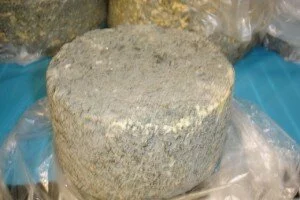 I think I'll need to be a little more patient though if I'm going to try my hand at hard cheeses. Some of Melissa's cheddar style cheeses take at least 6 months to mature; not quite like deciding to make paneer for dinner on the same day.
Before tackling this trickier process, I couldn't resist buying some of Woefuldane's yoghurt to make Labneh when I got home. The simplest of cheeses, all you have to do to make Labneh is place yoghurt in a sieve lined with muslin. Tie up the four corners of the muslin and suspend over a bowl – I just tie it to my tap which rises quite high over the sink or use brackets of a shelf in my kitchen. If it's too warm in the kitchen, I've suspended it in the fridge, tied to the wine rack. The whey drains away leaving a ball of creamy cheese that's perfect in Middle Eastern influenced dishes, including lots of lovely Ottolenghi recipes.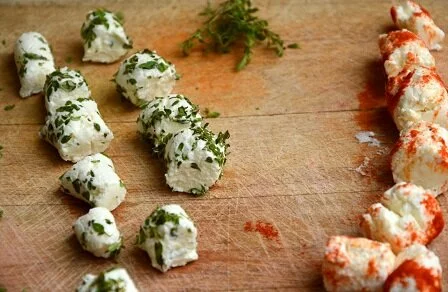 I had a suspicion that Woefuldene yoghurt would make wonderful Labneh. I was right, it's so creamy, with a gorgeous subtle flavour. Once it had drained in muslin for 24 hours, I rolled it into little balls and covered them in olive oil in jars, They should keep in the fridge for at least a month.
Some of the balls I left plain, some I rolled in lemon thyme from the garden and some were rolled in paprika. We scoffed some last night with flatbread made on the wood-burner, little lamb koftas and broad beans(frozen when we had our summer glut) and I just wish I'd bought more yoghurt, they're delicious and so easy. I think that rolled in the smoky red paprika they'd make great Christmas gifts too. Perhaps alongside a jar of home-made dukkah.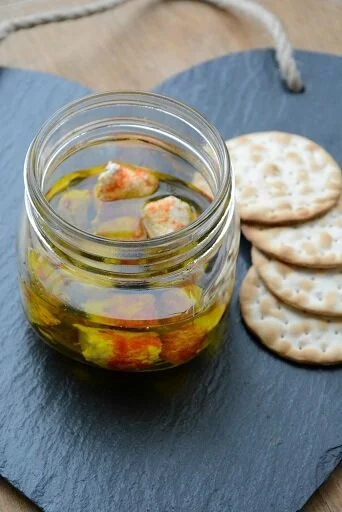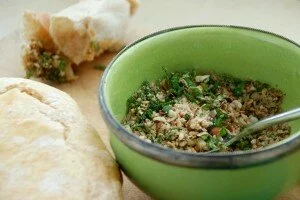 As for the hard cheese-making, very inspired but it may be a few months before I report more. A few months of strange cultures lurking and unknown moulds forming!