Although we've had several glorious days of uplifting Spring sunshine lately and I've enjoyed some great gardening time with Ruby, there are still days when only slow-cooked comfort food will do. The hogget from Windrush Farm that I cooked for 6 hours with rosemary, garlic and our home-made cider was definitely food to warm the soul as well as body.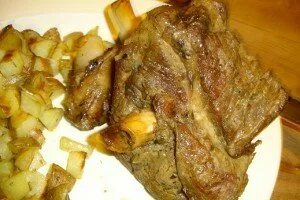 Locally farmed in a traditional way and cooked slowly on our wood-burning stove, the hogget was full of flavour, tender and still succulent due to the liquid.
Windrush Farm isn't far from home, near Cold Aston in the Cotswolds and some great old breeds of sheep are farmed there – pedigree Windrush Berrichons, Dorsets and Whitefaced Woodlands. All naturally reared on pasture, resulting in great flavour and nutrition.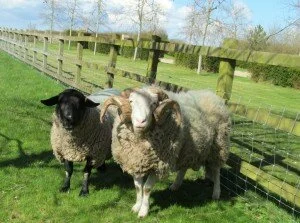 Even better, they sell hogget and mutton. I've been wanting to try mutton for ages – partly because I look at the new lambs at this time of year and like the idea of them living longer. Also I was curious about the difference in flavour from animals that have grown slowly and naturally to those that are barely weaned.
I have to admit that I didn't know what hogget was until I spoke to Peter from Windrush Farm; it's in between lamb and mutton, meat from sheep between 12 and 24 months. Very tasty it is too, and so suited to slow cooking.
Living as I do amidst gorgeous honey coloured towns and villages that were mostly built from the wool trade, I was really interested to hear that hogget was common back when there was a market for wool. Now that their fleeces have so little value, it rarely makes economic sense for farmers to keep sheep, other than ewes and rams for breeding, beyond 12 months. Great then to hear of a local farm that's keeping this tradition going.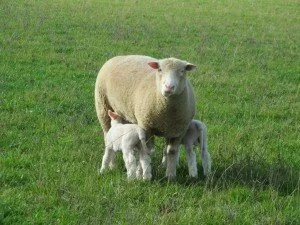 I cooked a shoulder of hogget very simply – this is hardly a recipe, more about great produce. But this is how I went about slow-roasting this delicious meat:
First strip a couple of sprigs of rosemary of leaves and bash them in a pestle and mortar with 2 cloves garlic, Maldon sea salt and some olive oil. I rubbed this garlicky paste all over the hogget and left it for a few hours. Then I cooked a couple of sliced onions slowly in more olive oil and placed them in a large casserole pot. The hogget was then browned for about 10 minutes in the frying pan I'd cooked the onions. I placed the hogget on the onions, added a couple more whole cloves of garlic and a glass of cider, then cooled covered at 110C for about 6 hours. I removed the hogget and covered it in foil while I added a tin of cannellini beans to the onions and stirred through.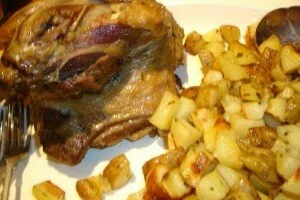 We ate our hogget and beans with lots of purple sprouting and garlicky potatoes. Leftovers went down very well too with flatbread, labneh, houmous and salads.
We still have a few hogget chops that I'm planning to try in a tagine and my thoughts are turning to mutton already. Thanks lots to Windrush Farm for such tasty meat.