Over the last few months, bread-baking has been my chosen form of hibernation. Enjoying the warmth of the kitchen while I experiment with baking sourdough, focaccia, malted grain loaves and now bagels, it all beats hiding under a pile of leaves.
I'm very grateful to Celia, whose enthusiasm for baking in her fab blog, Fig Jam & Lime Cordial, regularly inspires me, for sending me some of her sourdough starter. When Celia offered to share Priscilla Queen of the Refrigerator (in dried form, with instructions of ready to be rehydrated) I was very excited. Priscilla's offspring, Edna, now regularly helps my sourdough slowly and majestically to prove. Lovely to think that thanks to Celia's generosity Priscilla's offspring are being similarly productive in kitchens around the world.
Now a little of Edna has gone into my bagels, an experiment my daughter was keen to get involved in. Regular bread-making is no longer too interesting to her, but rolling dough around your arm into a doughnut shape and then dunking it in boiling water, now you're talking. Obviously I made plenty of dough to allow for mishaps – more from me than 7 year old Ruby.
Have to say though, that it isn't as tricky as it sounds. Our bagels were obviously very rustic, some may say messy, in appearance. But they tasted great. Even though I very gingerly lowered my dough rings into boiling water, waiting for them to disintegrate into a mush, it does work.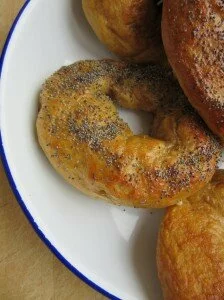 This is how we made them:
Bagels
Ingredients
450g strong white bread flour (a mix of white/wholemeal is good for bagels with banana and peanut butter)
2 teaspoons salt
7g sachet dried yeast
1 tablespoon honey
1 tablespoon sourdough starter (optional)
1 tablespoon rapeseed oil
1 tablespoon molasses (optional)
1 egg , beaten
Poppy seeds & sesame seeds
Mix the flour and salt in a large bowl. Dissolve the yeast in 250ml warm water and stir in the honey and oil. Pour the liquid into the flour to make a dough, add the sourdough (if using) and knead for about 10 minutes, adding more flour if the dough becomes too sticky or a little more water if it's too stiff, until the dough is firm and elastic. Place in an oiled bowl, cover with a damp tea towel and put in a warm place until the dough has doubled in size. If you have time, leave for a slower prove overnight on a cool windowsill.
When the dough has proved, bring a large saucepan of water to the boil and add the molasses. Turn off the heat and cover. Lightly oil two baking trays.
Divide the dough into 7 equal chunks and roll each into a long, thin sausage shape. Bring the ends together, splash with a little water and squeeze together to seal. Place on the baking sheets, cover with a damp tea towel and prove for 20 minutes. Preheat oven to its highest setting.
Bring the saucepan of water and molasses back to a simmer. In batches of two or three at a time gently drop each bagel into the water and turn over after a minute. Simmer for another 1- 2 minutes then remove the bagels from the water and drain.
Place the bagels on the baking trays, spacing widely as they will expand as they cook. Brush the tops with the beaten egg and sprinkle with sesame seeds, sea salt or poppy seeds. Bake for about 7 minutes until golden then turn over and cook for a further 7 minutes. Cool on a wire rack.
Don't wait too long before eating though – they're at their best within the first few hours, delicious with smoked salmon and cream cheese. Otherwise they're great toasted the next day with sliced banana and honey or peanut butter.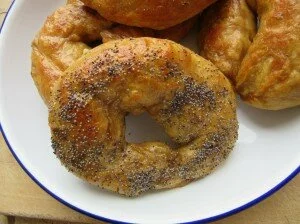 The primroses, slender pink stems of rhubarb (and mass of weeds as yet untouched from last year) are beckoning outside so my hibernation is at an end. This week the storms are raging outside though; a fallen ash tree at least means we'll be warmed by the wood-burner during future winter hibernations. And there's still an excuse for cosy baking, so will report more on focaccia and sourdough soon.