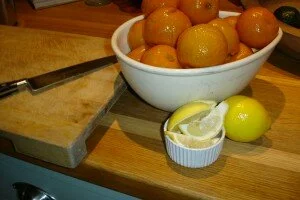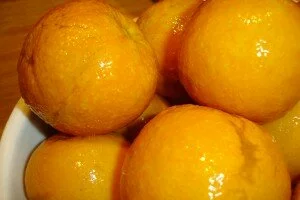 My daughter has a major dilemma this week. She has her first school disco and is wondering whether to wear her fairy outfit or flamenco dress. Meanwhile I'm wondering whether to make orange and flower water jam or pink grapefruit marmalade to add to my stash of seville marmalade. Sometimes I do wonder if we're living in a surreal rural bubble.
But our hill is covered in snow again, the signs of energing life I was relishing are covered in a white blanket and I am back to woodburner worship. And making marmalade seems the right thing to do. Just as I love the comforting aroma of bread baking on a winter's day, the citrus smells that fill the kitchen during a marmalade session make all that slicing of orange peel worthwhile. I love Diana Henry's description in salt, sugar smoke (which has some lovely, unusual marmalade and orange jam recipes) of "vats of sunshine." Besides, spreading my coarse (or messily) cut home-made marmalade onto thick slices of toast to go with a big mug of tea on a weekend morning is one of life's simple pleasures.
This is the recipe I use every year for Seville Marmalade:
800g seville oranges
1.4 kg sugar
juice of 2 lemons
Put the oranges in a saucepan, fill with water to cover/so that they float freely, bring to boil and simmer for about 2 hours. A lovely citrus aroma will start to fill the kitchen. Take them out of pan, reserve the liquid, cut the oranges in half, scoop out the pips and put in a small pan. Chop up the oranges finely or coarsely, depending on personal preference (or patience and time!) and put them in large pan.
Ladle some of cooking water over pips in small pan and bring to boil. Boil for 5 mins, then strain through a sieve over chopped oranges in large pan. Add the lemon juice and stir in sugar. Bring to boil gently so that sugar dissolves before marmalade starts boiling, then boil until setting point is reached (I normally use a jam thermometer), about 15 mins. Ladle into sterilized jars (I normally wash then dry them in woodburner or use them straight from a hot cycle of the dishwasher) and seal.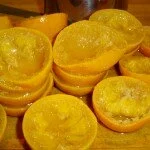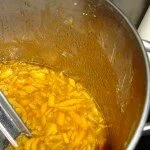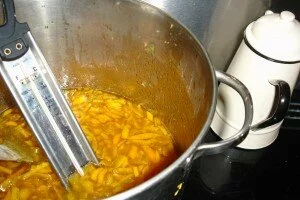 While it's hard to beat generously spreading sourdough toast with this marmalade, these are some of the other uses I have in mind:
– spread it onto Trine Hahnemann's crispbread or shower buns to go with coffee
– make the marmalade muffins from I write this sitting in the kitchen sink (I love the title of this blog, taken from the opening line of the wonderful 'I Capture the Castle.'
– try Hugh Fearnley Whittingstall's Ham, Squash and Marmalade
– use Diana Henry's idea in 'Cook Simple' to heat 175g marmalade with 4 tablespoons golden syrup, 50ml orange juice and juice of 1 lemon. Bring gently to boil, press marmalade with wooden spoon to break down and serve warm over chocolate and vanilla ice creams.
– make the lemon and marmalade cake from Belleau Kitchen
– bake Sally's fruity breakfast loaf at mycustardpie