I'm loving the childish excitement for Christmas building up and am obviously looking forward to all the food, drink and family. My daughter's first nativity play (she is Mary, though wants to be an angel as "they get to fly"!) has me feeling excited too. But I'm feeling very tardy in my preparations this year.
I may have a huge ham from our piggies in brine, an abundance of pickles, including piccalilli, a pumpkin achar from Diana Henry's 'Salt Sugar Smoke' (I reckon it will go well with the leftover turkey) and an Apple, Fig and Pear Chutney with cardamon from Karen at Lavender and Lovage; but the Christmas pud ingredients are still in the cupboard, the house is in a state, and despite lots of optimistic plans, no presents are made or bought yet. Then there' s the nativity tights.
When Ruby came home after rehearsals telling us she was Mary in her first nativity, I have to admit we were a little suspicious. She is prone to a little creativity in the things she tells us after all. But it turns out she actually is Mary and although I always thought this was a dream role for lots of little girls, Ruby definitely has aspirations to be an angel. She seems to think her outfit is going to be a party dress (under the inevitable blue material wrapped around her) but I have instructions from school to get white tights. Realising the outfit has to be taken in next week and I still haven't got the white tights, I have visions of a Pippi Longstocking style Mary with hastily grabbed crazy tights.
At least I can sleep easy knowing that Mary will have had a good breakfast. I'm still on a healthy breakfasts mission, especially on school days when I have an effort to get good fuel into my daughter in time. And with lots of ideas for festive cupcakes, rocky road and Christmas tree biscuits in my head, a bit of wholesome nourishment seems particularly necessary for all of us. I make the granola regularly with whatever dried fruit I have to hand, but cranberries seem right for December. I've added quinoa to my usual mix this month to fit in with my quest for pre-festivity healthiness.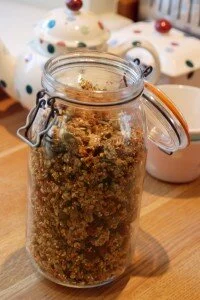 Recipe – Christmas Granola
450g rolled oats
240g pumpkin seeds
100g quinoa
175g apple sauce (I make big batches of this when there's an apple glut and freeze in portions)
2 teaspoons cinnamon and 1 teaspoon ginger
6 tablespoons runny honey
100g light brown sugar
250g hazelnuts (or you can use cashew nuts/almonds)
1 teaspoon maldon sea salt
2 tablespoons rapeseed oil
300g cranberries
Mix everything except cranberries together in a large mixing bowl and then spread onto 2 baking sheets. Bake at 170C for about 40minutes, turning the mixture over with a spatula half way through so it is evenly golden. Allow to cool for a few minutes then gently scrape off the bottom of baking sheets. Leave to cool completely on baking sheets then mix with cranberries and tip into jars. Great with greek yoghurt and fruit but good with milk too (the sweetened/honey tasting milk is a sort of grown-up frosties milk). Chunks of this also make a good energy packed snack.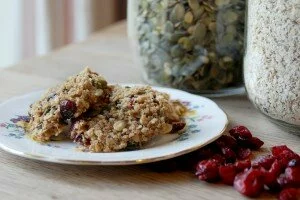 The breakfast cookies are from an  Abel and Cole recipe on ruralmums.com (a great website with recipes and lots of interesting ideas, it's the online equivalent of a cup of tea and a chat in a cosy kitchen). Grated carrot and lemon zest in the original recipe were ingredients which I omitted, and I've added cranberries to make them feel christmassy. I'm loving experimenting with organic British flour in these sort of recipes; usually naturally low in gluten due to our weather, it's often got a really interesting flavour. I used organic wheat flour from Tamarisk Farm, an organic farm with lovely fields leading down to the sea that we came across on holiday in Dorset. Gilchesters, an organic farm in Northumberland that stone grinds its own old varieties of wheat sells some interesting flour online too. My daughter thinks it's great having biscuits for breakfast when I give her a couple of these with a banana milkshake.
Recipe Christmas breakfast cookies
Ingredients
o 125g wholemeal or spelt flour
o 150g jumbo porridge oats
o ½ tsp bicarbonate soda
o A pinch of sea salt
o ½ tsp ground cinnamon
o 100g dark or light brown sugar
o 4 tbsp maple syrup 
o 100ml olive or rapeseed oil
o 100g cranberries
o 100g pumpkin seeds
1. Preheat the oven to 180˚C/Gas 4.
2. Add the flour, oats, baking soda and salt to a big bowl. Mix well to ensure the baking soda and salt are evenly distributed. Add the remaining ingredients. Mix everything together.
3. Scoop by the tablespoon and press into rounds on an oiled baking sheet. They will seems really crumbly at this stage, but don't worry they'll bake well. You'll probably get about a dozen per tray.
4. Bake for 10 mins, or till just starting to set and just picking up a little colour. They'll set to be soft and chewy like this. If you'd prefer them crispier, flip the cookies over and return to the oven for 3 mins or so to crisp up the bottoms.
5. Once cooked, they store nicely for a week in an airtight container.