I know, freshwater fish, potato cakes and childrens' crafts may not be inextricably linked in everybody's mind. And yes, I am developing something of a trout fixation. Trout ceviche last week, trout pate for lunch today, baked trout planned to go with the Easter mezze. Thanks to Pete the FishCatcher's generosity, trout is becoming the new pork in this house. But honestly, the first two are delicious and there is an obvious connection.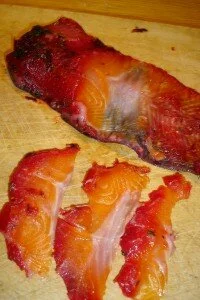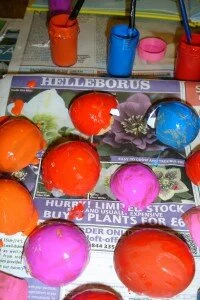 When we were given 12 amazingly fresh trout last week, I was very excited about the prospect of beetroot-cured gravlax. I adapted the recipe for beetroot-cured salmon gravlax in Diana Henry's wonderful preserving book, salt sugar smoke, leaving the fish to cure for a much shorter time as I'd heard that 48 hours was ideal for 'curing' trout.
I'd tried this gravlax with salmon at Christmas and was swayed by the glorious ruby-tinged look of it to use beetroot again. Even though I have to agree with Diana Henry that: "To be honest, the beetroot only flavours the fish slightly, but makes its mark through the colour it imparts." I have to admit it's made it's mark on my copy of salt sugar smoke too. But I like to think that my beetroot stained pages are a reminder of great meals – rather than my shoddy ways.
The trout gravlax was delicious. The earthy sweet and salty flavours work well with root veg salads and slithers of it are wonderful on scrambled eggs. But latkes are my favourite treat with gravlax. Especially if there's a little sour cream or some horseradish mixed with creme fraiche /greek yoghurt on the side and a green salad. I like red mizuna leaves, easy to grow and hardy even in the current chilly weather, moroccan cress (again, easy to grow in the garden in winter/spring/autumn) and young leaves of the salad burnet that grows by our back door in the salad.  Maybe a few capers or gherkins too.
As long as you have very fresh trout, the gravlax is very easy to make and is the sort of salty, robust flavoured food that goes a long way:
beetroot-cured trout gravlax
1.2 kg trout, in fillets but with skin left on.
6 tablespoons tequilla (I had some lurking in the cupboard, it works very well, but you could follow Diana Henry and use vodka)
125g unrefined sugar
100g sea salt
2 teaspoons coarsely ground black pepper (Diana uses 2 tbsp)
large bunch of dill, roughly chopped
400g raw beetroot, grated
Line a dish with foil and put one of the trout fillets (2 if they're small) skin down on top. Pour over half the tequilla. Mix the sugar, salt, pepper, dill and beetroot together and spread over the trout.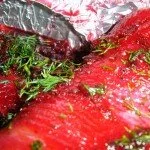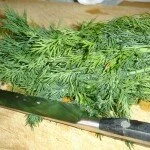 Pour on the rest of the tequilla and put the other piece/pieces of trout (skin up) on top. Pull the foil up around the fish, then put some weights on top (I used some of the numerous jars of opened preserves already in the fridge, but tins, jars are good too).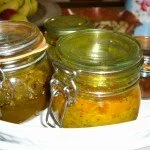 Leave in the fridge for around 48 hours, turning the fillets half way through. Remove the foil, scrape the cure off the fish and slice diagonally off the skin as you would smoked salmon. Will keep, wrapped in the fridge for a week.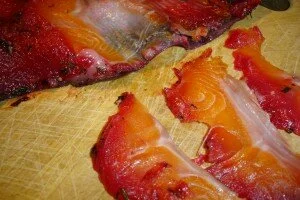 Yotam Ottolenghi and Sami Tamimi's Jerusalem inspired me to make the latkes. Their version includes parsnips and I like this too, it just happens that I've dug all of ours. And I've replaced the chives with my Egyptian Walking Onions as they're bursting into life in accidental clumps dotted around the garden and I can't resist cooking with them. In a few months time, I'll no doubt vary the herbs.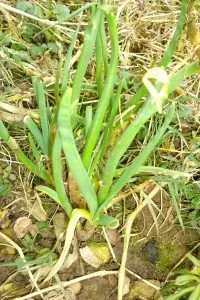 Potato Latkes (makes 12)
900g peeled and grated potatoes
a few Egyptian walking onions (or chives) chopped
4 egg whites
2 tablespoons cornflour
80g unsalted butter
100ml rapeseed oil
salt and black pepper
The Jerusalem recipe recommends rinsing the potatos in cold water, then drying them on a kitchen towel. To be honest I've never tried this, partly from laziness, partly because I've always made these at busy family teatimes so far when everybody is hungry and I need to crack on. They're great just without this, but by all means do it properly! I mix the grated potato, egyptian walking onions, egg whites, cornflour, 1 teaspoon of salt and plenty of black pepper in a bowl. Then heat half the butter and oil in a frying pan and form half the potato mixture into flat (1 cm thick) pancakes, squeezing out excess moisture as you go. Cook for 5 minutes on each side until golden brown and drain on kitchen roll while you cook the remaining latkes in the spare oil and butter. Delicious warm with sour cream and wonderful with slithers of the trout gravlax.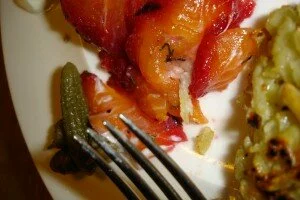 Ruby loves these and has also had a strong desire to make eggshell mosaic. In the form of a fish birthday card for her Dad to be precise. So every time I've made these lately the yolks have usually gone into custard (often of the rhubarb variety) and the shells have been washed and saved.
Delighted when we'd scoffed enough to have a big supply of eggshells, Ruby painted each one, sort of carefully. We're a big fan at the moment of the lovely Melissa and Doug paints that come in fab bright colours.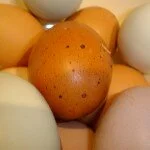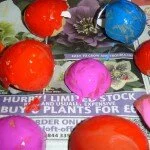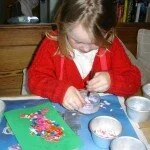 When dried (this took a while as some were daubed quite liberally with paint) Ruby cracked the different coloured eggshells into pots.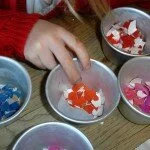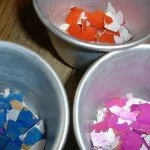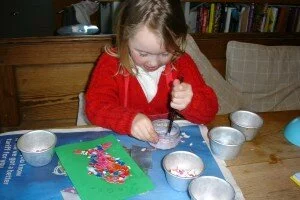 We drew a fish, spread it with glue and my 5 year old artist set to work decorating it with her mosaic. After a while this descended into adding the eggshells to the glue to make pink glue of course. But if there are many rainy afternoons over the Easter holiday (surely not!) I can recommend eggshell mosaic as very easy and good fun.