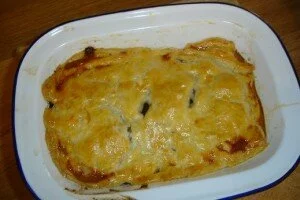 Lately I've developed a pie fixation. Damp, grey February days are surely meant for slow-cooked food and unctuous pie fillings. Babies have also given me a convenient excuse.
First, I visited a friend with a gorgeous new baby boy and thought a large roast chicken and mushroom pie seemed the right thing to take for a sleep deprived Mum who had lots of other mouths to feed. I politely kept her company in scoffing of course. Ruby and I were also both keen to visit her newest (and very cuddly) cousin, Teddy during half term. When we first met Teddy, I took a steak and kidney pie and it turned out to be just what my sister needed. Again it would've been rude not to accompany her in eating pie. A few weeks of breast-feeding and sleep deprivation later, I decided that she'd be in even more need of iron in pie form. I had some stewing steak in the freezer that I was keen to try from the wonderful Buffalo farm that I visited recently and my sister is a big fan of offal. So buffalo and kidney it was.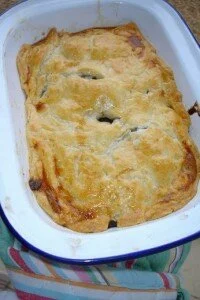 Buffalo and kidney with lots of tasty chestnut mushrooms actually, all cooked slowly for a few hours on the wood-burning stove the evening before our visit. I simmered everything except the buffalo for a while before adding the chunks of lean meat, aiming at an unctuous pie filling full of flavour but with some texture from the buffalo. I'd been warned not to overcook buffalo meat as it's incredibly tender and, knowing how much taste there is in this well-reared, natural meat, I didn't want to reduce it down to nothing.
I cheated with bought puff pastry – well, with a nephew to cuddle, I didn't want to waste time on the morning of our visit. It was a good pie though, and yes, I obviously had to join my sister in tucking into lots of it.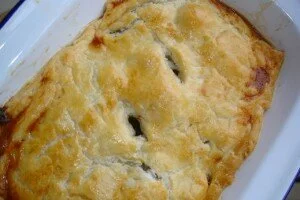 Buffalo and Kidney Pie
1 large onion, finely chopped
1 carrot, finely chopped
400g chestnut mushrooms, cut in quarters
4 tablespoons olive oil
small handful parsley leaves
2 tablespoons butter
4 tablespoons flour
500g stewing steak (I used Buffalo)
250g kidneys, chopped
200ml stock (I used chicken as I had some to hand from the roast chicken pie, but beef would be good)
200ml red wine
1 packet puff pastry
1 egg, beaten
Heat 2 tablespoons of the oil in a pan, add the carrot and onion and cook for 5 minutes or so then add to a large casserole. Add the butter to the pan, cook the mushrooms for a few minutes, add the parsley, then add to the vegetables in the casserole. Season half the flour in a bowl or plate and turn the kidneys in it then heat some oil in the pan and brown the kidney. Add to the casserole along with the stock and red wine, season, cover and cook on a gentle heat for 1 1/2 hours. Toss the buffalo meat in the remaining flour, brown and add to the casserole. Continue to simmer for another 1 to 1 1/2 hours until you have a wonderfully tender mixture that still has some texture. If you are using less tender meat than buffalo, add at the beginning with the kidney.
Heat the oven to 190C. Pour the filling into a pie dish (I made a couple with this mixture) but it depends on the size of your pie dish). Roll out the pastry, cover the pie, crimping the edges in a rustic fashion, and use a pastry brush to brush with a beaten egg. Cook for 30 minutes or until nicely golden.
Lovely with mash and a mound of purple sprouting broccoli.