Kayaking in a sheltered bay, spotting dolphins and scoffing delicious food at the pizza tipi are some of the things I'll remember from our recent hols.
We stayed in Newport, a lovely laid-back little place on an estuary in North Pembrokeshire. You can cross the estuary at low-tide (as long as you're happy to paddle up to the waist) to reach a long windswept beach with great waves for jumping and sand dunes to picnic in.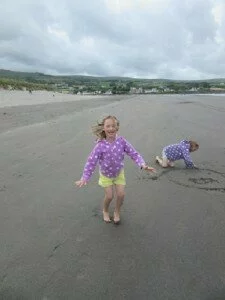 I loved the arty/foodie/slightly bohemian vibe and the variety of beaches from sheltered coves (great for paddling around in our inflatable kayak) to vast, white sandy expanses perfect for kite-flying.
We stayed in Carreg Las, a gorgeous Georgian house that we all wanted to move into permanently. It had a light-filled kitchen that was perfect for lingering over coffee in the morning, scoffing bara brith from the nearby bakery and playing games in the evening.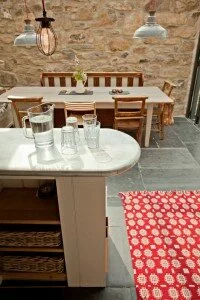 And the simple but stylish decor with slate/stripped wood floors, pale greys and creams and splashes of colour from Welsh textiles or local art was lovely.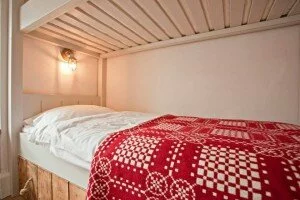 It inspired some art of our own – necklaces made with shells with holes and worn with PJs!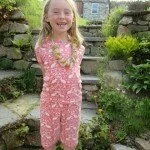 Our first night treat meal at Llys Meddyg, a restaurant with rooms with a passion for foraging and local rooms was delicious – we ate in the very family friendly and relaxed garden restaurant that opens during the summer.
One morning we climbed Carningli, the hill that rises above Newport and grazed on whimberries as we walked. I can't wait to return!