The depths of winter seems like a good time to bake bread. Quick flat-bread is easy throughout the seasons – cooked in minutes on the wood-burner hotplates when it's cold or in a regular oven to go with a herby salad from the garden in summer. But slowly proven bread, maybe risen by wild yeasts from a sourdough starter, baked with nourishing stone-ground organic flour feels right for those months after Christmas when comforting but healthy food is craved. And getting a new sourdough starter established definitely seems easy in a kitchen that's constantly cosily warmed by the wood-burning stove.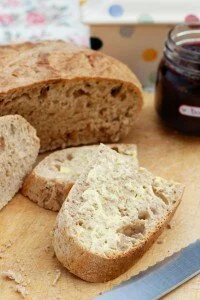 Winter evenings are perfect for curling up with a good book too of course. There seems to have been far too little time for that lately, but the following books have not only inspired me to give sourdough another go, to experiment with herbs more and to look forward to Spring foraging; they're leading on to more great reading. In 'The Modern Peasant' by Jojo Tulloh, a sort of self sufficiency for city-dwellers is explored. Jojo initially describes visiting Patience Gray's hillside home in rural Southern Italy. Lured by Patience Gray's autobiographical cookbook 'Honey from a Weed' (next on my list to read!) Jojo describes the old bread oven where figs dried, the fireplace where hams and sausages were smoked and the larder full of preserves. She concludes: "Patience's remarkable ability to live both in the present and in the past got me thinking, as did her propensity for learning from others. I returned to Hackney determined to eat more weeds (Patience's universal panacea), get bees and seek out those who could teach me their hard-earnt skills." Having thoroughly enjoyed Jojo's account of meeting and learning from organic bee-keepers, a farmer who combines pig-keeping with cheese-making (feeding the pigs seems a great use for all that surplus whey), foragers and bakers, I determined to revisit sourdough, make easy everyday sausages without skins (one of the many tempting recipes in this book) and eat more weeds. The weed-eating enthusiasm was further encouraged by Ian Hemphill's 'The Spice & Herb Bible', an amazingly comprehensive and hefty tome which covers everything from growing herbs, foraging for them, their history and imaginative ways to cook with them. You can even learn the names of the herbs in numerous languages.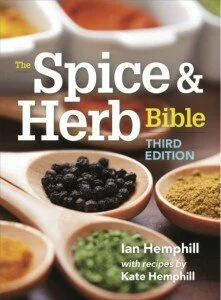 As I said this book is hefty, not the sort to pick up and read from cover to cover, more the sort I'll refer to when wondering if there's anything new I can do with my Angelica, wanting to master a Massaman curry or fancying blending a spice rub. It's packed with fascinating facts (if I find Alexanders I now know what to do with them and did you know they were named after Alexander the Great?) and interesting recipes. Baharat Beef with Olives sounds both comforting and exotic, while I'm keen to mix my own Ras el Hanout and make Lavender and Lemon Olive Oil Cakes. Ian Hemphill (a household name in Australia) has travelled all over the world in search of new spices and herbs and his passion is evident in this spice encyclopaedia which I'm looking forward to dipping into regularly. While the books above make me want to cook and eat, John Jackson's 'A Little Piece of England' makes me hanker for more animals.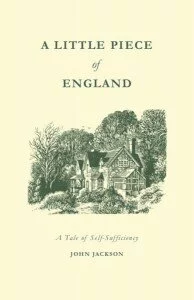 In John's account of how he, his wife and three children built up their smallholding in rural Kent in the sixties and seventies, owls are harboured in the barn and upstairs in the family home his daughter is always looking after a litter of pups or hatching chicks. Their sheep have learnt a few tricks from Houdini. And tales of their guinea fowl makes me nostalgic for the semi-wild old character who used to hang out here.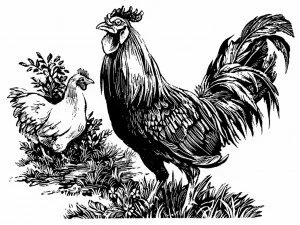 John tells how the Cuckoo Maran hens "gave us lovely brown eggs that looked homely and cheerful at breakfast time." But food doesn't feature a lot in this book at all; the family clearly love their animals and although they have notions of roast guinea fowl, they never focus on livestock as food. Apart from a few eggs, they mainly seem to be bred for the love of them: "It was understood in the family that old age pensioners were allowed to die in peace and dignity. Some of them held out for a long time." So ancient rabbits, guinea pigs and guinea fowls all become much-loved extended family members. A book to curl up by the wood-burner with, that will make you smile as you read, this reissue is also beautifully produced. It features lovely pen and ink illustrations by Val Biro.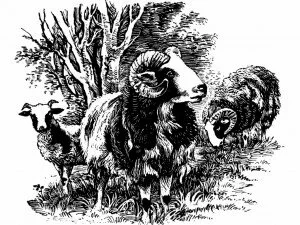 I like John's approach to gardening, which reminds me of my own lazy gardening style: "The plan had been to contrive ways of growing interesting plants without disturbing the general wildness of the place." Most of all though, I love John's enthusiasm for living a life intertwined with the land: "The best way to get an understanding of the land is to use it. I have long believed that the health of a nation is better, and its communities and its cultures stronger, the more it cleaves to and values the land it lives on." All making me want to relish the cosiness of baking bread in the kitchen for the moment, but also sort out the shoddy state of my seed box in readiness for Spring.     With thanks for my review copies of 'A Little Piece of England' by John Jackson and 'The Spice & Herb Bible' by Ian Hemphill. I bought 'The Modern Peasant' by Jojo Tulloh after a twitter recommendation – very grateful. All rambling opinions are my own.