I've obviously been busier using up leftover turkey and beetroot-cured gravlax lately than experimenting with cheese-making. More focused on important tasks such as bashing and melting boiled sweets for the windows of a gingerbread house with Ruby.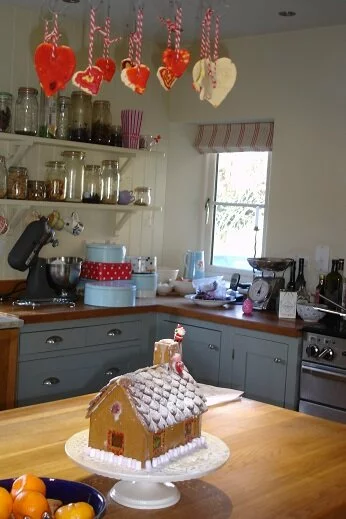 Just before Christmas I did have a go at making an easy semi-hard cheese that matures in weeks rather than months though. I rubbed olive oil and coarse sea salt around the little cheeses (very little actually, attempting cheese-making has made me realise quite how much milk goes into producing a tiny amount of cheese and given me even more of an appreciation for bought artisan cheese) and put them in the cold room upstairs in a sealed container with a damp cloth for humidity.  When I say 'cold room' don't misguidedly think I have some room purpose made for hanging hams and letting cheese mature. It's a very bare, un-plastered room that we've been meaning to turn into our bedroom ever since we moved here.
Lack of time and money have meant the bedroom has been a little delayed. As ever, I'm optimistic that this year may be the year we move out of the spare room. In the meantime the unheated bare room is proving very useful. The dark bit behind the door is rapidly becoming pickle corner.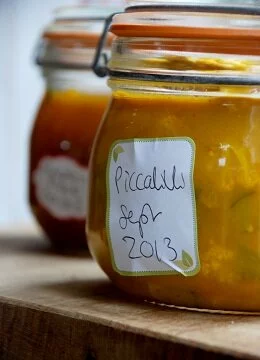 With a house full of family over Christmas, the fridge was bulging and leftover veggies destined for bubble and squeak were sent up to the cold room. Actually we so enjoyed the Boxing Day leftovers that Guy came up with a suggestion. Next year, we cook Christmas lunch on Christmas Eve, then without eating any of it,  immediately take it up to the cold room ready for leftovers!
Obviously too many days of Bird Bingo, muddy walks across the fields and wondering whether piccalilli or Middle Eastern pickled turnips is the correct pickle for that days' leftovers has gone to our heads. The festive period has also had a disturbing effect on my cheese. Last time I had a peep at the cheeses ripening in the cold room, I couldn't spot any mould forming (or much of a rind either) but there was definitely something unique about them. Some artisan cheese-makers may use nettles, even ash to add a distinct look and flavour to their products. I detected something else adorning the rustic exterior of my carefully made cheeses. Something with a definite flavour of my December kitchen. Yes, glitter.
It obviously says a lot about my optimism then that one of my plans for the new year is to have a go at making mozzarella. Yes, I know I'll end up with strings of cheese everywhere but I'd like to try it. I'm chuffed that the feta has worked out, it's very salty but good used sparingly, crumbled into flatbreads with leftover lamb – I cooked a leg of lamb slowly over potatoes using a recipe from The Fabulous Baker Brothers book as an easy way of feeding everybody the day after Boxing Day. Will write about how I made the feta soon.
After being inspired by the medieval bread baked at The Hearth in Lewes, would love to experiment more with bread this year too. Using interesting flour, a home-made sourdough and a long prove.
But with the glittery cheese a reminder of the results of my multi-tasking I'm trying to keep my resolutions and plans for the new year simple. While I'm still harvesting parsnips, swede, chard and beetroot from the garden, can't help but have lots of plans for the new things I want to grow though. And the size of the ewes in the field next to us is reminding me of the delights of Spring already. Lovely to think that it's not long after Christmas until there are new lambs in the fields and broad beans to be planted. Which makes me look forward to these sort of pleasures…..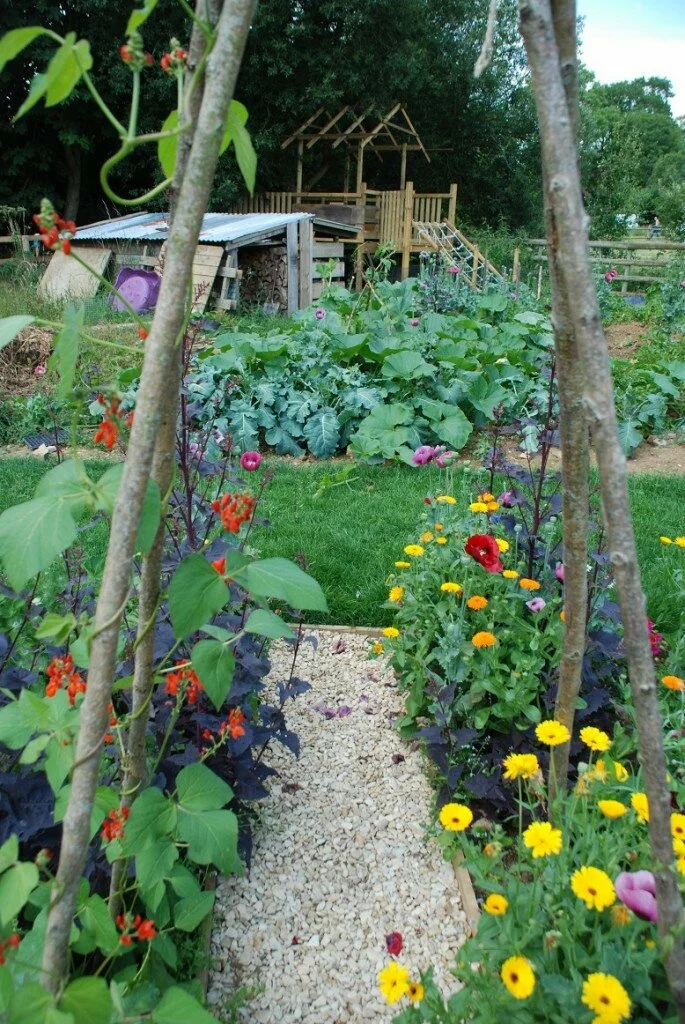 Hope you have lots to look forward to in 2014 too. Happy New Year!