Stayed at Burton Bradstock, a little village by the coast in Dorset.  It has a pebbly beach that was great to play on during the day but almost better in the evening when it had a laid back feel as families gathered to fish, play and cook tea over campfires.  And the wonderful Hive Beach café for great seafood, coffee, cake, ice cream and all sorts of tasty temptations. Nearby is Bridport, a  Georgian market town where rural make do and mend meets bohemian.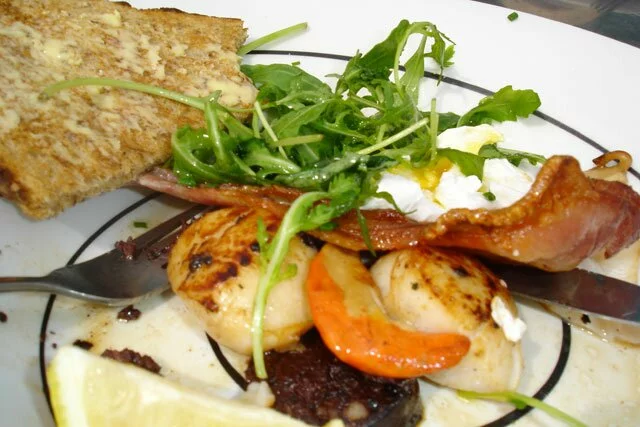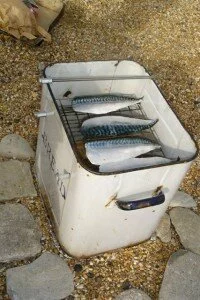 The food was fantastic. Memories for me include the sweetest, juiciest scallops cooked perfectly at the Hive beach café for brunch with crisp bacon, egg and rocket, the mackerel we smoked on the beach, and the sweet, sticky chilli crevettes from the wood-fired oven at the wonderful Watch House café at West Bay. Guy would probably say the sausage sandwiches (our own sausage from home) we had on the beach, the freshest squid bought from the fishmonger at West Bay, definitely the mackerel and the pizzas at Town Mill bakery in Lyme Regis. For Ruby it's the crisps and ice-creams!
But we all loved our beach meals. Really simple but in a fantastic setting, as relaxed as is possible without scoffing in bed, and with the freshest fish. It started when we picked up crab, a loaf of bread and a bag of cherries at Bridport market on the way down and scoffed the lot as soon as we got to the beach. But tea on the beach was even better. Squid just bundled in a bag with a squeeze of lemon, olive oil, chopped garlic and barbecued. With hunks of bread from the wonderful Town Mill Bakery in Lyme Regis and forkfuls of salad. The next night we took the old bread bin that Guy made into a smoker to the beach and did hot-smoked mackerel. Delicious.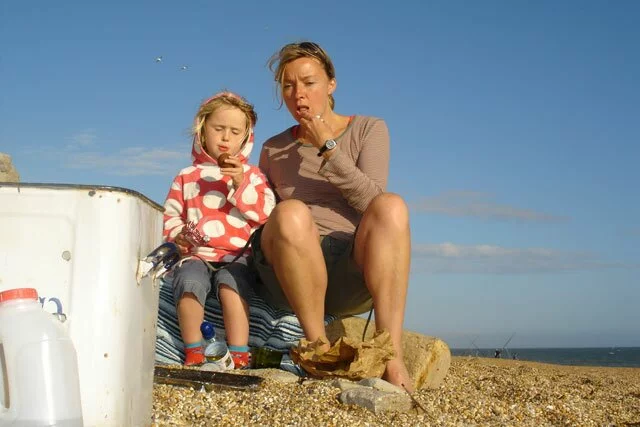 Foraging wasn't quite as successful. The fish seemed a bit reluctant to come near Guy's line . Totally sustainable, our fishing style seemed to be more about feeding the fish than ourselves. So I was pleased to spot sea kale in abundance along the coast path as we did a 3 mile potter to a pub. I've never seen Ruby so excited by the prospect of eating cabbage. But when I consulted John Wright's 'Edible Seashore' book I found he described it as having "the flavour and texture of a damp, thick face flannel." We decided to give it a miss.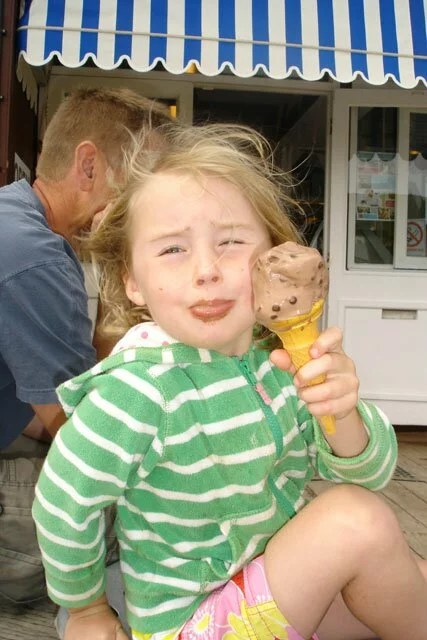 So we 'foraged' in the fishmongers in nearby West Bay, in the brilliant Modbury farmshop (an organic dairy farm with Jersey milk, home-grown veg, locally reared meat etc) and at the fabulous Town Mill Bakery.
We found natural clay on the beach that Ruby loved modelling, loved the playground made of rope at West Bay. And Ruby asked, "At night time, Mummy, does the sea stop?"