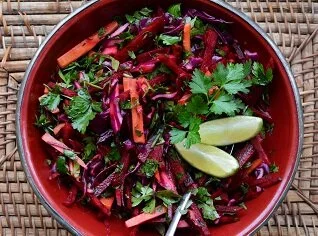 Amidst all the Christmas baking and festive feast planning, I've been craving crunchy, zesty winter salads. Lots of lime juice, a good chilli kick and lots of chopped raw beetroot, carrots, red cabbage and whatever root veg is most plentiful are exactly what I need to offset, or sometimes compliment all that rich food.
A generous bunch of roughly chopped flat-leaf parsley adds extra vitamins, and is very pleasing to my eye against all those ruby reds.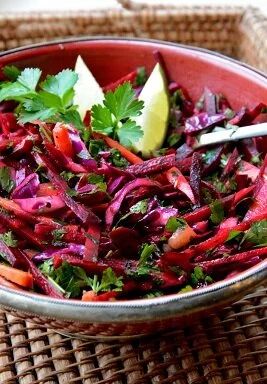 My scoffing of veg packed raw salads may have something to do with the many bugs we're trying to dodge; last year we all succumbed to viruses during the busy last bit of term leading up to Christmas. With 2 school nativity performances to go and 7 sleeps until the big day, I'm so keen that we're all healthy to enjoy the Christmas holiday that there's been many a grape popping race and encouragement(well okay, bribes) to eat just one more Satsuma in this house lately.
But packed full of flavour as well as health benefits, this salad is definitely not righteous health-food. With jars rapidly filling with Christmas cookies and bottles ready to be topped up with fig liquer, I'm far from hair-shirt wearing at this time of year. Hardly a recipe, it's quick and easy to throw together after returning from work/carols/nativity and probably be making an appearance alongside leftover turkey. You can substitute other cabbage and root veg that you have handy as long as there's a festive red element in there.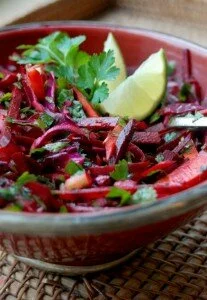 Zesty Beetroot & Red Cabbage Salad
1 medium sized beetroot
1 kohl rabi
1/4 red cabbage
2 carrots
1 red chiili
1 handful of flat-leaf parsley
2 limes
1 tablespoon olive oil or rapeseed oil
Maldon sea salt & lots of black pepper
Peel and shred (or chop as fine as you have time and patience for!) the beetroot, red cabbage, carrots and kohl rabi. Deseed and chop the chilli and roughly chop the parsley. Mix everything together, adding the juice of the limes, oil and seasoning to taste. You may even want to add more lime juice if you feel like a real citrus kick – or that may be just me, I'm finding lime and chillis quite addictive at the moment.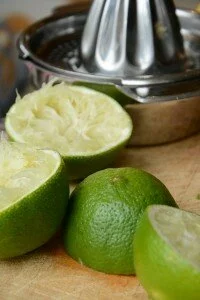 Great with flatbread and dips for a lunch or easy supper but also delicious with leftover meat or smoked fish.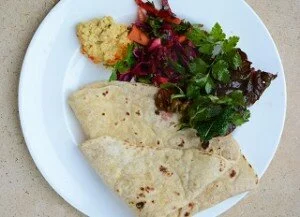 Fingers crossed for a healthy and happy Christmas!
Photos of this salad were taken by my lovely friend Chava, who has a great vegan Stollen recipe on her blog, during lunch.