I can't believe that last time I wrote a post I was talking about hibernating. Now I'm making the most of every sunny hour outdoors, enjoying my garden which is wilder than ever and the surrounding countryside, currently all undulating fields in those lovely subdued, mellow hues that ripe barley and wheat tend to have by August.
Of course I haven't really been hibernating since April. In between work, busy school terms, attempting to play some minor part in the shape of my unruly garden and feeding my family, there doesn't seem to have been time to blog. These are some of the things I have managed to fit in:
Yet more baking.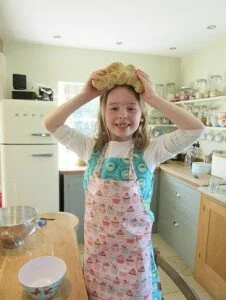 Cake decorating with flowers in the garden seems to still be popular with lots of 7 year old girls around here: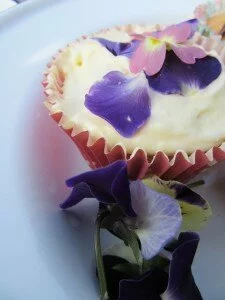 We had a lovely weekend back in May in Somerset, including visiting the wonderful Ethicurean. I loved the restored walled kitchen garden with far-reaching views over the surrounding countryside. Would love to see how those little seedlings are looking now.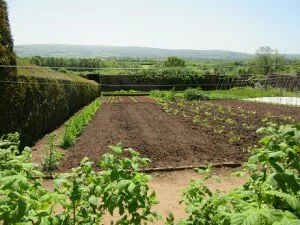 We played hide and seek in it, a tad embarrassing when I was spotted by a passing couple lying behind a low box hedge. And the food, home-produced/local and scoffed in a restored old greenhouse, was delicious. Lots of jars of fermenting potions on the windowsill too, just my cup of tea.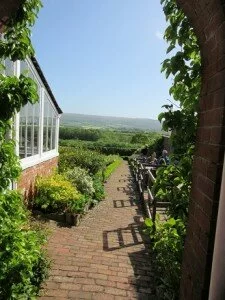 Back home, I made gooseberry and elderflower cordial as a change to my usual elderflower cordial.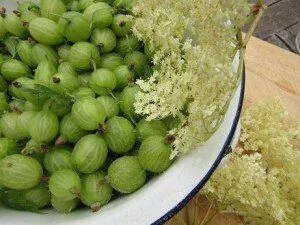 We had a great crop of strawberries, I made some Cassis with blackcurrants from garden and I let the asparagus get shoddily surrounded by weeds.
Currently the courgettes are starting to produce fast and furiously, the calendula and nasturtium are as rampant as usual and there are regularly lots of children in the paddling pool. Veggies, flowers and children all becoming increasingly feral as the summer holidays progress.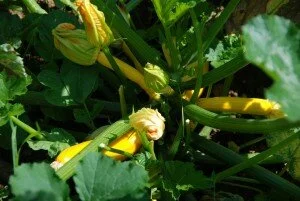 I'm missing blogging and am looking forward to catching up – as determined to post more regularly as I am to make the most of the rest of this lovely Summer.