Our gooseberry bushes are so heavy with fruit this year that, although they're still small, I couldn't resist picking a bowl.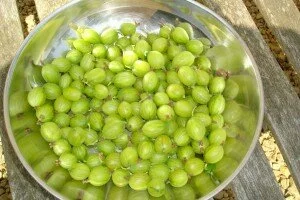 Sunshine has ripened our first strawberries of the year, savoured by Ruby with breakfast, and it's also coaxing the elders into flowering.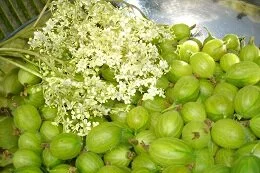 You can tell it's been warmer lately as the old station clock in our kitchen is getting slow; heat seems to affect the pendulum! I know how it feels, my evening gardening recently has been more pottering than enthusiastic digging. Lazy gardening in fact. And on the sunnier days my cooking follows a similar pattern.
Picking a few gooseberries and elderflower heads in the hazy sunshine is lovely and even I can manage a little slow stirring of custard. The other bonus of this pudding is that if you like, you can make several treat puds from one little bit of effort.
I cooked some gooseberries with elderflowers, made custard and served 1/3 of it in little bowls after dinner that evening.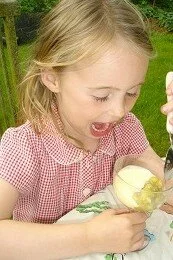 Another 1/3 of the custard was kept in the fridge and the following day we had a spoon of greek yoghurt, a spoon of cold custard and a spoon of rhubarb and rose jampote (the 'jampote' is a Hugh Fearnley Whittingstall inspired jam-like compote) using a batch of my jam here with less sugar and reduced cooking. Cooked like this, the jam needs storing in the fridge, doesn't keep as long but is soon scoffed anyway. And the remaining cooked gooseberries were mashed roughly with a fork and mixed with the leftover custard, then frozen for gooseberry and elderflower ice-cream.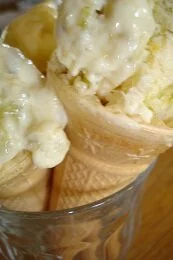 For the gooseberries and elderflower:
600g gooseberries, topped and tailed
100g caster sugar
A few elderflower heads
Put the gooseberries in a saucepan with a tablespoon of water and the sugar. Tie the elderflowers in a piece of muslin and add to the pan. If they're not flowering by you yet, you can add a dash of elderflower cordial instead. Simmer for 5-10 mins, trying not to overcook as they're lovely if you preserve their shape. Remove the elderflowers and chill the gooseberries.
For the custard:
350 ml double cream
350 ml whole milk
1 vanilla pod, split open lengthways ( a jar of vanilla sugar is handy to have in the kitchen for when you don't happen to have vanilla pods)
6 large egg yolks (the egg whites are handy frozen for meringues another time)
140g caster sugar
1 heaped teaspoon cornflour
Put the cream, milk and vanilla pod in a saucepan and heat gently, then set aside to infuse. Beat together the egg yolks, sugar and cornflour in a bowl. Remove the vanilla pod from the milk and pour the hot creamy milk onto the egg mixture, whisking as you pour. Pour into a clean pan and heat gently, stirring constantly with a wooden spoon until the mixture thickens. Don't overcook or let it boil, it's creamy custard you're after not scrambled egg. I've learnt from disappointing experience that this is a task not suited to multi-tasking, and now try my best to have music playing and just enjoy the relaxed stirring.
When thickened, leave the custard to cool and keep in the fridge. Or if the temperature of our very English summer drops, it's lovely warm with the gooseberries. Otherwise, a little chilled bowl of gooseberries and elderflower with custard is a great pud for a summer evening that can be prepared beforehand. It seems a good way of persuading 5 year olds that gooseberries are something yummy and summery rather than green and ghastly too: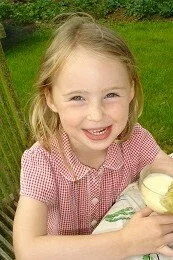 If you mix some of the custard and gooseberries and freeze for ice-cream, either add to an ice-cream maker before putting in the freezer or stir when you remember as it freezes to prevent crystals forming. Gooseberry and elderflower ice-cream is great with the Little Leon biscuits I made here too.
And those creamy umbels of elderflowers are also reminding me that I must remember to buy citric acid before the local chemist runs out, ready for replenishing the elderflower cordial supplies. I'm on my last bottle from last year (I freeze lots in plastic bottles so it lasts longer) and so pleased. It's the first year I've made enough to last until the hedgerows are frothy with cordial potential once more!