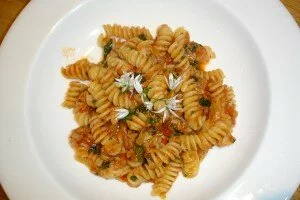 I've called this Sicilian tuna pasta, as although it uses a mix of my Cotswold store-cupboard basics and woodland greens, it reminds me of the sort of pasta dish enlivened with Arabic spices that Sicilians are so good at.
Sicilian fish and pasta dishes always transport me to the lovely holiday we had between the laid-back Sicilian island of Salina and the Baroque faded grandeur of southern Sicily when I was 5 months pregnant with Ruby. The simple dishes we ate, flavoured with freshly picked lemons, local herbs and wonderful ingredients from the sea were particularly enjoyed as I was so happy to be in the middle of my pregnancy, and loving the attention my bump attracted from exuberant, Italian mamas.
Back down to earth, this dish is very handy during a rainy half term week when I'm happier playing with my now 5 year old daughter and her friends and cousins and cooking for them than fitting in a shopping trip. All of the ingredients come from the store cupboard except basil which is now growing well on the windowsill and wild garlic which is thriving for a little longer in the woods and hedgerows.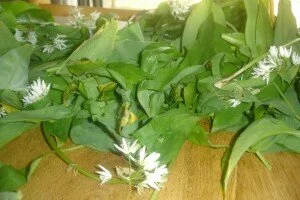 Serves 6
1 onion, peeled and finely chopped
1 red chilli, deseeded and finely chopped
1 level teaspoon ground cinnamon
A bunch of basil leaves
2 400g tins plum tomatoes
2 x 200g tins tuna (sustainably sourced, pole & line caught) in olive oil
500g dried pasta of your choice
juice of 1 lemon
1 handful wild garlic leaves (chopped) and a few flowers
extra-virgin olive oil
Heat the drained oil from one of the tuna cans in a pan and cook the onion, chilli and cinnamon on a medium heat for 10 mins until the onion is softened and slightly sweet. Add the tomatoes, tuna (all drained) and a pinch of salt. Simmer for about 20 mins, taste for seasoning and break tomatoes up with a spoon. Cook the pasta according to packet instructions and drain, reserving some of the cooking water.
Toss the pasta into the sauce with the basil (roughly torn), wild garlic leaves and the lemon juice, drizzle with a little extra-virgin olive oil, loosen with a little of the reserved cooking water if needed, check seasoning and serve with the wild garlic flowers scattered over.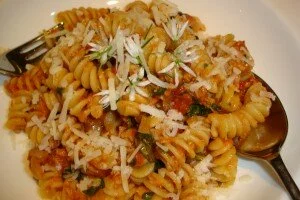 I'm sure the wild garlic is a very inauthentic touch if I'm associating this easy supper dish with Sicilian food. Having loved the imaginative culinary use of wild herbs in Sicily though, I like to think that if a Sicilian were visiting the Cotswolds in the very lush month of May, they wouldn't be able to resist adding this fragrant freebie.