Interview with Alex Stevenson who grows organic, cottage garden flowers at her smallholding in Worcestershire (www.dalecottagefarm.co.uk)
Andrea: What inspired you to plant your Flower Patch?
Alex: Initially, I just wanted to find a way of making a living from our smallholding by using my horticultural skills and experience. I have always been interested in flowers, predominantly wild flowers in the past, but increasingly garden varieties. I realised that there was a way to combine these interests and offer people the chance to have types of flowers which may not be available from conventional sources and which were local, seasonal and environmentally friendly. The weddings have evolved over time to become the core of the business.
Andrea: Which flowers have you had most success in growing for cutting?
Alex: I now have quite an established stock of perennials and shrubs, which keep giving year after year. The most useful of these are Hydrangea, Philadelphus, Viburnum, Veronica, Asters, Delphiniums and Phlox. The annual flowers are also indispensable and are easy to grow, my main performers in the annual patch are: Cosmos, Ammi, Sweetpeas, Larkspur, Statice, Nicotiana and Mollucella.
I experiment with a few new varieties each year but generally I choose those which: have a long life as a cut flower, have good scent, are beneficial to bees and other wildlife and which repeat flower (cut and come again).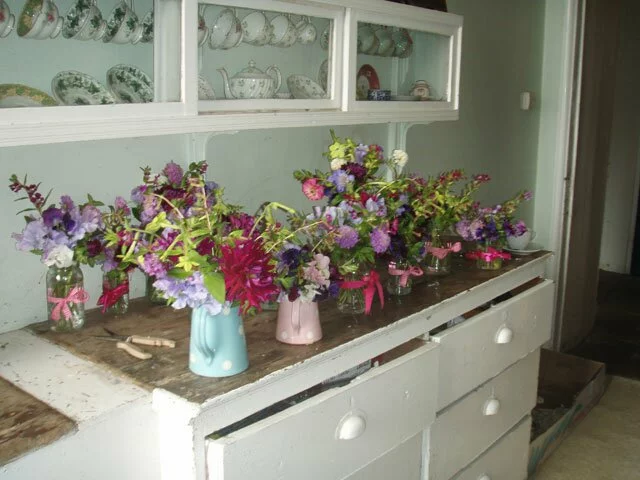 Andrea: What sort of flowers do you have most requests for?
Alex: The phrase I hear most from prospective brides is 'I want a just picked from the garden look' this is very much in vogue at present and makes me very happy to hear as it is just what I do!
People are really keen to use traditional cottage garden types of flowers, the current look for weddings is very nostalgic and natural. People are delighted to see old fashioned blooms and the fact that the flowers have such good scent, something sadly absent from a lot of commercially grown cut flowers.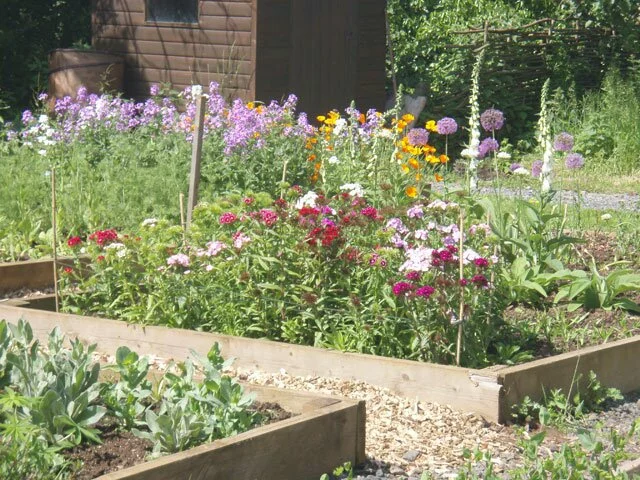 Andrea: How does your cut flowers business fit with other parts of the smallholding?
Alex: It can be difficult in the height of summer, when the wedding work is at its busiest, to keep up with some of the other jobs. It can get a bit frantic fitting in the picking, arranging and delivering with the everyday tasks such as animal care, vegetable growing, harvesting and preserving! But this is only for a short period and most of the time, it is a perfect set up, to be able to be working from the smallholding and divide my time between the flowers, animals and growing fruit and veg. I couldn't wish for a better way of life!
Andrea: Do you have any tips for people planting their own flowers for cutting?
Alex: Start off with a small patch of annuals. They are easy, cheap and quick to grow and quite a modest patch can keep the house supplied with blooms for many months. People often don't want to pick too much from their herbaceous borders for fear of leaving gaps, so if space allows, a dedicated cutting patch is fantastic. Growing your own flowers is very rewarding, you are able to choose from a much wider variety than would be available to buy and obviously, it's much better than buying in flowers which have been grown abroad and flown in!
Andrea: What sort of impact has your ecological background/interests had on the smallholding and flower patch?
Alex: It has been a huge advantage. Understanding the importance of soil health and the role of compost in producing healthy plants has been invaluable to running the business. Also, siting of the flower patch and making use of other habitats within the smallholding, has meant that the flowers are an integrated part of the bigger picture- increased beneficial wildlife from hedges, orchard, woodland and grassland areas surrounding the flowers mean that pest species are kept in balance. Also, the flowers themselves provide a great source of nectar for our own bees and lots of other insect species. It's great to be out in the patch, listening to the buzzing and humming and knowing that the smallholding is creating a little haven for our native wildlife.