The sun has been shining all weekend and with the snow gone, it's not just mud that's revealed. Crocus, cowslips and my Egyptian walking onions all lifted my spirits today. And Spring in the air has me dreaming of rhubarb.
My own rhubarb plants have some lovely rosy stems and acid green leaves, but they're not ready for pulling yet. In the meantime there are those beautiful pink, tender stems of the forced variety in the greengrocers and farmshops. Much as I hate buying fruit that I grow, I can't resist these and often end up biking back up the hill home with rhubarb poking precariously out of my rucksack.
The first recipe I can't wait to make with rhubarb in February is rhubarb custards. So these have already been made and scoffed: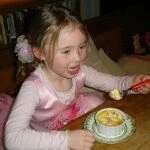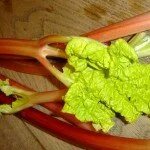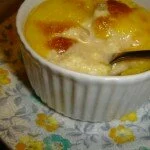 Recipe Rhubarb Custards
Enough for 6
300g rhubarb
3 tablespoons unrefined sugar + 80g (preferably vanilla sugar – i.e simply having spent some time in a jar with a vanilla pod)
300 ml double cream
200 ml full fat cream
8 egg yolks
Preheat oven to 190C. Chop the rhubarb into chunks and put into a baking dish with the 3 tablespoons sugar and a couple of tablespoons water, cover with foil and bake. Check after 45 mins to see if it's tender. It may need a little longer – you want it to be soft to the touch but not mushy. You can simmer on a hob instead if you prefer in a saucepan, but I generally find it easier not to overcook and still have that lovely pink colour in the oven. Plus the woodburner is often still lit.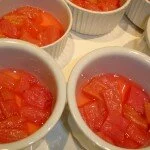 Turn the oven down to 140C when you've removed cooked rhubarb. Or if you're using a woodburner oven like me, adjust the controls or open the door! Warm the cream and milk slowly in a small pan (with a vanilla pod if you wish if you aren't using vanilla sugar) to just below boiling. Beat the egg yolks and remaining sugar in a bowl then whisk in the warmed milk/cream gradually.Divide the cooked rhubarb between 6 little ramekin dishes then pour over the custard. Stand these in a roasting tray and fill the roasting tray with water half-way up the ramekins. Bake in oven for about 25 minutes until the custard is set but still has a lovely wobble.
I often roast at least twice the amount of rhubarb I need for these custards as it's great with granola and yoghurt in the morning. Karen at Lavender and Lovage's Bread and Butter Pudding with rhubarb compote is another recipe that looks fab to try – any rich custardy combination is so fantastic in my view with the tartness of rhubarb. Which is why rhubarb ice-cream (made wiith a custard base) is wonderful too. But then simple rhubarb crumble is beckoning too. And rhubarb simply roasted with the juice of a seville orange left over from marmalade – with greek yoghurt or custard. Had better make sure I'm biking up the hill plenty of times with my ingredients. Otherwise something else will have a very custardy wobble.