The appearance of Spring sunshine at the weekend was such a tonic for the soul. Pretty good for the veg too; so excited that at long last we have purple sprouting broccoli coming thick and fast.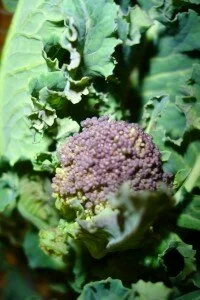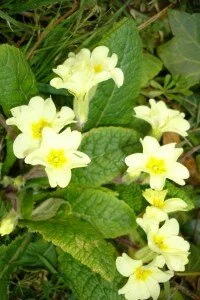 It was so lovely spending so much time outside, planting apple and pear trees, moving blackcurrants to make space for a new path and planting more crimson flowered broadbeans. While outside, I noticed the strawberries and lavender were in need of attention. Lavender needed lots of trimming and wild strawberries were invading my herbs. To give the herbs a chance, and in the hope of having strawberries trailing over the wall in front of the lavender, I dug lots up and moved them. Dreaming of last summer's pretty and tasty wild strawberry harvest: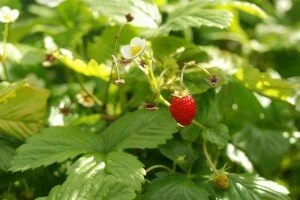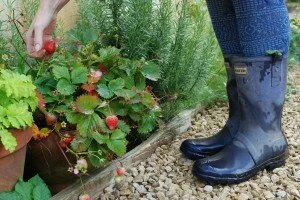 I replanted the blackcurrants near to some of the dwarf apple trees and turned my attention to the regular strawberries.  They were very overcrowded and invading the herbs from another direction. Rampaging over thyme and towards the hyssop. I trimmed off runners, dug up plants and started a new strawberry bed, underplanting the blackcurrants and apple trees. Ruby liked the idera of a "strawberry bed" and spent quite a while planting a few strawberries, telling us she was "tucking them up."
We emptied woodash from the woodburner around our fruity corner; the grey sprinkling didn't exactly add visual appeal but hopefully the potassium will benefit the fruit. Thinking of looks as well as attractiveness to bees, I decided it would be lovely to edge this area with lavender. Optimistically, I've planted a tray of seeds and am hoping the temperature on my windowsill is right for germination. I've never grown lavender from seed before, but the idea of lots of lavender plants all for the cost of a packet of seeds appeals so fingers crossed.
All this pottering around lavender reminded me of my plan to make lavender bubble bath and moisturising cream with Ruby. Last summer our garden was dotted with buckets of 'perfume' and, happily, my daughter is still very partial to a smelly potion. More stinky in fact at the moment. She's currently preoccupied with making "stink bombs" and along with her friend Lily, can regularly be found sneaking off with banana peel and straws, apparently the crucial ingredients. If she's spotted it's a benefit; rotting banana skins hidden in secret corners around the house for too long don't tend to add the most pleasant fragrance.
Attempting to direct this 'creativity' into something a little sweeter smelling, I drew inspiration from my Neal's Yard Remedies Natural Health & Body Care book and Lesley Bremner's Essential Herbs. You can substitute your own preferred essential oils in the recipes below. Lavender is a lovely relaxing oil that is also safe if you have little helpers who are keen to try the results.
Lavender Bath Oil
We added 8 drops of lavender essential oil to 2 tablesooons of almond oil. To make this into a bubble bath, you can add 2 tablespoons mild liquid soap or baby shampoo. I have to admit to preferring this concoction without the bubbles as a lovely, moisturising bath oil for grown-ups that you can use sparingly though. Ruby was keen to try it as a bubble bath but the bubbles weren't great and she emerged from the bath oiled like a slippery little seal. Lovely to cuddle in a towel but probably not ideal for every night!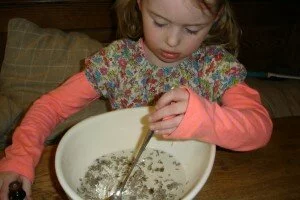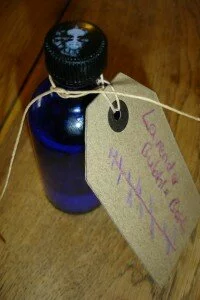 Lavender Moisturizer
2 teaspoons beeswax
2 teaspoons cocoa butter
6 tablespoons almond oil
6 teaspoons emulsifying wax
4 tablespoons/60 ml lavender infusion (made by infusing dry lavender, or fresh in the summer in boiling water for 10 minutes)
10 drops lavender essential oil
Heat the beeswax, cocoa butter and oil in a bowl over a saucepan of boiling water. Dissolve the emulsifying wax in the lavender infusion. Slowly add the infusion to the oil mixture, using a whisk. When the mixture cools down, add the essential oil and store in a dark jar in the fridge. It will keep for 2 months. We made 2 small jars – one each. Ruby has already used hers on a sore, dry patch on her face and it's now fine after a few days. I'm enjoying using my jar on my dry (and scratched from the garden) hands.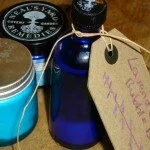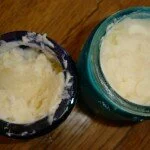 We used saved old jars for our potions and they all offered lots of scope for label decoration by Ruby. Enthusiastic after our potion making and inspired by Jacqueline at Mazzard Farm, I'm thinking (probably too ambitiously) of trying soap and face cleanser making next.
If anybody else has dried lavender from last year, it's great in bath bombs and if you have leftover lavender oil I can recommend magic spray or revitalising foot bath.