Having relished our English Autumn, we had a lovely trip to Puglia in half term and it was wonderful to see Italy at a time when the olives are being gathered. There are bags of walnuts and almonds outside every village shop and the trattorie all feature wild mushroom dishes.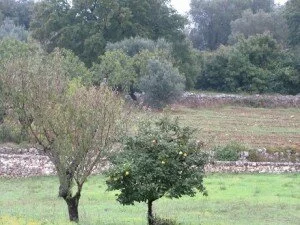 Our holidays over the last few years have mainly been British seaside bucket and spade fests, partly because flights in school holidays are so expensive and also because we've loved finding hidden Welsh coves and Dorset crabbing spots. Discovering somewhere completely different, leaving our abundance of apples to explore Baroque towns and rural areas with olive nets laid in readiness under ancient trees was such a different treat.
We stayed at Casa Cicerali, a beautifully restored stone farmhouse with a wonderful wooden decked pool overlooking olive and almond groves. In between Ostuni and Cisternino, two little hill-top towns that were great to explore and buy delicious provisions from, it was also a 20 minute drive to some lovely Adriatic beaches. It wasn't hot, but being hardy English girls (and the Adriatic sea was distinctly warmer than the Welsh sea that we're used to) Ruby and I swam in the sea and Ruby made trulli sandcastles.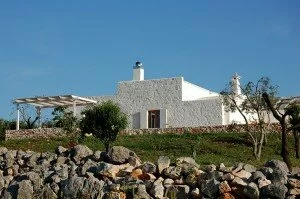 Casa Cicerali has been restored by an English family whose modernist white house somehow fits into this valley of vines and olives perfectly. Their girls go to school locally, they were so welcoming from offering to cook us supper for our first night (a baked pasta dish with Italian sausage, home-made bread and brownies – all delicious), lending us buckets and spades and leaving a large jar of their own almonds which we scoffed throughout the week. We could pick any fruit from their trees too (Quince and Persimmon during Autumn).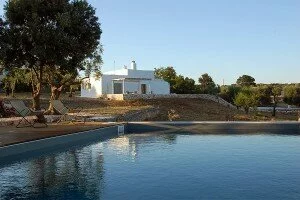 It was great to have a local family give us ideas for exploring the area, and their recommended local village restaurant was amazing value. Wonderful and abundant antipasti left us hardly any room for the delicious wild boar and cardoncelli mushroom ragu with pasta. Thank goodness for the walk home to let it go down – through little country lanes that gave us great glimpses of the orti (patches of land where the villagers grow olives, almonds, fruit and maybe a few vegetables).
We shopped at the local market for food, coming home with squid, sausage,lentils and tomatoes to cook and eat on our lovely terrace.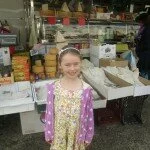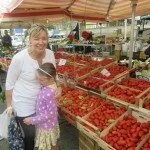 Exploring the Baroque streets of Martina Franca, Ruby discovered a florists shop where all the flowers and bouquets were made from candy, chocolate and almonds. Then we got caught in a rain storm and drank far too many strong espressos and ate nutella pies while we sheltered in a bar.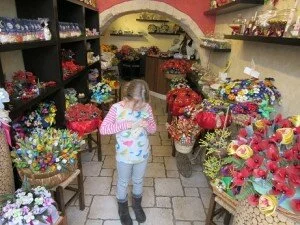 Now we're home to English rain and copious apples and quince in place of prickly pear and persimmon. I'm loving the large bowl of almonds we brought home from Casa Cicerali on our kitchen table. They remind me of our great holiday every time we get out the nut crackers.