I love it that my daughter is as enthusiastic as I am about making home-made presents. She started young, plopping bits of vegetables into my biggest saucepan for Christmas chutney when she was a toddler. With a little input from her I labelled them up as 'Ruby's Christmas chutney', we painted a cardboard box together and glued on letters spelling 'Ruby's home-made goodies' and filled it with our preserves. Ruby delved into it on Christmas day, handing out our very rustic but home-made/home-grown chutney to her Aunties, Uncles and grandparents.
The box is still in use although showing signs of wear and tear. Ruby is as enthusiastic as ever about filling it, but aged 5 she now has her own very strong ideas about what to make. Very keen on modelling clay (the type that sets hard and can then be painted – or found weeks later underneath tables and chairs) she announced the other day when we were pondering present ideas: "I know, I'll make tea cups and saucers out of my modelling clay". I think I've mentioned before that her enthusiasm/ability ratios are similar to her Mum's and not feeling too confident about our ability to tackle this project together, I was relieved when I thought of bath bombs.
I must admit I had a go at making these in a child-free moment to check they worked first. Making chorizo and salami with my friend Katie recently reminded me that while it's great fun making things with your children, occasionally it's nice to have a go without them too. And it feels even more decadent to have a go at making something during daytime hours when you're actually properly awake.
So my first attempt was at lavender bath bombs with my friend Chava, who's a wonderful photographer and took these lovely pics. Ruby was very pleased to find one of these fragrant bath bombs in a pocket of her advent calendar.
We experimented with a recipe from a Neals Yard book I'd had for years, finding that you needed to add water to make the bath bombs stick together, but it's ideal to do this drop by small drop so the fizz of the bath bomb doesnt happen immediately, rather than waiting for when it's plopped into the bath.
Ruby is very keen on bath bombs at the moment. When I put a note in her advent calendar saying we were going to make them after school she was very excited. It will be interesting to see if she manages to actually hand them over to her friends or cousins. Chutney was definitely easier.
My vision of how easy and mess-free these were to make was revised after making them with a 5 year old after school. The restrained versions at the top were obviously from my first attempt. The session with Ruby involved more food colouring, glitter, a bath in the middle so she could test one (they fizz lots, we were both very pleased) and a muddy coloured batch when she tried to mix red and blue. It was great fun.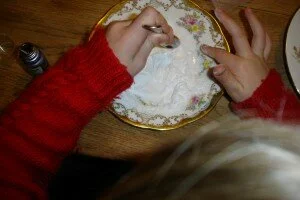 How to make bath bombs:
These really are very simple. All you need is 3 tablespoons bicarbonate of soda, 1 tablespoon citric acid, your choice of essential oils and a little water. Dried lavender or flower petals such as calendula are lovely to add.
Mix the bicarb and citric acid and add a few drops of the essential oil of your choice. Chamomile and lavender are lovely child-friendly essential oils that feel like calming additions to bath-time (worth a go anyway) and it's a good idea to be sparing, only adding a couple of drops for children. Tiny bits of dried lavender is nice added to the lavender version.
Add water very sparingly (you will notice a slight fizz as you do) drop by drop, just enough to bind the mixture into a ball. You can place your balls in mini cupcake cases or simple wrap in cellophane and tie with pretty ribbon. I have some rolls of snowflake washi tape from Pipii (or Christmas cellotape as Ruby calls it, she's very partial to cellotape anyway and finds this vertion particularly enticing) that I think may be used when Ruby and I are making our parcels look pretty.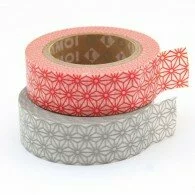 For a Christmas version for grown-ups, add a few drops more essential oils, choosing from Frankincense & Myrrh, Juniper, Orange. Lavender and flowers are very lovely for grown-ups too of course. Very soothing after a frenetic evening of late-night Christmas preparations.