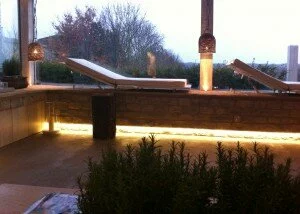 I have very lovely memories of easing into the day with a yoga session in the shade of coconut palms in Kerala, the sound of  waves soothing me and a hammock slung below mango trees in my sight. With vanilla vines crawling around cashew nut trees and the cinnamon and all-spice that would later flavour my meals growing nearby, I wasn't too troubled that my Salute the Sun was clumsy. Apart from palm-fringed beaches, and yoga amidst beautiful edibles, I also remember wonderful ayurvedic massages in Kerala.  The holistic approach to health of ayurvedic medicine really appealled to me. I have a lovely image in my mind of abundant herbs laid out to dry in the sun on the front lawn of a modest bungalow that was the local ayurvedic clinic.
Nowadays I'm more likely to be daydreaming about such exotic scenes while shivering in a local village hall, my dodgy Salute to the Sun seeming a tad optimistic.. Not that I'm complaining; village hall yoga classes are of course wonderful too, a great way to relax, stretch a little and maybe catch up with friends afterwards.
But on being invited to visit the Bamford Hay Barn wellness retreat at Daylesford in Gloucestershire, I was really excited to see an ayurvedic approach so close to home. The Hay Barn is part of a collection of barns that have been converted in great country chic style, with lots of bleached wood, natural materials and mellow Cotswold stone. There's an organic farmshop, a gardening shop, a restaurant, clothing range, a small group of holiday cottages and the wellness retreat.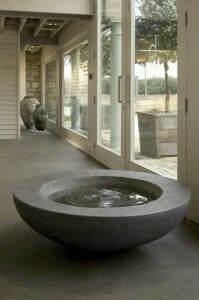 The focus at the Hay Barn is on providing a calm, nourishing space for relaxation and rejuvenation. This might include a yoga session in the orchard, an adult ballet class, reflexology, meditation or a therapeutic treatmen. Allowing plenty of time to relax afterwards in the lovely light filled converted barn with its muted colours and views of the surrounding countryside is essential. A passion for healthy, organic food is at the centre of Daylesford and there's a good restaurant next door where you can enjoy seasonal, wholesome food as part of a spa day. But there's a strong respect for Ayurveda too, a belief that it's not just the food we eat that builds health.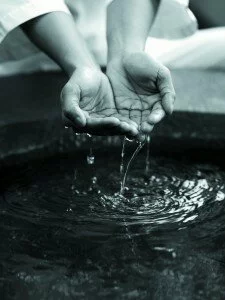 The focus on holistic care for the mind, body and spirit means that yoga, massage and meditation are often used together here. The Hay Barn Mother to be treatment apparently begins with yogic breathing but combines this with massage to nourish mother and baby.
I was greeted on arrival by a glass of water with lime and cucumber while I sat and was immediately calmed by the soothing trickle of water over stone. My very thorough body massage was preceded by a foot soak (with lovely rose oil) and some relaxing reflexology and it concluded with an Indian head massage. Afterwards, lounging on cushions with some lemon tea, the arrangements of driftwood, baskets of rosemary and plethora of natural materials all added to the calm ambience.
Definitely feeling that my mind, body and spirit had benefitted from the holistic approach at the Hay Barn, I came away determined to incorporate some of the ideas into my everyday life in simple ways. Inspired to start mixing my own oils to use in bath/foot soaks. And thinking that we should all take the time to relax and enjoy our own views of the countryside regularly – rather than looking out the window and leaping up to do jobs.
It's also left me full of enthusiasm and ideas for making pampering oils and bath treats with Ruby. Having had great fun making bath bombs before Christmas, I plan to mix some lovely bath soaks and oils with her and will report on this soon. In the meantime, even in my post-massage, extremely relaxed state. this foot soak was very easy. It's inspired by a recipe in Jekka McVicar's 'New Book of Herbs' a brillliant book for anyone growing or wanting to grow herbs. And please excuse the lack of photos for the foot soak. Even after being soaked and massaged with lovely oils, my feet are not exactly an inspiring or reviving sight.
Reviving Foot bath
1 handful of fresh lavender flowers or 2 tablespoons dried flowers
2 bay leaves
1 tablespoon sea salt or Epsom salts
Make an infusion with the herb of your choice, and leave to steep for 10 minutes. Fill a large bowl with hot water, add the herbal infusion and sea salt. Soak your feet for 10 minutes. Rinse in cold water and pat dry. Hopefully tired feet will be soothed.
And if you're ever feeling yourself stretched in all directions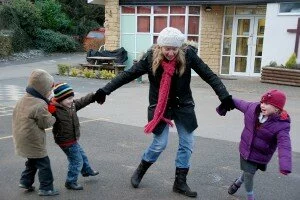 I'd definitely recommend a trip to the Hay Barn.
With thanks for my lovely Bamford Signature Treatent to The Bamford Hay Barn wellness retreat:
The Hay Barn, Moreton-In-Marsh, Gloucs, GL56 0YG
Telephone 01608 731 703