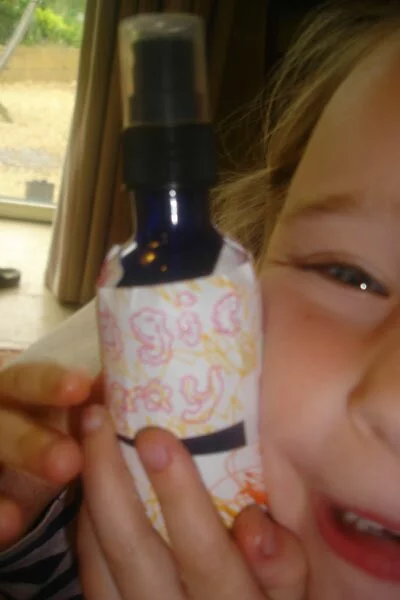 I'd been reading 'Handmade Home' the lovely, inspiring book by Amanda Blake Soule. Amanda is obviously very creative and extremely adept at making all sorts of gorgeous things for her family and home but she also writes about the charms of the homespun in such a seductive way that you want to dig out the knitting needles or at least sew some bunting by the woodburner after just leafing through a few pages.
I read about her projects such as Family Art Table Runner and Maddie's Rag Rug and for a minute my enthusiasm gets the better of me. Forgetting that I can't sew, love knitting but my ability just about runs to an extremely straightforward toddler jumper (a few holes here and there complete the rustic, homemade look surely?) I make ambitious plans for transforming old shirts into desirable and useful things for the home.
But realising that 'Magic Spray' is an Amanda Blake Soule inspired project ideal for Ruby and me, I sort out my essential oils and get Ruby engaged in one of her favourite activities: decorating a label. Magic Spray is basically a mix of water and essential oils that you can keep in the cupboard ready to revive a child (or adult!) who is suffering from a high temperature or generally feeling in need of some TLC on the sofa with a blanket.  Amanda Blake Soule recommends 2 cups of water and one drop each of rose, lavender and chamomile oils. Ruby and I used 2 cups of water mixed with 1 drop each of lavender (local, from a Cotswold lavender farm which I love) Ylang, Ylang (relaxing, so seemed good) and relaxing Absolute Rose.  It seems a good idea to opt for the oils that are reviving, relaxing and that you like the smell of.
You need a spray bottle and it's a good idea to try it on yourself first to check it comes out as a gently refreshing mist. It's fine to spray on children's body, legs, arms – but avoid the face.
Ruby loves it and has obviously quickly thought up all sorts of terrible bangs, knocks and "sore bits" that are in desperate need of a squirt of Magic Spray. And soon my enthusiasm will inevitably get the better of my ability and I'll attempt one of the more ambitious projects in 'Handmade Home'. Afterwards, frazzled and surrounded by the mess my 'creative' efforts will have made, I'll no doubt be glad of a spell on the sofa with the Magic Spray to myself.