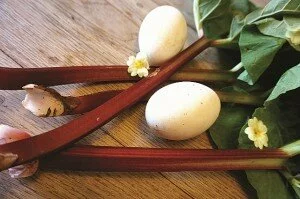 Even on rainy days, May surely has to be the loveliest month – after a downpour, the fresh, lush growth is even lovelier. The Sweet Cicely in my poor, weed-strewn herb border is covered in frothy creamy umbels, competing with the cow parsley in the field next door. Jewel-like drops of water glisten from the Lady's Mantle  and there's blossom everywhere – spilling from the wild cherry tree from which our hammock hangs, and promising good things from the apple, pear, plum and quince trees.
Despite all the lush green growth, we're still in the hungry gap of course. There's so much hope of good harvests from the tiny borlotti beans pushing out of the damp earth towards my teepee (if they can race the self-sown nasturtium seedlings that are springing up everywhere) to the new potato plants that are loving the current mix of sun and rain.
But hope and promise is about all there is just yet when it comes to eating my garden.Apart from the greens that is.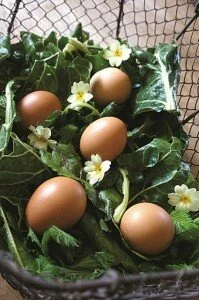 There are plenty of chives and numerous herbs to be sprinkled on my lunchtime omelettes and sandwiches. Last year's chard is utterly flourishing and crying out to be made use of before it runs to seed. Nettles a plenty of course. And there's lots of wild garlic to be gathered from the woods – we've found a great new spot that's a handy bike ride away for my daughter, while I turn puce running behind her.  Mixes of greens seem perfect for May – for mixing with soft cheese and filling pasta parcels, pies and definitely adding to concoctions such as frittata with the goose eggs that happily coincide.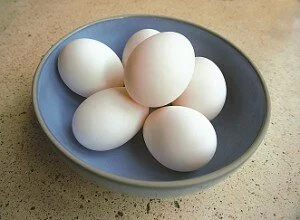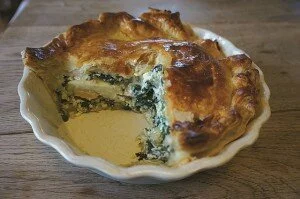 As perfectly May as rhubarb and custard, the still slender pink rhubarb making a perfect tart partner to rich ice creams and custard (goose eggs are perfect here again).  Lots of other rhubarb recipes I'd like to try too, maybe combining Liz Knight's rose dukkah. And if the slugs and snails get in the way of my May optimism, there's always rhubarb cake to cheer me up. Made with this easy Diana Henry recipe at the weekend, it's moist and yummy, a bit too tempting with my morning coffee while working.