Back to work and school tomorrow. It's been such a lovely summer buy I can't quite believe it's over.
We came back from wave jumping, rock-pooling and scoffing lots of amazing food (at The Pizza Tipi, Llys Meddyg, St Dogmael's Farmer's market and Wright's Food Emporium) in Wales a week ago to ripe figs, blackberries and sloes. There may still be valiantly flowering cosmos and pots of scented geraniums in the garden but we're definitely heading towards Autumn.
Before we're lighting the wood-burner of an evening, I'm remembering some of the midsummer madness of previous months. Including those days when I could be found eating the flower beds once again. While Ruby plundered them for a crown.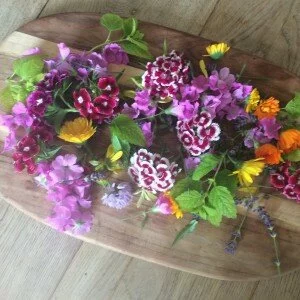 It was the school fete, the theme was a 'Right Royal Do' and there was a crown competition – hence Ruby's early morning flower picking. She was so pleased when she won first prize; her jubilant stance in the garden at the end of the day complete with ladybird face-paint, England cape (part of her goodie bag prize) and drooping flowers was a little different to the picture below.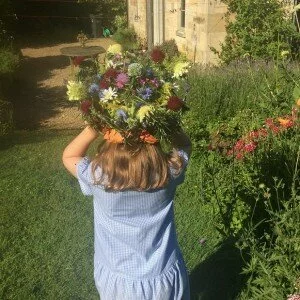 Meanwhile I picked edible flowers for cake-decorating on a stall at the fete. I took Sweet Williams, Calendula, Lavender, Lemon Balm, Pelargonium & Chive Flowers, using a great Sarah Raven guide to double check. There are some other great Sarah Raven edible flower ideas here.
Have to admit, some of the children looked as if they wondered where the hundreds and thousands were, but I was impressed by their creativity, there were some beautiful cakes. Separating the flowers and using the petals sparingly looked particularly pretty – and tasty too.
Must savour these September days and make use of the many edible petals that are still around.