I'm a big fan of street food – all those robust flavours, frugal ingredients and eating with your fingers is my idea of culinary heaven. But it's a long time since I followed my nose to the billowing smoke of late night food stalls in the Djema al Fna in Marrakech. Or even scoffed pizza smeared with the most delicious tomato sauce straight from a wood-burning oven in an Italian hill-town.
Living up a Cotswold hill has lots of advantages when it comes to eating well; I feel so lucky to have the space to grow and even rear my own food, I have wonderful un-homogenised Jersey milk from a local farmer, there are some brilliant farmer/cheese-makers around here. And I can buy tasty meat from a nearby smallholder who look after their animals so well using organic principles (have just bought some sausages for toad in the hole). Apart from the odd exception (the splendid Urban Rajah brought Indian street food to Chipping Campden recently as part of the Bite food festival) street-food is not our forte though. For one thing, there just aren't enough streets.
So attending a cookery class on street food, equipping myself for some DIY street food in the warmth of my own kitchen was a really exciting prospect. As was a grim February day spent amidst amongst all the organic loveliness of Daylesford.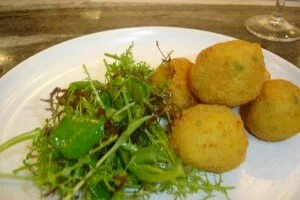 Before entering the cookery school, I couldn't resist a quick look around the shop with it's enticing array of organic food so beautifully displayed.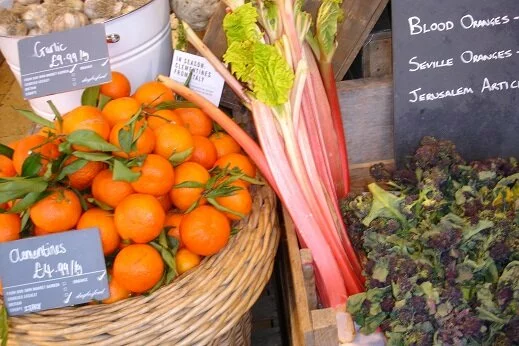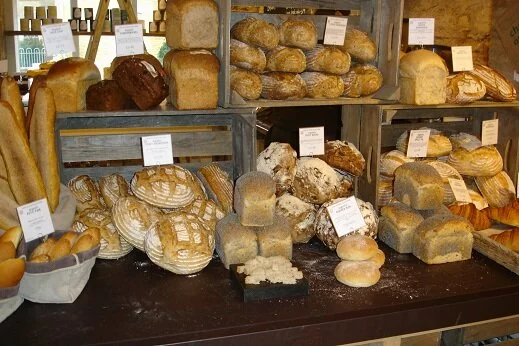 In the cookery school, which has the same contemporary rustic style as the food shop, with lots of natural, muted colours, pale painted beams and jars of wholesome ingredients, we were given a warm welcome with offers of coffee and herbal teas.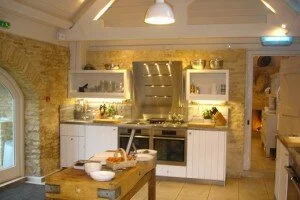 As we put on our aprons, the cookery school team talked us through the plan for our day cooking street food. With ingredients all laid out in readiness for tackling Asian style broths, kedgeree arancini, fish tacos and lamb meatballs, my mouth was watering. If only I could be this organised in my own kitchen.
First of all though, we made marshmallows. Beetroot marshmallows with hot chocolate sauce to be precise. You can't detect the beetroot flavour in the marshmallows, and to be fair, you couldn't exactly count them as one of your five a day, but it's a wonderfully natural way to create a gorgeously subtle pink colour. I wouldn't have attempted making these at home before, so it was brilliant to have a go with experienced chefs on hand to help – not to mention being able to hand over my bowl and saucepan for washing up afterwards! I'll definitely be making them at home now though, for presents or as a very pretty pudding that'll definitely impress little girls.
As well as enjoying a few marshmallows with chocolate sauce and coffee at the end of the day, we were given a bag each to bring home. Ruby was delighted and I was a popular Mummy. For one night.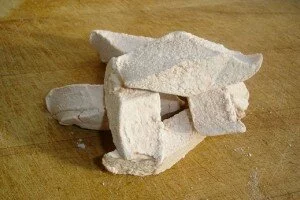 Using beetroot as a natural colouring was a sign of things to come. Daylesford farm practices organic, sustainable farming without using dangerous pesticides and herbicides on crops or artificial growth promoters, antibiotics and drugs on their animals. It was soon evident that the team at the cookery school share a genuine passion for real food; food that's simple, natural and in season. The street food that we cooked and learnt about drew inspiration from the colourful snacks found in Thailand, Italy and Mexico. The style and punchy flavours were all there, but the majority of ingredients were from the market garden just outside the door of the cookery school.
Lamb meatballs had Moorish influences in their flavourings (cumin seeds, lemon zest, fennel seeds and coriander) but were particularly delicious as they used wonderful organic lamb farmed by Daylesford. When we made the kedgeree for our arancini, the un-homogenised milk from Daylesford's Friesian cows was wonderfully creamy and the 'chives' were actually spring onion tops from the garden. We ate them with a very tasty selection of home-grown winter salad leaves.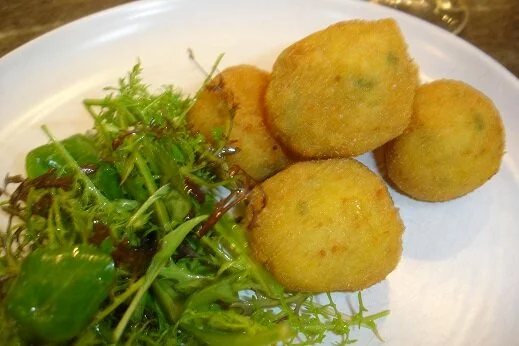 The day involved a good mix of hands-on cooking and relaxed sitting watching cookery demonstrations (with plenty of offers of a very delicious wine). As with all good cookery schools, it wasn't just about having a lovely, greedy day and learning four or five recipes. Steve, who led the cookery class, had lots of useful tips and snippets of information and he'd clearly chosen dishes that enabled him to teach principles of cooking that could be applied to so many different ingredients. The kedgeree arancini for example, enabled him to teach us about risotto (interestingly he always uses water rather than stock in vegetable risottos, enabling the vegetables to be the stars) while the Mexican inspired fish tacos enabled him to teach us about home-smoking; mackerel and salmon was lightly smoked over oat chippings.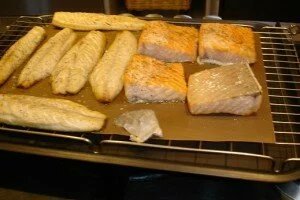 I came away fired up with enthusiasm about home-made 'street-food' – keen to get on with our plans to build a pizza oven in the garden and to try at home the delicious fennel, pomegranate and mint couscous we ate with meatballs.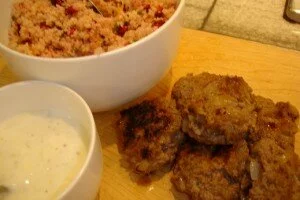 Already a fan of roasting whole heads of garlic for all that gorgeous sweet flavour, I'm now going to follow Steve's tip of roasting a few at a time and preserving them under olive oil ready for quick, mid-week use. Especially if our harvest is good this year.
I also came away eager to present Ruby with the beautifully wrapped bag of baby pink marshmallows that I'd made myself. Here's the recipe, kindly supplied by Daylesford:
Beetroot Marshmallows
Ingredients: 2 egg whites
500g caster sugar
250ml water
1 small beetroot
2 tbsp. icing sugar
2 tbsp.  corn flour
6 leaves gelatine
Prepare the gelatine by soaking the leaves in cold water. Combine the grated beetroot and water, simmer for 3-4 minutes, remove and allow to cool. Strain away the beetroot and combine the sugar with the pink water in a pan.
Pop the pan over a moderate heat and begin to bring up to 122C (you will need a good food thermometer or probe). In the meantime, whisk the egg whites to firm peaks in a stand mixer. When the sugar syrup has reached the correct temperature, pour it onto the egg whites with the whisk still beating. Squeeze the gelatine leaves of any excess water and pop into the warm pan left over from the sugar syrup before adding to the whisked meringue. Allow the mixer to continue for 5-8 minutes until the meringue is thick, glossy and cool.
Line a tin with a greasing of grape seed oil and a dusting of the icing sugar and corn flour combined. Pour the marshmallow mixture into the tray and allow to cool at room temperature for 2-3 hours.
When set, cut the marshmallows into cubes with an oiled knife on a surface dusted with a little corn flour and icing sugar. Dust lightly, coating with the icing sugar mixture and store in an airtight container or pop on to a plate.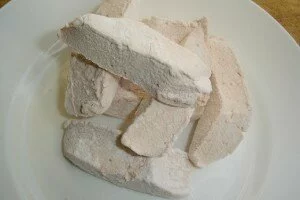 Daylesford cookery school offers a range of other classes, including Wild Food and Foraging, Nose to Tail, Cooking the Perfect Roast Dinner, Artisan Bread-Making and Bistro Classics.  For anyone looking for a real treat, it would be amazing to have a massage in the very lovely haybarn (which I wrote about here) afterwards.
I visited Daylesford cookery school to review on behalf of Cotswolds Concierge, which offers a fab guide to the Cotswolds from restaurants to hotels and days out.