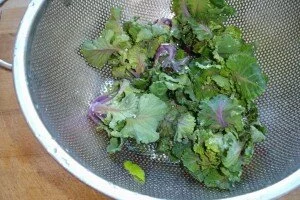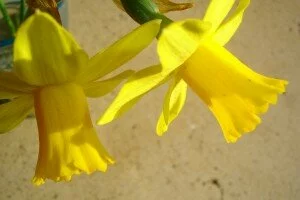 Brussel flowers are nearly at an end and I have Ruby-picked narcissi. Spring has taken my kitchen by surprise and it's very lovely. I can hear the lambs from the window (which has been flung open for most of the weekend) and I'm totally relishing the sunshine.
Driving over the hill on our way to Ruby's swimming lesson yesterday, it was one of those mistily beautiful mornings, with the slightly greening countryside looking so atmospheric. Beautiful in a different way to an Autumn or winter misty morning, with the Spring sun bringing such hope for a fabulous weekend as it burst through.
Hopeful though the sunshine was, swimming lessons have changed to a very unkind hour for a Saturday morning, so this was definitely necessary when we got back home: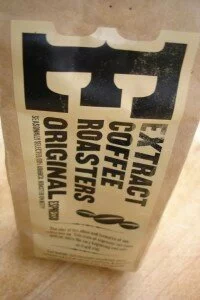 Gorgeous coffee that is sourced by a couple from Blockley, a village near to us. They source and roast the coffee beans themselves, visiting the producers and so ensuring that their coffee is the best sort of fair-trade. Totally delicious too.
As it has very definitely been a weekend to enjoy being outside, most of the food has been as a result of previous efforts. I'm finally eating a semi-hard cheese that doesn't have a suspicious sheen, unlike my glittery cheese of a few months ago. It goes well with the quince membrillo style jelly that is proving to store well.
Of course the days may be unexpectedly balmy, but the evenings are still chilly – I'm not unhappy with that, always glad of an excuse for a wood-burner. Last night I cooked a tagine on it with the very tasty hogget chops I mentioned here. Broad beans from the freezer (keen to use them all as I've just planted more crimson flowered broad beans for this year) cumin, garlic and preserved lemon went very well with the wonderful meat.
Chilly evenings are a great excuse for creamy rice pudding with the last of the rhubarb and rose petal jam too that you may remember as below.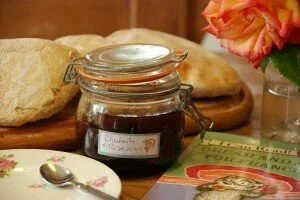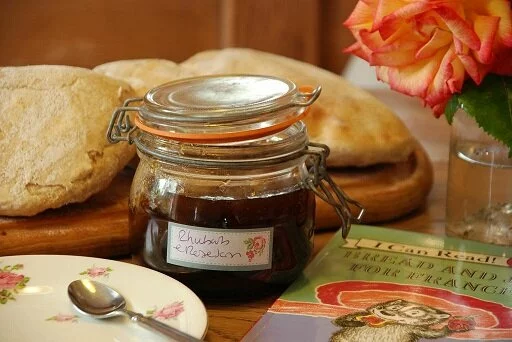 Mornings are definitely not too warm for porridge yet either. I experimented with the banana porridge as recommended by Rachel of the fabulous Well Worn Whisk. It went down very well with Dame Washalot, aka Ruby Martha as you can see: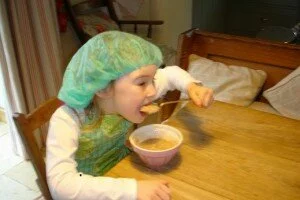 It was World Book Day and she was in need of sustenance for a school day dressed as one of the characters from her current favourite book, The Faraway Tree by Enid Blyton.
In my March kitchen there are also many bald pipe-cleaners. Ruby has been as keen on making things with pipe cleaners as I have been in curdling milk lately. She's now taken to de-fluffing them – can't remember why exactly bald pipe cleaners were needed but they were vital for some sort of making project. Unsurprisingly my hoarder of a daughter couldn't throw away the by product and one day asked for a bowl of water. She made a potion with the fluff.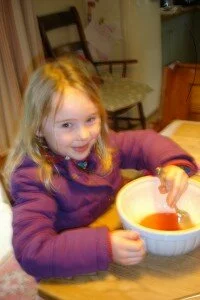 I know, yummy.
Meanwhile though, as I simmered the leftover chicken carcass for stock (used in risotto & soup) & wondered what I could use the latest batch of whey (leftover from cheese experimenting) in, I realised that I wasn't exactly in a position to criticise one thing leading to another in potion making.
One last thing from my March kitchen (joining in Celia of Fig Jam & Lime Cordial's fab IMK once again) on the subject of Brussels flowers. I've been supplementing the home-grown veg with a few extras from our wonderful local veg growers and greengrocers, Drinkwaters. One of their freshly picked veggies that we've been loving as a change from our own root veggies and chard are these beautiful, purple-tinged flowers/buds: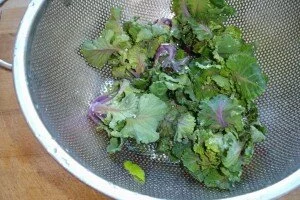 Now, we grow Brussels Sprouts ourselves and enjoy the sprout tops but these are something different, both in looks and taste. Do any gardeners know, are Brussels flowers a different vegetable altogether or if left long enough, do regular Brussels Sprouts ever flower? Would love to grow them. And if your local veg shop stocks them, would definitely recommend.