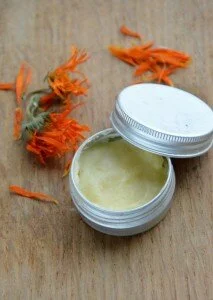 Little pots of lip balm, scented with a festive citrus essential oil and maybe including a tincture made from flowers from the garden, are surprisingly easy to make. The first time I made lip balm with Ruby I decided they were such a simple thing for her to get involved in, I must remember to revisit for Christmas gifts.
When I suggested making lip balm a week ago, my daughter was enthusiastic. Partly as she wanted to make some for herself, dismissing the herbal lip balm I keep handing to her for her chapped lips as "smelly." She also swiftly added that they should be "glittery." As it is Christmas and I remembered there was some edible gold glitter in the cake decorating drawer, I agreed that some of them could be glittery. Realizing that perhaps not everybody is partial to lips with sticky gold shimmer, I've left this out of the recipe below.
mandarin & calendula lip balm
1 teaspoon beeswax
70g cocoa butter
1 teaspoon coconut oil
5 drops calendula tincture (not essential if you don't have any, I've made without this too)
12 drops mandarin essential oil
Melt the beeswax, cocoa butter and coconut oil in a bowl over a saucepan of hot water. Add the tinctures and then the essential oil. Pour into little pots before the mixture begins to harden. I used pots that I'd saved, but you can buy inexpensive lip balm pots from The Handmade Company: they also sell ingredients such as cocoa butter, dried flower petals and have some lovely home-made aprons for children.
If you don't have the ingredients for lip balm, I can also recommend bath bombs, which I made here last Christmas as a very easy gift to make with children.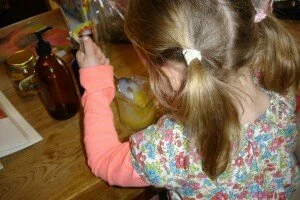 I'm a big fan of adding a homemade touch to Christmas, whether to decorations, handmade gifts or the food and drink that you offer family and friends. Besides, I'd far rather be pottering around in the warmth of the kitchen, baking spiced gingerbread and gathering greenery from the garden than getting hassled in a packed shopping centre.
 I love it that my daughter is as enthusiastic as I am about making home-made gifts. She started young, plopping bits of vegetables into my biggest saucepan for Christmas Chutney when she was a toddler. With a little input from her, I labelled them up as 'Ruby's Christmas Chutney'; we often bring out paint, glitter and our Christmas stamps to add Christmas sparkle to frugal luggage labels. We painted a cardboard box together and glued on letters spelling 'Ruby's home-made goodies' and filled it with our preserves. Ruby delved into it on Christmas day, handing out very rustic but home-made/home-grown chutney to her Aunties, Uncles and Grandparents.
The box remains, a little battered, but still in use and Ruby is still keen to get involved in our home-made Christmas. Aged 6, she does have stronger ideas about what she would like to make, however, often featuring modelling clay, you know the stuff that dries and hardens overnight. The sort that is often found lurking under the table/behind chairs in this house. Her ideas are often a tad ambitious; last year it was, "I know, let's make cups and saucers."
Little jars of Dukkah, an earthy Egyptian blend of nuts and spices are another favourite home-made gift of mine and I like the way they suggest a Three Kings Eastern exoticsm meets traditional English Christmas (in my mind anyway!). Nuts and spices were rightly celebrated in Elizabethan times as treats worthy of Christmas feasting and as Dukkah stores well, it can be made ahead of the festivities, when hopefully all is still calm in the kitchen.
The pestle and mortar pounding is good fun but straightforward for little helpers and it's worth saving a jar for yourself to eat with Christmas leftovers; added to olive oil and dried mint if you have it, Dukkah makes a great dip. I also have membrillo centred plans for the last few Quince, still scenting the room with their wonderful aroma. 
Much as the pairing of sweetly fragrant quince jelly and salty Spanish cheese feels like a contemporary food fashion, I think it fits well with a traditional Christmas. After all, quinces, along with fruits, nuts and spices would've featured in an Elizabethan Christmas feast. Edible decorations and greenery brought in as garlands would've been a key part too of course and, inspired by Anne of Life in Mud Spattered Boots' lovely rustic wreaths I have weekend plans for transforming hedgerow bounty.
Before I get carried away though, I must remember that I still have work deadlines to meet, a very scruffy house to get ready for family visitors and we're nearly into the last lovely but very busy week of carols, school nativity and parties. As usual no doubt lots of my plans will be abandoned as I try to enjoy it all rather than race around getting frazzled. But trying a few new home-made things each year along with making the old favourites such as spiced biscuits for the tree, and involving Ruby as much as possible, does feel to me like it's properly Christmas. Even if we do end up with a very messy, sticky, glittery house along the way!