My kitchen is full of untidy clutter, silver pine cones and lots to eat. All with a distinctly glittery sheen. Nothing changes.
The pine cones were painted by children last weekend and are waiting for me to somehow attach them to ribbon (I hadn't quite thought that one through when I reached for the glittery paint) to make a sort of Christmas bunting to string from the beams. Next to them are Christmas cards that I must write, cards that I keep meaning to hang on ribbon and a few sprinklings of tinsel for good measure. It must've dropped off the Nativity play angel halo. I have work to do, ironing piling up, lots that I could tidy, but of course I've just found time to make Crisp Cinnamon Cookies from Trine Hahnemann's lovely Scandinavian Christmas book. Well, we're choosing a Christmas tree after school and I thought we'd need something festive afterwards.
Another indication of my priorities can be seen on the windowsill.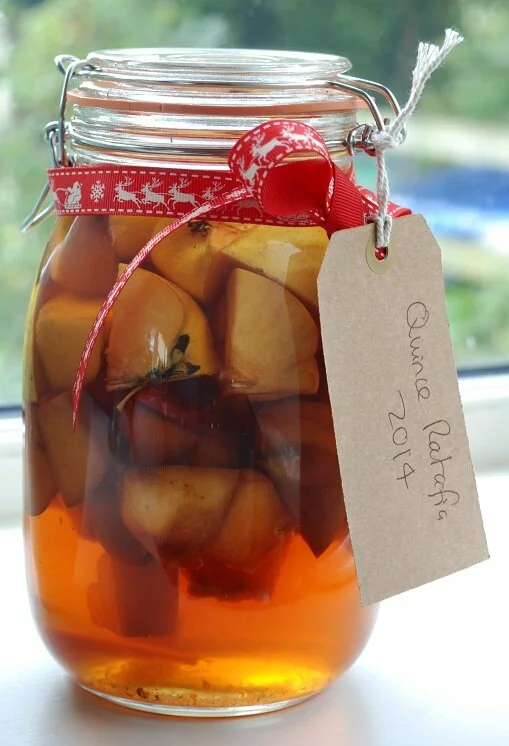 This year's Quince harvest wasn't as bountiful as last year so I just made my two favourite Quince items – Quince Ratafia and membrillo. Some of the membrillo has already been scoffed by us with cheese and added to tagines for a sweet fragrance but it's mostly waiting to be wrapped in a tin in a cool room.
This is how I make my Quince Ratafia, a golden liqueur whose wonderfully exotic name belies its ease of making:
Quince Ratafia
Ingredients:
3 Quinces
1.2 litres brandy
275g sugar
Simply chop the quinces into chunks, cover with the brandy (you can use cheap brandy but not so cheap that it ruins your lovely home-made liqueur) and add the sugar. Shake daily until the sugar dissolves. Strain the liquid after 12 weeks through muslin. Lovely as a tipple with the Christmas pud.
Quince-meat slices have already been made and scoffed.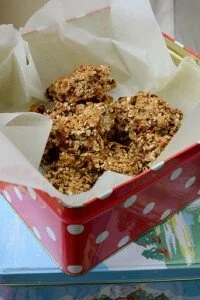 And a Christmas pudding that I made with my daughter is tucked away in a dark corner. It may be the best place for it. I'm hoping that the grandparents who will share it with us on Christmas day will be so pleased that it was mixed by their 7 year old grand-daughter that they'll just be amused by the fact that she was a little creative in its making. I was probably a little too relaxed about how lovely it is to let Ruby get on with things in the kitchen these days. I passed her the baking powder and cinnamon and a teaspoon, mentioning how much to add and even left the room to get something during the mixing. Later, when she mentioned adding a few 'secret ingredients' I did recall her darting away guiltily from the 'treats' drawer. Then there's her admission that she may have been rather generous with the baking powder. I did notice the pudding looking as if it was trying to burst out of its basin pre-steaming. I look forward to a mad scientist style pudding on the big day.
My kitchen has also seen lots of experimenting with bread lately. An easy overnight loaf which I'll hopefully write about in January ( a good month for the warm fug of baking in the kitchen surely?) and also Rye bread, which I'm planning to make again on Christmas Eve for an easy supper along with smoked salmon and crab.
Anyway, back to the glittery chaos (even the cookies are sprinkled with an edible gold variety). Happy Christmas baking to everyone and hope you too have that constant glittery sheen around you. And a big thank you to the lovely Chava of Flavourphotos who did a photo shoot with me for a recent Quince magazine article and managed as always to make something beautiful out of my shoddiness.