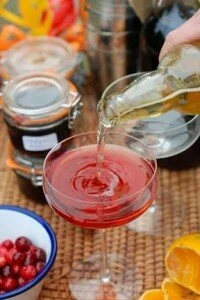 Tis still the season to be merry – and to celebrate the fruits of your labour in style. If you have a few home-made jellies and cordials stashed away to add to the mix, New Year cocktails can be satisfyingly personal too.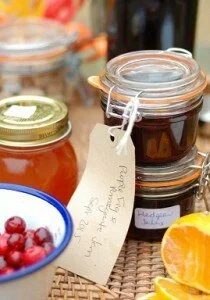 If you've planned ahead and squirelled away blackberry whisky, sloe gin, cider, pear vodka or quince ratafia you can get really creative. But if not, many regular preserves or berried treasure stashed in the freezer can help you celebrate a productive year in the garden in style. I always find frozen fruit languishing in the depths of the freezer just when I'm about to pick the next year's crop – far better then to relish it with something sparkling!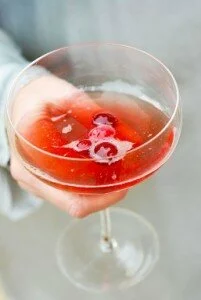 I'd like to describe gleaning cocktail recipes/ideas from vintage books or stylish bars but have to admit that my own experimentation has mainly been a result of desperation: trying to concoct something on a Friday night when I have gin ready to pour and realised we haven't got any tonic!
Growing herbs such as lemon verbena and lemon balm does make me eager to try them in syrups though and I can't resist picking a few rose-hips for similar purposes. Or using a sprig of rosemary as a stirrer in a Whiskey Sour.
This is my favourite, very simple home-grown cocktail:
Cotswold Kir Recipe
I got the idea for this on a holiday to Brittany. Kir is obviously a classic French cocktail made with Crème de Cassis topped up with white wine but we enjoyed a Breton version made with local sparkling cider at a great little B & B. It felt perfect drunk in a rural part of Brittany surrounded by apple orchards; once home we decided a Cotswold Kir suited our own surroundings up a Cotswold hill. Especially as I'd made home-made Cassis with a blackcurrant glut and had some nicely matured home-made sparkling cider ready for quaffing.
Ingredients
Cassis (Very easy to make if you have plenty of home-grown blackcurrants).
Sparkling Cider
Simply add 1 part Cassis to a glass then top up with 9 parts Sparkling Cider for a cocktail as delicious as it's beautiful.
My friend Chava took the pics here for an article I was writing on home-grown cocktails for Smallholder magazine. It was a month before Christmas, we were both busy but had the wood-burner lit and it seemed a waste not to stop and drink the cocktails we'd made for the photos. We could've quite happily settled by the wood- burner for the rest of the day.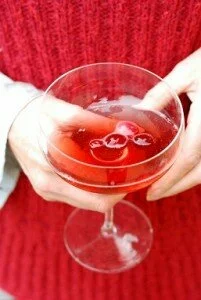 A belated Merry Christmas and a very Happy New Year!