Wild strawberries, redcurrants and raspberries are all plentiful in our garden at the moment. Tempting me to grab a handful as I walk past on my way to plant purple beans or to pop outside with a bowl before eating my breakfast granola. And Ruby is telling me she's 'fed up' of the regular strawberries that have been our dessert most evenings for the last two weeks.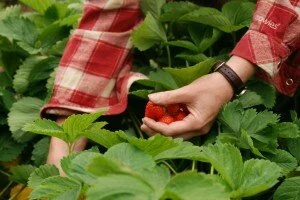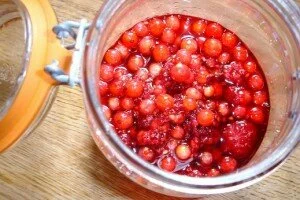 While I'm definitely not fed up of red berries, it's perhaps time to do a little more with them than pour on the cream. Redcurrant cordial beckons (how lovely to drizzle on to vanilla ice-cream or use in salad dressings as well as for a summery drink) but first I've made something even easier.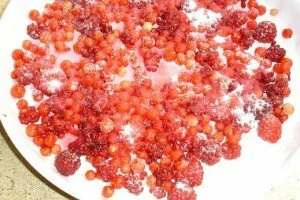 We've had such amazing summery weather lately, it's seemed more important to savour it, whether it's pottering around the garden, sneaking into the hammock on a lazy weekend afternoon or eating outside.
Or making sure that warm evenings are not all about dusk gardening; remembering to sit with a drink and enjoy the golden glow of the hay field next door and the changing look of the garden as the sun sinks and a bat starts to circle the house.
You may think I've spent a little too much time doing the above if you saw the parsnip forest (I've left them to go to seed, enjoying the flowers until my squash are ready to plant in their place) or the wild growth around the redcurrants. But the parsnip flowers are very pretty and there's a definite hum about them suggesting the honeybees are appreciative of my tardy ways. While my wild growth is doing a good job of protecting the redcurrants from greedy birds, keeping them hidden like little jewels in an unkempt forest.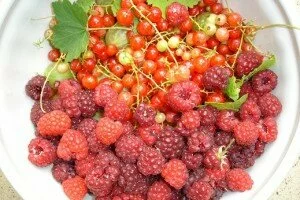 Shaken berries (or currants) seem to be popular in Scandinavia, and it's a wonderfully simple way of drawing attention to their jewel-like beauty. Trine Hahnemann inspired me to try them when I read the Nordic diet and Diana Henry reminded me in her wonderful recent book, a change of appetite.
You can use any sort of berries/currants – I used a mix of wild strawberries (cultivated strawberries don't work brilliantly in this) redcurrants and raspberries but will be trying blackcurrants too when they're ripe.
These berries are meant to be shaken, not stirred, so I'd recommend using a deep sided baking tray. My first attempt was in a container with shallow sides which encouraged me to do the opposite.
300g berries/currants
75g raw cane sugar
Rinse the fruit but don't dry. Spread them out on a large tray and sprinkle with the sugar.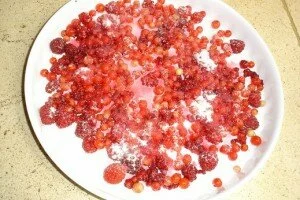 Leave for a couple of hours until the sugar has dissolved, shaking from time to time.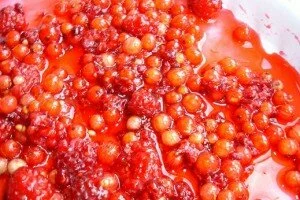 Pour into a sterilised jar (I used one straight from the dishwasher) and they'll keep for about 3 weeks in the fridge. Great with mascarpone for a summery dessert – the juice makes a lovely, easy syrup to sweeten the mascarpone – these make a tasty breakfast too with thick, Greek yoghurt or labneh.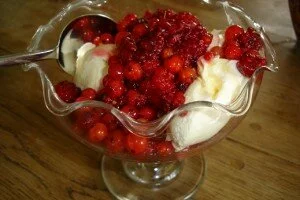 Would love to join in Four Seasons Food, co-hosted by Louisa of Eat Your Veg and Anneli of Delicieux, with this month's theme of The Colour Red hosted by The Spicy Pear and to Ren Behan's Simple and in Season.