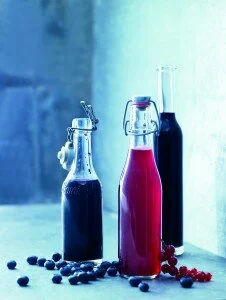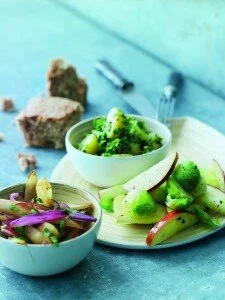 Always a fan of home-baking, being surrounded by snowy fields has added to my enthusiasm for the joy of bread. The fantastic homely aroma and knowing exactly what's gone into my loaves are factors. Then there's the fact that we're snowbound, with no shops in walking distance.
So on reviewing 'the nordic diet' by Trine Hahnemann, I was delighted to read of the emphasis on "home-cooking with fresh ingredients, including home-baked bread." Home-baked bread that appears both healthy and enticing too, using interesting, nutritious flour such as spelt and rye.
I'm also quite partial to easy bread recipes, ones that are nutitious and tasty but fit easily into everyday life. Flatbread is a favourite of mine, and I make a Norwegian mountain bread from Nigella's 'How to be a Domestic Goddess' regularly, one that feels healthy including lots of oats, wheatgerm and seeds but requires no kneading and 'proves' in the oven. But now I'm very excited about trying some of Trine's nordic recipes. Crispbread, with rye flour and crushed caraway seeds look easy to make and should store well too, while the "sweet and nutty" blueberry buns look delicious and very realistic for a weekend morning. I've already made the spelt baguettes to go with supper one evening; they were tasty, wholesome and described by Ruby as "the most wonderful bread in the world!" Playing in the snow beforehand may have had something to do with it, but still quite a compliment!
Shower buns though, are the ones that I'm most eager to try. The idea is that you make the dough on an evening and leave it to prove slowly in the fridge overnight. So that the next morning you can pop your rolls in the oven to bake while you're in the shower. Freshly baked rolls for breakfast and all those reassuring smells wafting around the house without too much trouble sounds very tempting to me.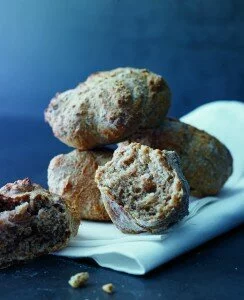 One of the other things that immediately appealed to me about 'the nordic diet' is the way that Trine has so many interesting recipes that I can make with home-grown and foraged produce. There's brussels sprouts with apples and walnut oil, potato and kale salad, and recipes with nettles, ramsons (wild garlic), elderberries, rosehips (some great cordials) and lots of herbs. Her explanation of a Nordic diet and its benefits is also very appealing:
"It is based on the produce available in the Northern hemisphere, where many grain and vegetable crops grow naturally or have ideal conditions…"
Describing the balance that we need in our diet for a healthy and happy life, Trine continues:
"The Nordic diet offers such a balance, with its focus on lots of different whole grains, root and green vegetables, locally caught fish and game, grass-fed lamb and free-range poultry. It comes allied with a growing organic, eco-conscious movement and a focus on seasonality, so that during the year we dine more or less according to what nature has to offer."
She describes how it's possible to lose weight by eating less, following a Nordic diet and combining this with regular exercise, but I also like the fact that this isn't a book about depriving yourself. It's full of good, home-cooked food that's full of flavour, and Trine writes a lot about enjoying meals with family and friends. With its emphasis on an outdoor lifestyle too (whether growing, foraging or eating outdoors) this is a book that celebrates the simple pleasures of life as well as food.
There are some lovely ideas for fish and shellfish. Fried herring with beetroot and horseradish (another wild ingredient) sauce looks simple but delicious and nicely frugal too. I also want to try Trine's fishcakes very soon; they use healthy English ingredients including salmon, porridge oats, grated carrot and squash and look delicious. I like the addition of lemon thyme to these healthy fishcakes too, especially as it's something that still grows like crazy here in the winter. I think it is, anyway, will have to wait until the snow's gone to see quite how hardy it is.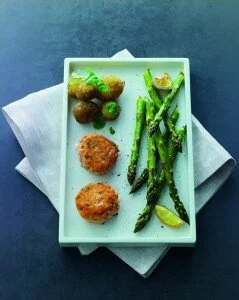 The Nordic diet includes plenty of great vegetable dishes too and Trine is keen to point out that dishes such as rye pasta with kale and garlic and brown rice risotto with mushrooms can be satisfying main meals. She says that the fundamentals of the Nordic diet includes eating fish twice a week at least, eating vegetarian meals twice a week and eating game, chicken or meat only 3 times a week at most. The meat recipes in this book mainly make good use of either free-range chicken or wild meat, from leg of wild boar, to venison meatballs or tarragon chicken with jerusalem artichokes.
This is a very attractive approach to me – I would far rather rear or buy the best meat I can afford and use it sparingly or for fewer meals, than try to feed my family with cheap, intensively farmed meat for most meals. Surely this is better for us as well as our environment. And I definitely plan to cook more venison this year. It's plentiful, as organic and free-range as you can get, healthy and affordable. I like Trine's take on game/wild meat:
"Growing in the wild, game meat is healthier, leaner and more digestible. If cutting down on meat intake, it makes sense to cut down on farmed meat and poultry and switch to wild game when it is in season."
Trine also points out that the nordic diet is comparable in terms of nutrition and health to the sun-ripened mediterranean diet. It includes so many ingredients that we can easily grow, forage for or buy locally in our northern climes. Root vegetables, brassicas, herbs and berries are key components. All very attractive reasons for me to incorporate it into my way of cooking. Especially as there still seems to be room for homemade cakes.
Will definitely be trying to remember Trine's advice:
"Getting back into the kitchen, cooking healthy food from fresh ingredients, regularly setting a table nicely and sitting down to share a meal: these are among the keys to healthy and happy living."
THE NORDIC DIET by TRINE HAHNEMANN, published by Quadrille
Photos ©LARS RANEK