I have mixed feelings about Valentines day. Obviously celebrating love is a good thing but being told we all have to be romantic on the same day of the year makes me want to do the opposite. And while I love any excuse to enjoy a lovely meal, this is one night when I can't imagine eating out.
Ruby however is well into the Valentines vibe. To her it means a disco at school and a reason to be more prolific than normal in her production of cards, pictures and assorted 'presents.' With Valentines coinciding with the end of term, her school drawer is being opened and each day she eagerly gives me sheaves of paper, much of it covered in orange and pink hearts. All very sweet even if the fridge and the kitchen beams are already weighed down by artwork and I'm not sure where it's all going to go.
Anyway, I've made an effort too: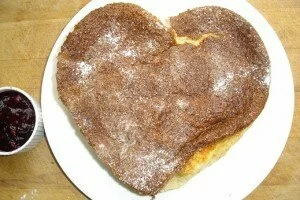 Well, with all the dairy activity in this house lately, it had to be a cheesecake. I've long been a fan of the New York style cheesecake in Nigella Lawson's 'Domestic Goddess' and have adapted it to make use of the easy soft cheese I've been making. The soft cheese freezes well by the way, making this quite an easy, treat pudding to make without too much planning.
Inspired by Sandy's use of nuts in a dessert base in her vegan blog here I decided to veer substitute some of the crushed biscuit base for nuts. And I do love a tart fruit with the richness of cheesecake so, coupled with the fact that I'm trying to make a dent in the frozen fruit in the freezer (before this year's glut arrives) damsons were the chosen fruit. Their gloriously rich colour at this time of year was obviously an attraction too.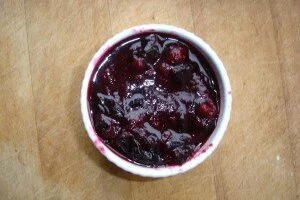 New York Cheesecake
For the base:
100g digestive biscuits
3 tablespoons pecans
3 tablespoons cashew nuts
100g melted butter
3 tablespoons raw cane sugar
Put the biscuits and nuts in a plastic bag and bash with a rolling pin until you have crumbs. Mix with the melted butter and sugar and press into the bottom of a greased and lined springform tin. I used a silicone heart mould this time. Put in the fridge to firm up for 1/2 hour.
For the topping:
2 tablespoons cornflour
750g homemade soft cheese (obviously you can use any bought soft cheese and I've found a mix of soft cheese/mascarpone is delicious too)
6 large eggs, separated
225g fairtrade raw cane sugar
2 teaspoons vanilla extract
150ml double cream
150ml sour cream
1/2 teaspoon salt
icing sugar for dusting
Preheat oven to 170C. In a large bowl, mix together the sugar and cornflour. Beat in the soft cheese, egg yolks and vanilla then slowly pour in both creams, beating constantly. Add the salt. Whisk the egg whites to soft peaks, then fold into the cheese mixture. Pour onto the chilled base and bake for 1- 1/12 hours, until the cheesecake is golden brown on top. Turn off the heat and let the cake stand in the oven for 2 more hours. Then open the oven door and let it stand for a further hour. Serve cold, dusted with icing sugar.
Tender, pink stems of rhubarb would be lovely with this, or a fruit of your choice. I opted for damsons, cooking them until they burst open with a tablespoon of water and a spoon of sugar. When they'd cooled enough to handle I removed the stones with a spoon and adjusted sugar to taste.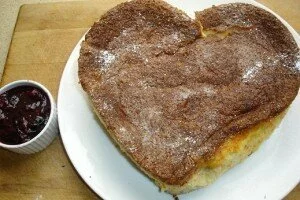 I know, it's a cracked, wonky heart but hopefully my loved ones are used to my very rustic efforts being more about the taste than perfect looks!
Would like to include this in Louisa of Eat Your Veg and Vanesther of Banger's & Mash fab Family Friendly Foodies challenge which has the theme of LOVE this month and to the February Four Seasons Food Challenge (Food from the Heart this month) which is co-hosted by Louisa of Eat Your Veg and Anneli of Delicieux. Happy Valentines!