It seems ironic that one of the first things I cooked from this very meat biased cookbook was beetroot tops with anchovies. And perhaps odd that someone who was a non-meat eater for 30 years is reviewing The Ginger Pig Farmhouse Cookbook, which has some excellent recipes for home-made cooking chorizo, pancetta and making your own pastrami.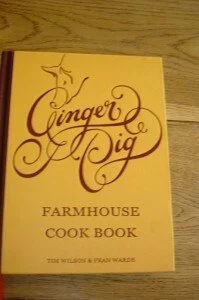 Yet if you read this lovely book, which is packed full of gutsy, full-flavoured dishes from the farmhouse kitchen table (making use of meat from well-reared, naturally fed animals) and realise that I was a fish-eating sort of vegetarian who reared pigs last year, it starts to make sense. Well, in my mind anyway!
Tim Wilson, owner of The Ginger Pig chain of butchers ("There is no great secret to what we do: we simply raise the best animals in the happiest of circumstances, on the finest stretch of the Yorkshire Moors we could find.") co-wrote this book with Fran Warde, cook and best-selling food writer. Fran states:
"As a food writer it is my passion to search out provenance ingredients. When it comes to meat this means it must have been looked after well, naturally fed, considerately slaughtered, dry aged and purchased from a reputable butcher in order for me to truly enjoy my work in the kitchen."
There are some interesting recipes for cured meats, preserves, pies, pates and terrines, casseroles and stews, and a great personal story behind The Ginger Pig too. As an antique-dealing property renovator in the 1990s, Tim Wilson bought an eighteenth century farmhouse, with a view to doing it up and selling on as an idyllic country home. But he soon found the pond without ducks splashing about, the pigless sties and the empty fields a bit lifeless.
To cheer himself up he installed a few pigs; before he knew it Tim was breeding Tamworths and experimenting with curing and charcuterie. The son of an antiques dealer (but grandson of a butcher and a grocer) took on a monthly stall at Borough market and found that his tasty pork products from pigs that had led a happy life sold out. He ended up buying a bigger farm in Yorkshire with grazing rights across beautiful moorland, farming rare-breed cattle, sheep and pigs and becoming a popular part of the London food scene. There are currently five Ginger Pig shops. Chutneys, pickles and preserves are still made for them using fruits and vegetables from the farmhouse garden and from locally sourced produce.
As someone who has been converted to eating meat by having pigs to clear the back garden, I'm enthusiastic about the many Ginger Pig recipes that make the most of the animals who have added life and vibrancy to the farm – whether that's from making Risotto Milanese from home-made chicken stock, Spent hen or yard cockerel casserole or Lardo from pork back fat.
Some of my friends think it's bizarre that keeping pigs led me to eating meat again. Yet I'd put the effort into feeding them organically, filling up their water when they turned it over and generally getting stuck in mud while looking after them. Later I prepared meat for the freezer, made chorizo, liver pate and air-dried ham, salted some pork for 5 days for 'pancetta' and even changed my mind about the health benefits of home-produced lard while rendering fat on the wood-burner.
Not only did I want to sample the results of my work, I knew that these pigs had lived a good life – they had plenty of space, grew slowly over a long period of time, had trees to rub against and natural food. If I was going to eat any meat, this was the sort I felt comfortable with. And as my 5 year old daughter says, "They're tasty pigs!"
I still feel that I haven't quite perfected home-brined and cooked ham though and there are some interesting recipes to try here.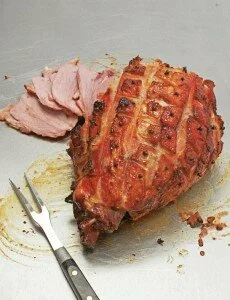 The slow-cooked Chinese spiced belly of pork and pulled spicy pork look fabulous too.
Now I enjoy the sort of balance of meat, fish and vegetarian meals that Trine Hahnemann recommends in her Nordic diet and that I feel is good both for my family and our environment. Roasting a traditional breed of chicken that has been reared slowly can seem expensive but provide so many tasty meals if supplemented with lots of home-grown/local veg. And rearing pigs shocked me initially in how much it cost (the price of feed has risen so much) but then there is so much flavour from slivers of the air-dried ham or cubes of pancetta from our Berkshire pigs that it goes a long way in so many meals. We wouldn't waste a morsel of it, which is surely as it should be.
If you are planning on buying or rearing the best meat (often welfare for the animals happily goes hand in hand with flavour) you can afford but want to be frugal in not wasting any food, the Ginger Pig cookbook is good for inspiration. There are recipes for making stock from bones and classic British recipes for broths and pies that our grandmothers would be proud of.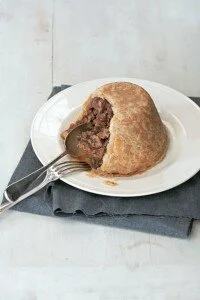 There are also some great recipes for pates, terrines, dry curing and preserves such as mustard fruits that French, Italian and Spanish grandmothers would be proud of. While the recipes for bread salad, preserves, making use of fruit from the garden in old-fashioned puds and the 'beetroot tops with anchovies' make sure that nothing is wasted. Whether it's leftover bread, fruit gluts or even parts of vegetables that often go straight or morsels of meat from a roast. There's an interesting small chapter on 'Food from the Wild' too.
I have to admit that 'A week in the farm kitchen' describes a week of eating that is far too full of meat, butter and animal fat for my liking with roast beef, roast chicken and a meaty casserole all included in the menu. But then as an ex-vegetarian, eating a few pulse/veggie based meals a week comes easily to me. And I'm not labouring on a working farm all week.
My only other reservation would be that although this book gives great detailed instructions for curing hams and making confits, some of the recipes I've tried take for granted that the reader is aware of certain techniques. The walnut and salted caramel tart, for example, is delicious but does seem to assume that you know how to caramelize sugar. It doesn't give precise instructions for the inexperienced caramelizer. This could just be my excuse as my first attempt ending up a tad on the crunchy side (it was a lovely ice-cream topping though!)
If you're inexperienced in talking to a butcher however about different cuts of meat, the section on meat cuts at the end is excellent. Many of the cuts mentioned won't be seen neatly packaged in the supermarket, but are a great, affordable way of eating good meat that has been reared well.
Which brings me to my beetroot tops with anchovies – at last!  The beets that have been providing me with salad leaves while this year's salad crops grow, are finally ready to pull up. The last leaves went into this dish, along with leftover bread made into crumbs, anchovies and chilli.
It's equally tasty with seared tuna (line caught, sliced into thick chunks) and seared skirt steak. The 'British beef cuts' section informs that skirt is also known as 'thin flank' or 'Bavette' and "either needs long, slow cooking or marinating and flash cooking and slicing into thin, tasty ribbons with a good texture." Our skirt steak came from a local smallholder who I know well; they're not soil association registered but feed their livestock organically and rear them on organic principles. Marinated in olive oil having been bashed to tenderness with a rolling pin, the steak offers great taste and is very affordable for well-reared meat. Great served on the spicy, wilted beet leaves.
I felt that this meal fitted in with Tim Wilson's principles:
"Nothing gives me greater satisfaction than rearing the best animals on one of the finest stretches of North Yorkshire, and using each and every ingredient to its full potential. I hope this book will help you to buy wisely, learn some new skills and produce fantastic dishes to add to your repertoire."
Having tried the 'Excellent roast chicken' with plenty of garlic and white wine adding flavour to this succulent chicken (it's partly cooked in a foil tent) it will definitely be added to my repertoire.  I'm looking forward to trying out more of the recipes from this book, including the gooseberry meringue pie, glazed ham and Wensleydale and onion tart.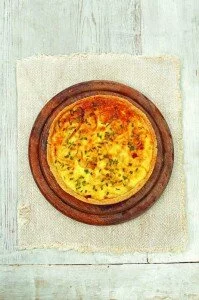 Will report more over the next few months on my trials – and errors!
With many thanks to Octopus Publishing Group for my review copy of The Ginger Pig Farmhouse Cookbook by Tim Wilson & Fran Warde.
The lovely photos of the steak and kidney pie, glazed ham and wensleydale tart are from the book, photography by Kristin Perers.