in my kitchen this June…
…there are lots of flowers. Chocolate mousse decorated with violets, flowers from my lovely Mum brightening up the kitchen and jam jars filled with random selections.  'Flower competitions' which seem to be based on who can cram the most flowers into an old jar, appear to be competing with perfume making for pole position in my daughter's world. And yes, these do include Jack-by-the-hedge and yellow flowers from the purple sprouting broccoli that is sadly finally going to seed. I'm very relaxed about this sort of flower picking but I have been trying to persuade Ruby and friends to keep her scissors away from my purple sensation alliums.
in my kitchen…
….the view is slowly changing. From one side the field of cow parsley is still frothy, the gooseberries are growing fast and the lovage is becoming gigantic behind the purple alliums. To the back, it looks as if a group of inept campers have attempted to set up a very rustic tepee site. This is actually due to my attempts to make stick wigwams for my beans and sweet peas to climb up. The new beds are made and planted and I'm hoping runner beans will make a sort of tunnel for children to run through. I've realised already though, that putting bean teepees in the middle of what still looks like bare earth (it is sown with seeds, honestly) is an invitation to toddlers to set up camp amongst my purple beans and emerging calendula. Oh well…
in my kitchen….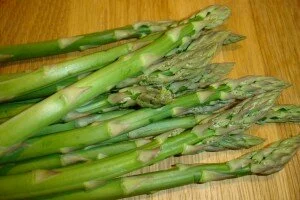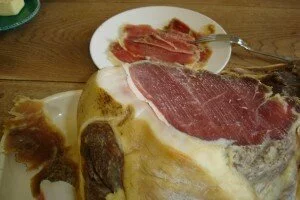 ….I'm still cooking the last of May's gluts – rhubarb, chard and asparagus are featuring lots – while willing the broad beans and gooseberries to hurry up. Even the last spindly bits of PSB are still tasty, enjoyed in frittatas with lots of parmesan, with pasta, in frittatas and in thai style noodles with venison. I still can't believe my luck that the air-dried ham actually worked and it's proving very tasty shaved onto asparagus risotto, in salads and adding flavour to frittatas.
in my kitchen….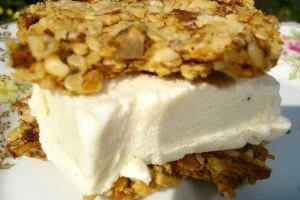 ….I'm preparing for very simple outdoor food with a glorious sunny weekend ahead (fingers crossed!). I made these very healthy biscuits to sandwich ice-cream between from the Little Leons Brownies, Bars & Muffins book and think they should provide a perfect easy desert after a BBQ.  They're made with almonds, hemp seeds, dates, vanilla seeds and a pinch of sea salt, all pulverised in a food processor. I found them tricky to handle when rolling out and cutting, crumbly after baking but absolutely delicious – obviously I had to test one!
Having read Mad Dog's post about tapas, I can't get salted caramel choc-ices out of my head. To satisfy my craving for that sweet, salty, crunchy taste and texture with ice-cream I'm going to make my very easy Toffee Sauce:
180g dark brown sugar
120g butter
120ml double cream
Simply heat in a saucepan until the sugar dissolves then pour warm over fruit and ice-cream for an easy treat pud. The quantities of butter, sugar and cream sound very unhealthy I know, but this sauce goes a long way – either to feed a lot of people or leftovers keep well in the fridge.
This weekend I'm forgetting the fruit and planning to sandwich together vanilla ice-cream between the very virtuous Little Leon biscuits. These healthy biscuits will, in my mind, balance out the decadence of pouring over the ice-cream some of this toffee sauce and adding chopped salted roast almonds.
In the Little Leon book, after the recipe for an ice-cream sandwich, we're instructed to "Hand to small child. Be prepared to load washing machine." I would like to add that this is a pudding best eaten outside. But I'm feeling greedy just thinking about that salty, sweet, creamy combination; how much is handed over to the small children is debatable.
I'd like to join other bloggers from around the world in adding this to Celia from Fig Jam and Lime Cordial's monthly In My Kitchen gathering.
–