Visited this wonderful old Herefordshire orchard today for an article I'm writing for Smallholder magazine.  Lovely day to visit, the surrounding countryside is so lush after all the rain and the orchard full of life enjoying the June sunshine.
A community supported agriculture scheme has helped preserve the orchard, which nestles below Marcle Ridge and has been in the same family for 90 years. Ann and Norman Stanier returned to the family fruit farm in 1993 to take over from parents, but found the markets for fruit changed hugely due to the dominance of supermarkets and competition from imported fruit. I came away so full of enthusiasm for what Ann Stanier has done – she clearly loves the orchard and has been so innovative in preserving it.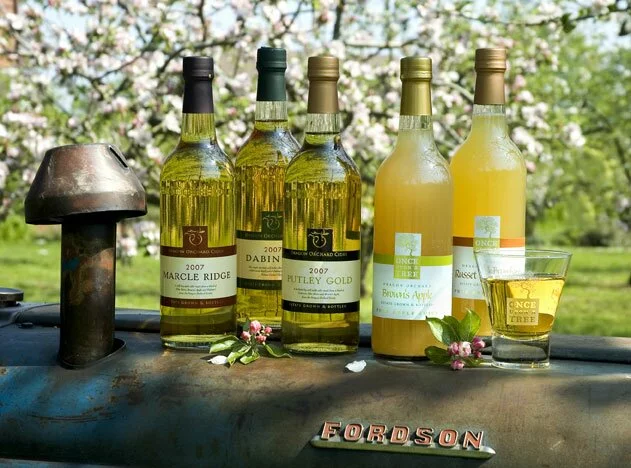 The Staniers set up a 'Cropsharers' scheme where members pay an annual subscription and visit the orchard throughout the year, enjoying blossom time, harvest (with a share of the juice, fruit, preserves) and wassailing in winter. This helped save the orchard, then they teamed up with Simon Day (a viticulture professional) and his wife Hannah, who moved to the village 8 years ago and were keen to experiment more with cider. They set up 'Once Upon a Tree' together (www.onceuponatree.co.uk) producing wonderful single variety ciders, juices and perry. A sparkling perry is produced using champagne methods and is popular at local weddings.
I'd previously tried and loved the Cider and Perry. Forget the cheap, mass-produced stuff that, if you are as shabby as me, you may have murky memories of from teenage drunken parties. These are drinks that you savour in small quantities and their taste is so evocative somehow of the wonderful countryside that produces the fruit.  The single variety ciders are lovely to drink in a wine glass with dinner. And the perry is brilliant with local Herefordshire cheeses.
Ann gave me some of the Blenheim Orange dessert wine to try. It was 10am and I hadn't long dropped Ruby off at playgroup. How decadent!  Completely delicious too. Made from apples picked in November, stored to develop flavour, then juiced in January. The juice is frozen and as it defrosts the sugars run out first, producing an intensely sweet, concentrated juice ready for fermenting. Will definitely be on our table with the Christmas pudding this year.
Great to see rare-breed pigs in a corner of the orchard and geese too plus plenty of wildlife. Came away inspired to add to our lone quince and plum trees. Definitely need apple, pear, more greengage, cherries and maybe a medlar in the back garden once the pigs have done a great job of clearing and fertilising it. Think this may be a better urge to nurture rather than the one to drink more cider.