I started May spending as much time as possible outside the kitchen. The very welcome sunshine prompted the garden to burst into life, while I couldn't resist spending any spare time outside planting. Simple food was needed.
Luckily so much of the seasonal food in May is completely delicious with little or no cooking.  Tender little purple sprouting broccoli florets are delicious picked and munched raw in the garden.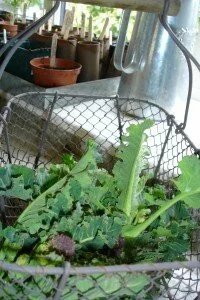 Or cooked very briefly and tossed with some chilli oil on bruschetta. I love freshly picked asparagus al dente too, whether dipped in goose eggs or tossed with olive oil and sea salt and quickly roasted or griddled.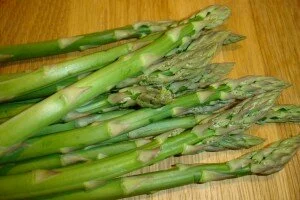 Rhubarb and primroses have featured heavily too this month. I'm not the only one who's been loving getting out in the garden. Ruby and friends have been very enthusiastic about picking primroses. So I decided I'd better make use of the ones that hadn't made it into the bowls of 'perfume' to be found lurking in lots of hidden corners. There have been lots of primrose ice cubes, pretty in rhubarb cordial until the borage starts flowering. Liz Knight has inspired me with her primrose curd, great in primrose muffins. And Fi Bird, Mum of 6 and inspirational Hebridean forager/seaweed eater who has written The Forager's Kitchen has some great ideas for edible flowers too.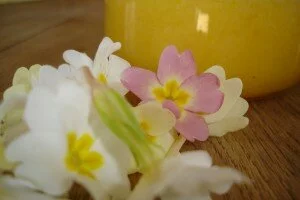 The May view from the kitchen window reminds me that this also seems to have been a month of making the most of all those fresh green shoots, mixing the cultivated and wild. From my side window everything is so lush; there are the acid greens of marjoram, variegated lemon balm and the slightly deeper greens of the lovage and angelica. Pretty cream sweet cicely flowers are in the foreground, very similar to the creamy umbels of cow parsley now rampant in the meadow behind. Nettles and ground elder are trying to sneak in from the meadow.
So my tactic has been to either top up the compost with nettles (only the ones that aren't flowering or setting seed) or to eat them. Mixed with the perpetual spinach, beetroot and chard leaves that are having a new lease of life before new plants take over, I've been using them in wild greens pies or as a stuffing for cannelloni. I'd like to try Louisa at Chez Foti's Forager's Nettle and Wild Garlic risotto too.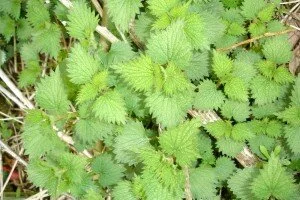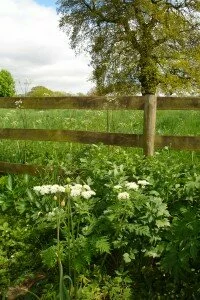 Wild Garlic from nearby woods and purple sprouting from the garden have come together lots in recipes this month, including in my wild garlic egg-fried rice.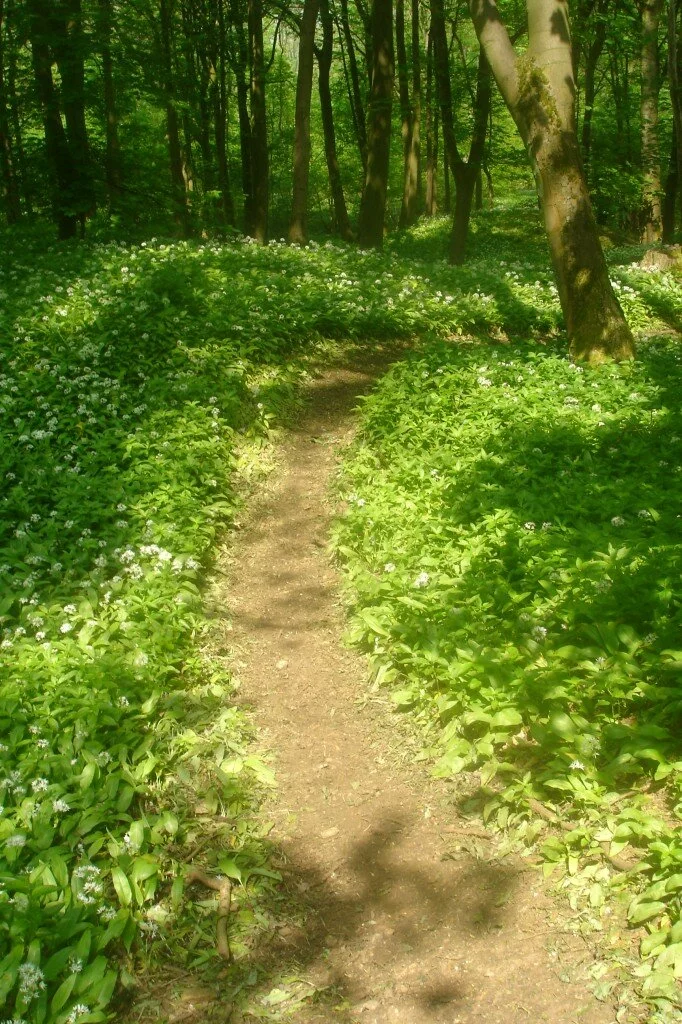 My frittata with wild garlic and PSB is packed full of nutritious greens and is very quick to make. I made it after I'd been tempted to stay out gardening one evening longer than planned and it was just the sort of easy supper that I needed – tasty in a very savoury way, perfect with the glass of red wine I thought I deserved after my hard work, yet virtuously healthy. As it includes wild greens/weeds, it's also a great way to wreak vengeance on those pesky perennial weeds after gardening!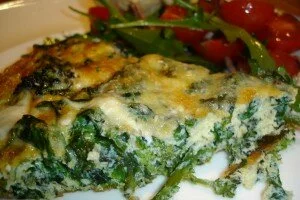 Wild garlic and Purple Sprouting Broccoli Frittata
1 handful of wild garlic leaves, washed and roughly chopped.
2 handfuls purple sprouting broccoli
2 handfuls wild/cultivated greens such as spinach, chard, nettles, sorrel, beetroot tops washed well and roughly chopped
2 tablespoons olive oil
6 eggs, mixed with a fork and seasoned with salt and pepper
150g Grana Padano or Parmesan cheese, grated
Heat 1 tablespoon of the oil in a frying pan over a medium/high heat and toss the purple sprouting broccoli (if you are using freshly picked, tender PSB from the garden it will only need cooking briefly) before adding the greens and stirring until wilted.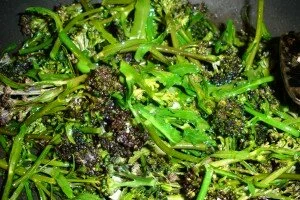 Add the wild garlic leaves, stir then add the contents of the pan to the eggs and cheese in a bowl and mix while you heat the remaining olive oil in the pan. Add the eggs and green mixture back to the pan and immediately turn the heat to low. Cook for about 10 mins until most of the frittata is set and just the top is still runny. Meanwhile heat the grill and pop the frittata under the grill for a few minutes until the top is set/golden.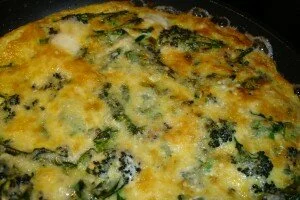 You can of course turn the frittata in the pan to cook on the remaining side, but I took the easy/cowardly option!
We enjoyed this with a rocket and tomato salad, partly as last year's rocket is also enjoying a new lease of life. I can definitely recommend a glass of wine alongside.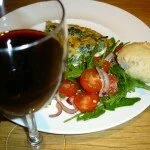 Any leftovers are great cold for lunch the next day too.
As this is a very simple way of making use of seasonal ingredients from the garden and hedgerows, I'd like to enter my Wild Garlic and PSB Frittata into Ren Behan's Simple and in Season blog event.
I'd also like to add it to Celia of Fig Jam and lime cordial's In My Kitchen, which is a lovely place to gain inspiration from other kitchens around the world.
But I can't finish a post about May in my kitchen without a mention of the windowsill. Very much a big focus of my kitchen this month, it's been home to a succession of seedlings before they're transferred to the coldframe for hardening off. Borlotti beas have germinated in loo roll tubes and purple leaved Kohl rabi have germinated in little newspaper pots (following Sarah of the Garden Deli's great instructions to make your own posh paper pots). I'm currently exciting at the appearance of tiny great shoots of perilla. Mark Diacono of Otter Farm inspired me to grow this interesting culinary herb by describing it in a great article on herb growing as "the earthy but bright child of mint and cumin parents." Already imagining handfuls of it rolled in flatbread with feta and salad, how could I resist?!