We turned up at The Bull  with sandy trainers and a distinctly windswept (yes, scruffy) look after a blustery walk along the crazily dramatic Jurassic coast from West Bay to Hive Beach. Our welcome was warm and despite the gorgeous Georgian meets contemporary chic style of The Bull, it felt so relaxed that we forgot our unkempt appearance until the vintage mirror in our room offered a reminder.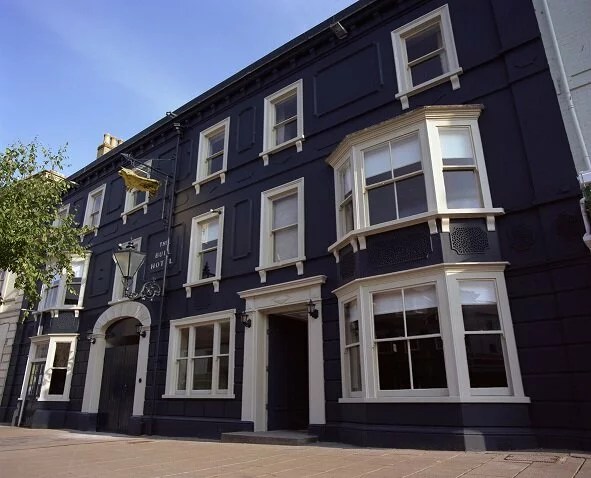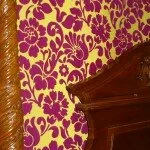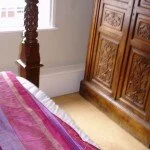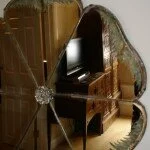 It had felt very indulgent walking the coast-path on our own. Ruby was having great fun staying with her grandparents and cousin in a caravan nearby and we were having a lovely treat on our way to collecting her. Child-free, we walked at our own pace, enjoying the views of the crashing waves and not having to think about offering encouragement/food bribes. Although after a few steep climbs, I dd need the lure of tea at the lovely Hive Beach cafe and ice-cream from the equally tempting Watch-house cafe on the way back.
At first it also felt quite liberating not having to fill my pockets full of the pebbles, shells, sticks and feathers that I'm normally begged to transport home – towards the end of the walk of course I was starting to feel that something was missing and had to stash a few treasures to give my waterproof its more naturally weighed down feel.
A long, peaceful soak in the wonderfully deep, roll-top bath in our room at The Bull was of course perfect afterwards, especially with some restorative Neals Yard seaweed bath soak.   There are several lovely complimentary Neals Yard products left for guests and they're in refillable bottles, which fits in nicely with The Bull's enthusiasm for recycling.
Each of the bedrooms at The Bull is unique in feel and style, furnished with an eclectic mix of Designers Guild wallpaper, local antiques, Parisian flea market finds, Farrow and Ball paints and contemporary art by local artists. Lovely Egyptian cotton bed linen too.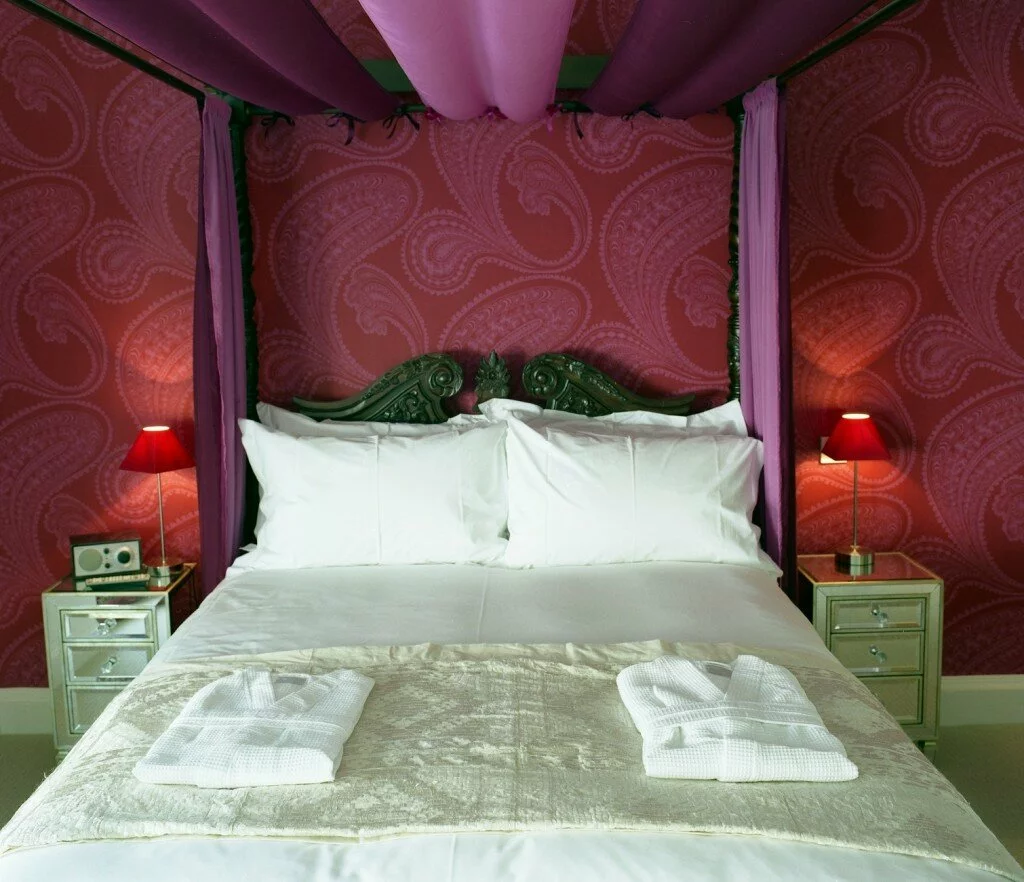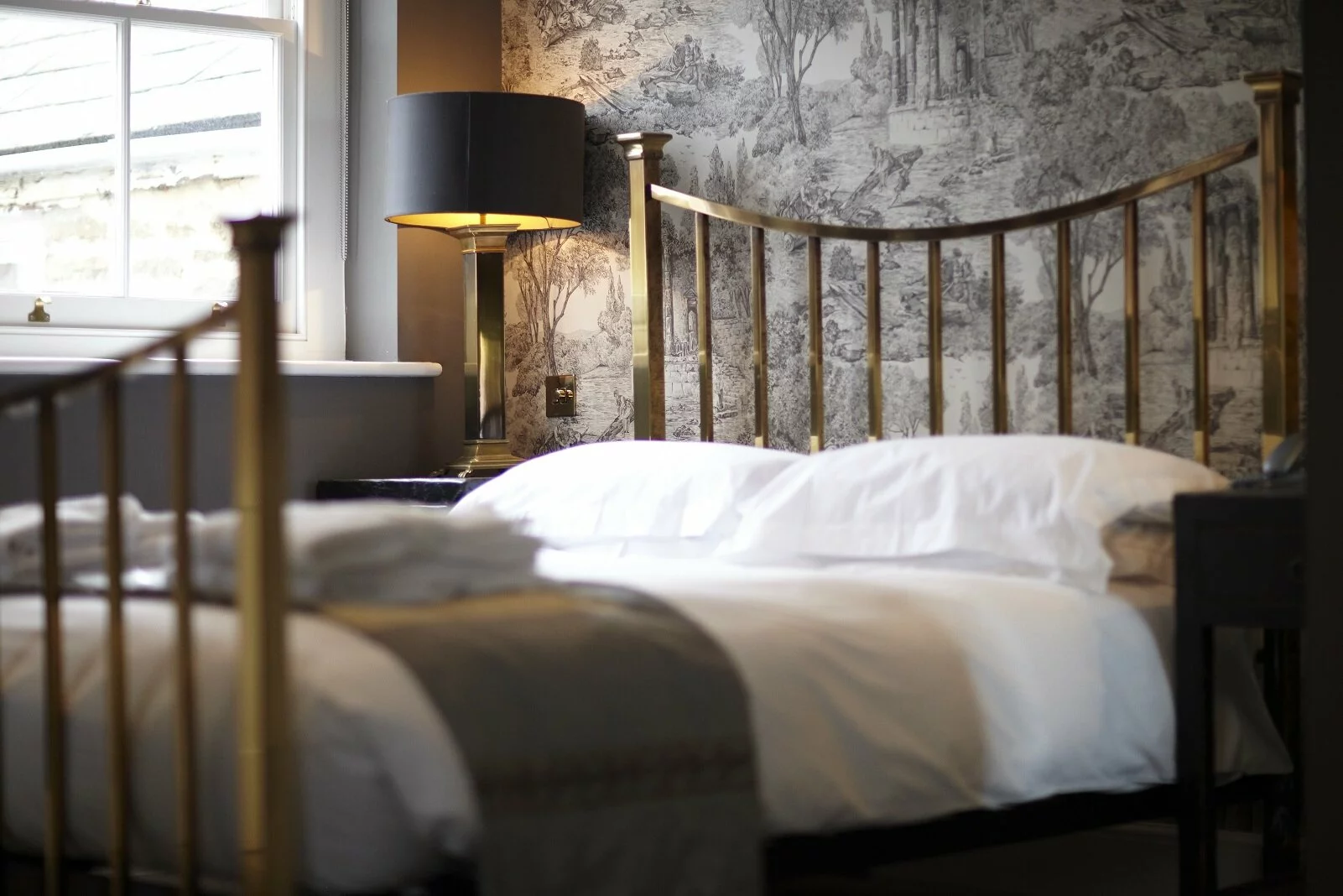 Our room felt like the boudoir of an Indian princess. An Indian princess who had moved to Bridport and been influenced by its bohemian Georgian charm. The Fuscia Flock room has a 6ft mahogany poster bed, a carved armoire and gorgeous flock wallpaper. Double doors open onto a decadent large bathroom with a rolltop bath in the centre of the room and a.chaise.
A Grade 11 listed landmark, this old coaching inn has been welcoming guests since the 16th century. The Venner bar, a cool place for pre-dinner cocktails or opulent den for drinking into the early hours, was named after an accident at The Bull in 1685, when Colonel Venner shot a Mr Coker through the window. Something about the opulent colours, Georgian meets shabby chic style and lavish  furnishings (the Venner bar is decorated in walnut with gold-plated furniture and vintage mirrors) is crying out for rakish behaviour.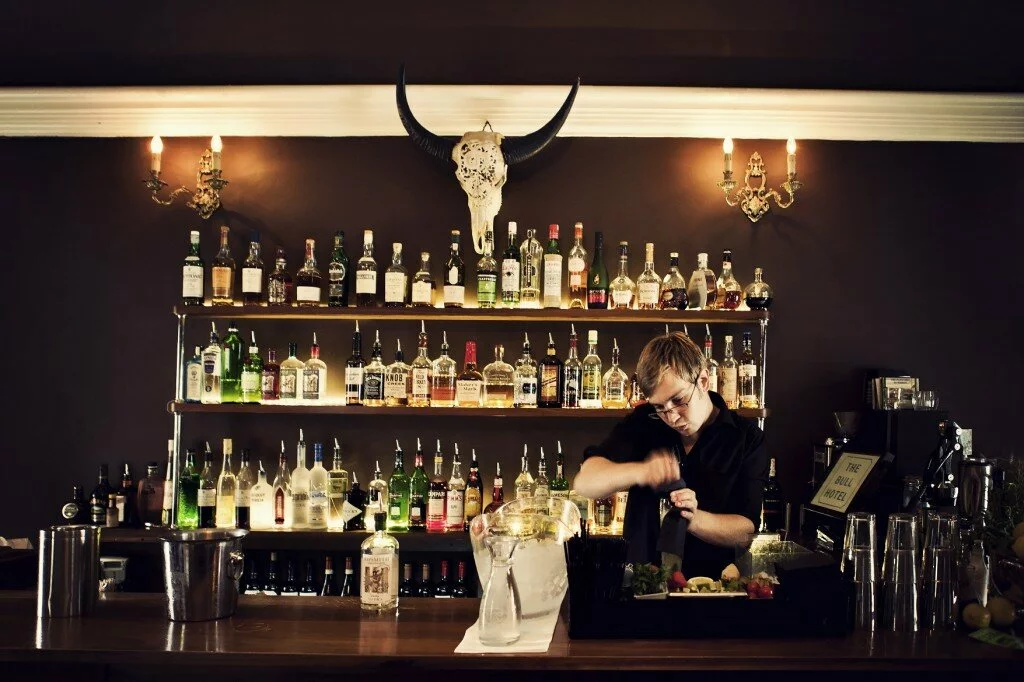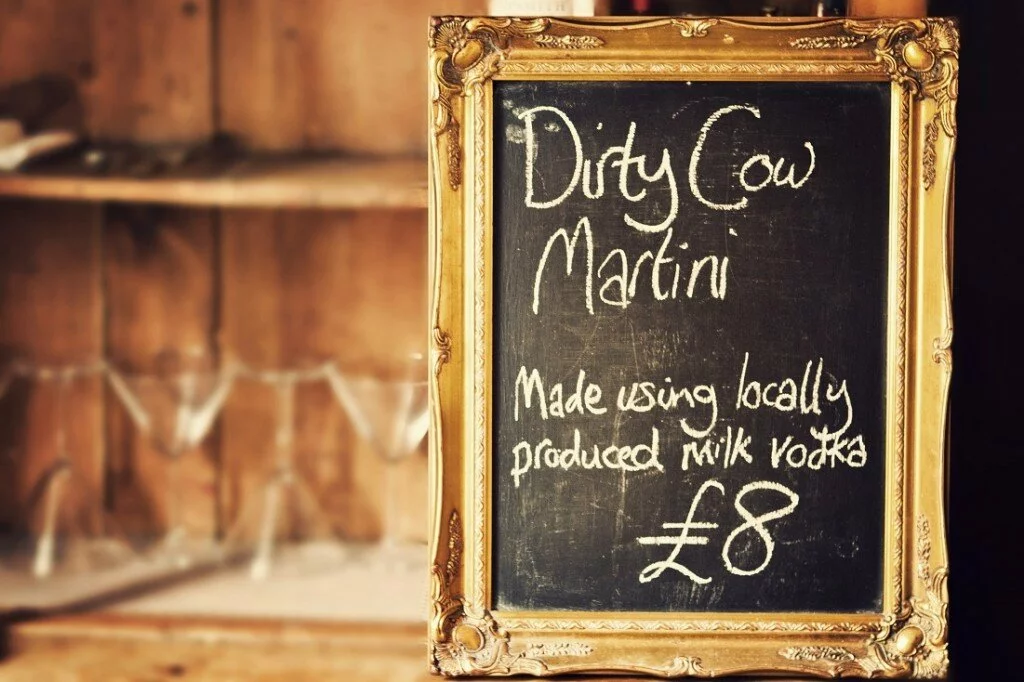 Instead we opted for pre-dinner table football. In the Ostler Room, a cosy den with lots of board games and a wood-burning stove for colder months. I was thrashed, but with lovely food beckoning from The Bull's restaurant, I didn't mind. Well, not too much.
The restaurant has a more muted decor, but the same great combination of laid-back feel and excellent service that I loved about The Bull generally. Lots of the food options are bistro type favourites and the emphasis is on making the most of excellent seasonal ingredients from the local countryside and the sea. We tried both: scallops with spinach and hollandaise followed by West Bay plaice with seafood sauce and samphire for me, while Guy had salt and pepper squid followed by Rib Eye steak with red wine sauce. Everything was delicious so we were glad that our hunger after coast path walking meant we had room for desert. An oozingly decadent chocolate fondant with clotted cream ice-cream for me, the local cheese board for Guy.
Good, local ingredients cooked simply but with flair in the sort of environment where you could choose to dress up but feel equally comfortable in jeans after a day at the coast – my favourite sort of eating out.
A wander around Bridport was definitely needed after our meal, but I have to admit we managed to find room after a walk for a Somerset Cider brandy, sipped in the courtyard at the back of the Bull. In the evening, fairylights entwined with the bunting add to its charm. During the day, I loved the flowers: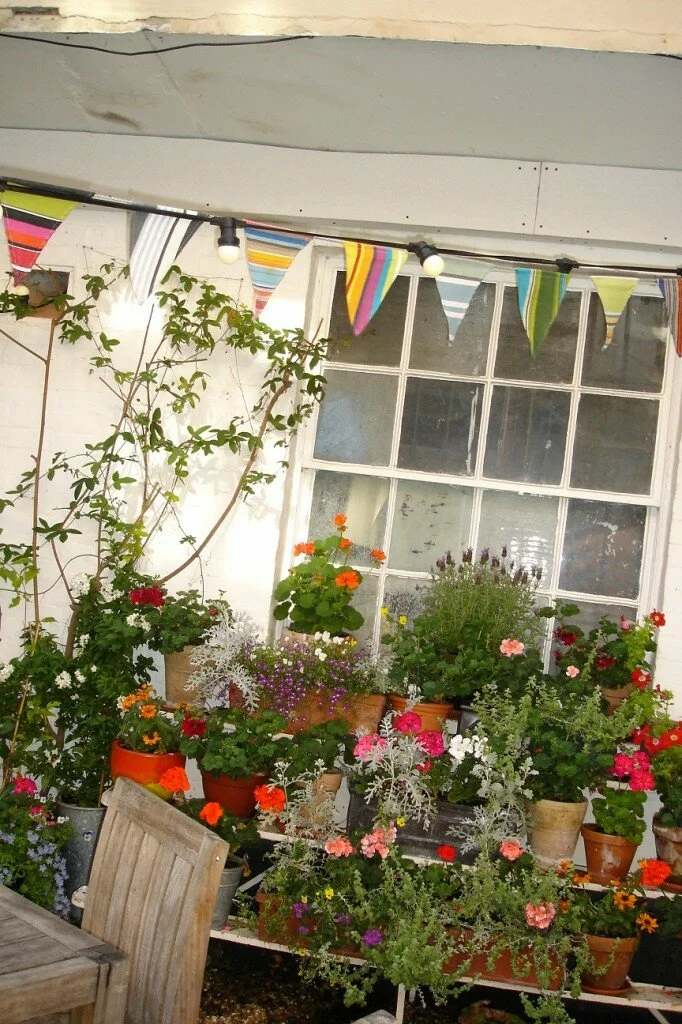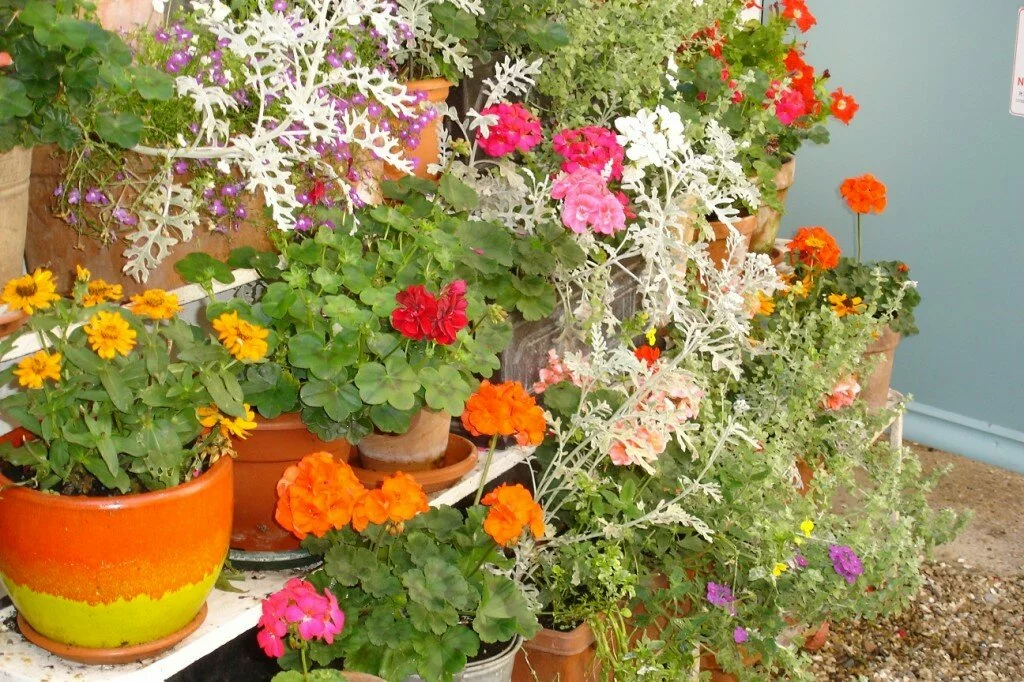 Ruby and my niece Gracie were keen on this area the next morning; they were also quite partial to Bridport's very charming pet shop.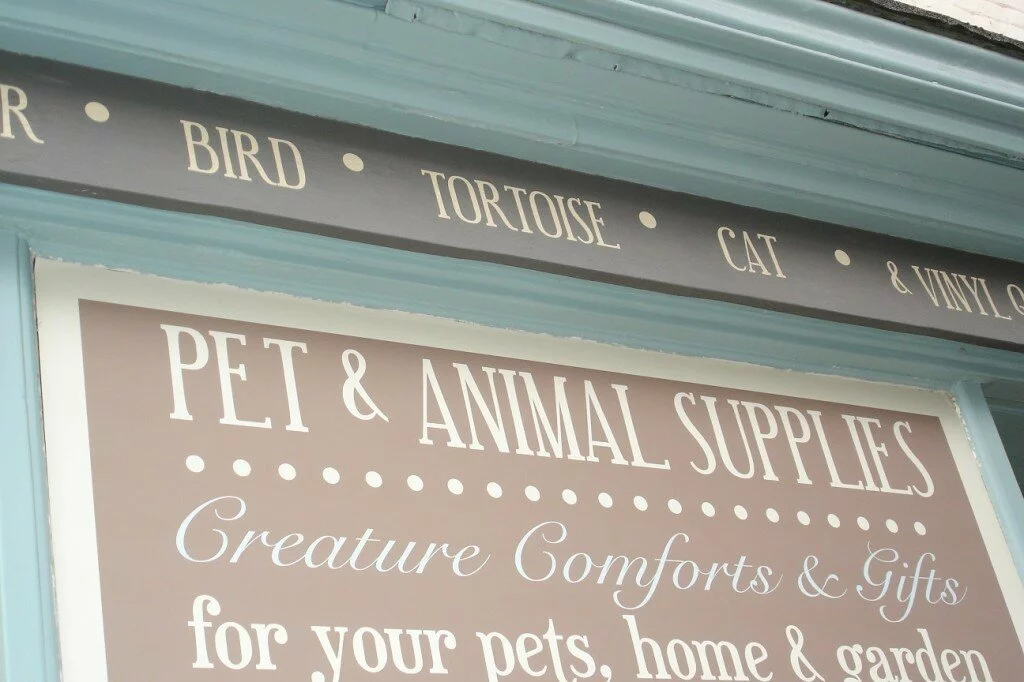 The wonderful grandparents deserved a couple of hours of coast path walking too. I felt that our roles had reversed when, after a leisurely breakfast I enjoyed the grandparent style treat bits with the girls (hot chocolates and bus ride to West Bay, where I can recommend the harbour for crabbing) knowing that I was going to have more selfish time later.
After the breakfast I'd had, my selfish time was definitely going to be more coast path walking.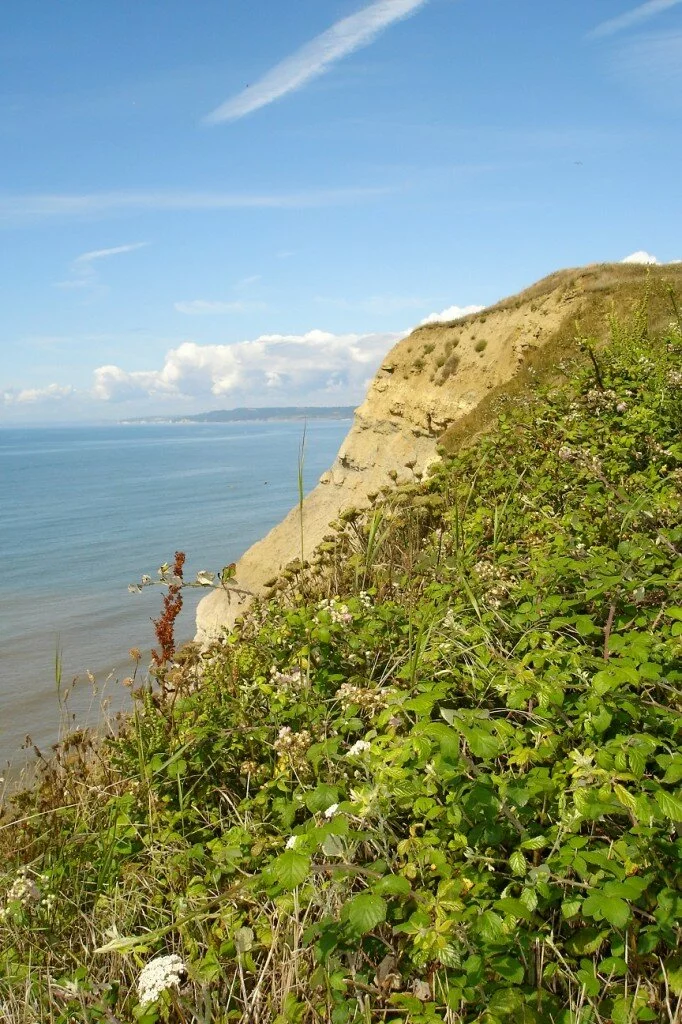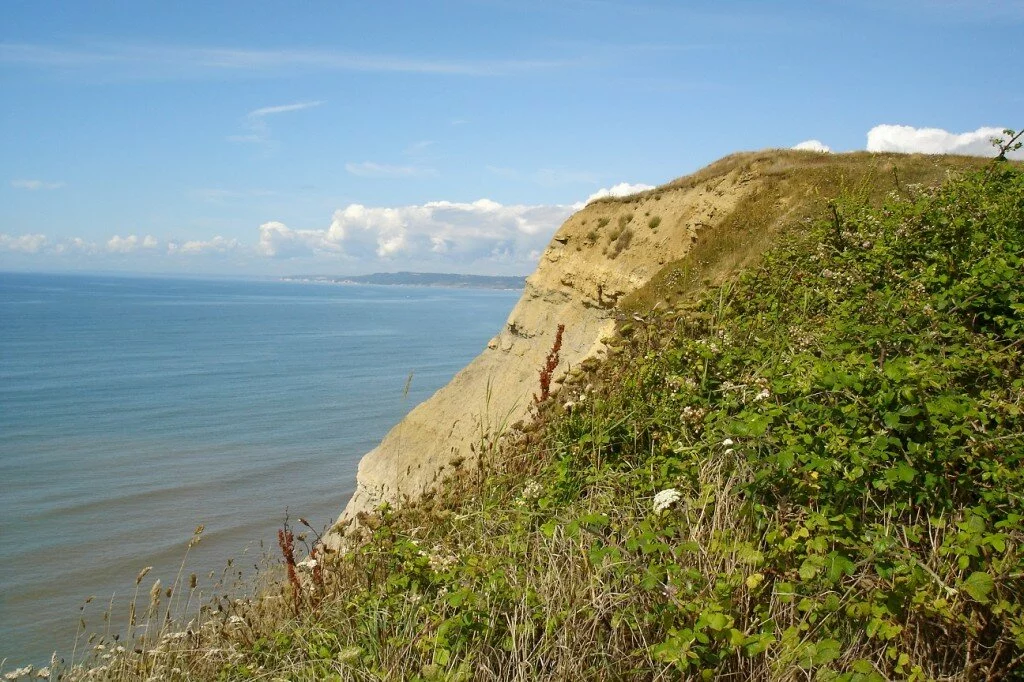 My eggs benedict were lovely but faced with the sort of breakfast sideboard that is meant to give you variety from which to choose, I'd foolishly seen it as an invitation to try lots. Well, the bread was warm, freshly baked, the apple juice local and the raspberry jam home-made – how could I not sample them?
The coast path walking was also very necessary given that we wanted to try The Stable in the evening too. An award-winning cider house at the back of the Bull (across the courtyard garden, which is the original stable yard), 'Dorset style pizzas' are served here and, on the evening we ate and drank here, the atmosphere is great. It seemed to be the sort of place where locals gather around the refectory style tables over a local cider or two to share a pizza or tuck into a pie.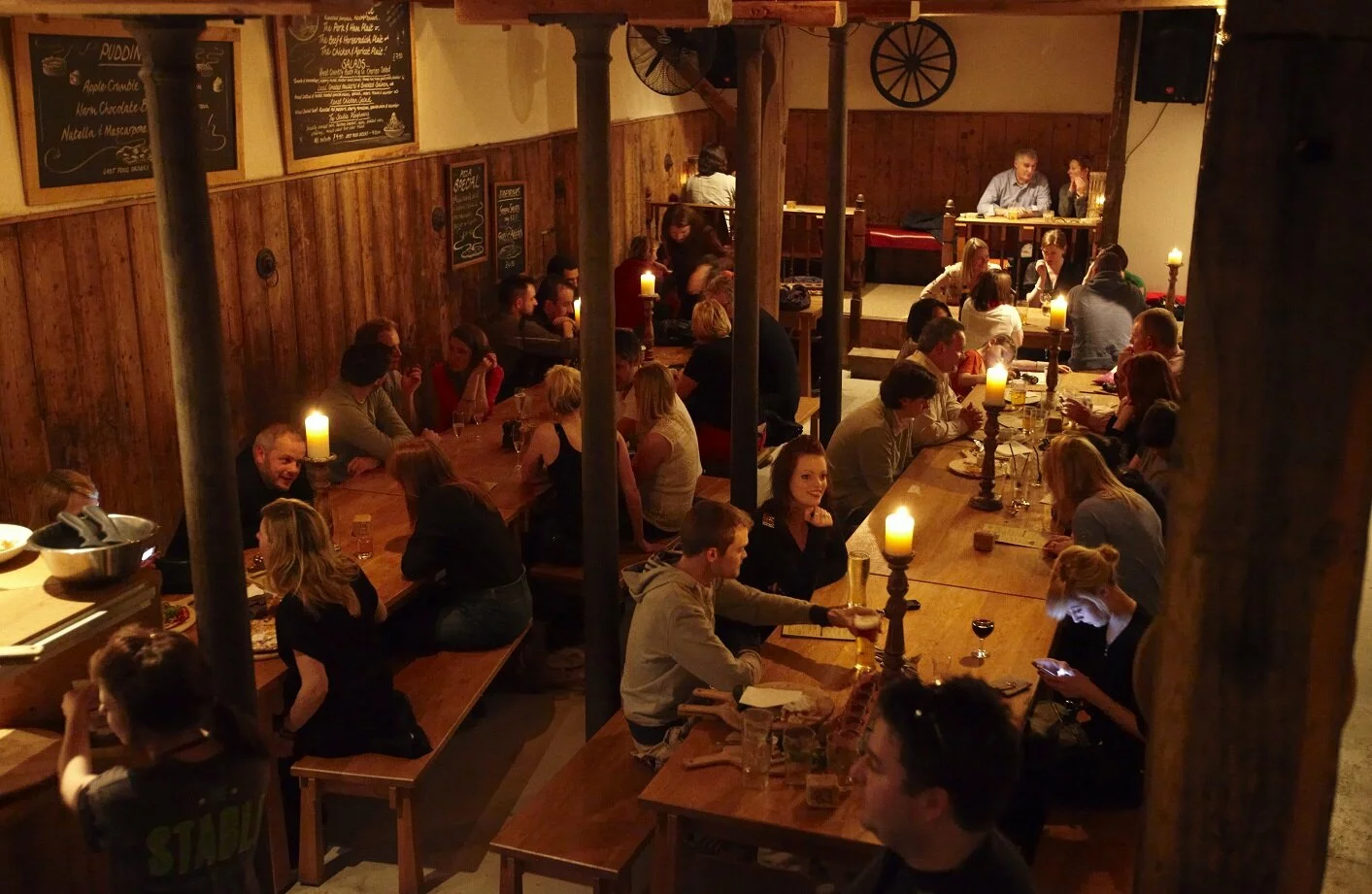 We were unsure about the idea of scoffing pizza without red wine and also quizzical about the idea of a Dorset pizza. I was soon a convert. According to The Stable, Dorset style seems to mean using organic British flour and a sourdough base and using great local ingredients such as artisan cheeses, smoked ham, great bacon, smoked mackerel. Not all at once of course.
My slow-cooked onion and local goats cheese was yummy, especially with the cider tasting board we shared. Well, there are 50 types of cider, perry, apple and pear based drinks here, surely we would've been foolish not to sample a few.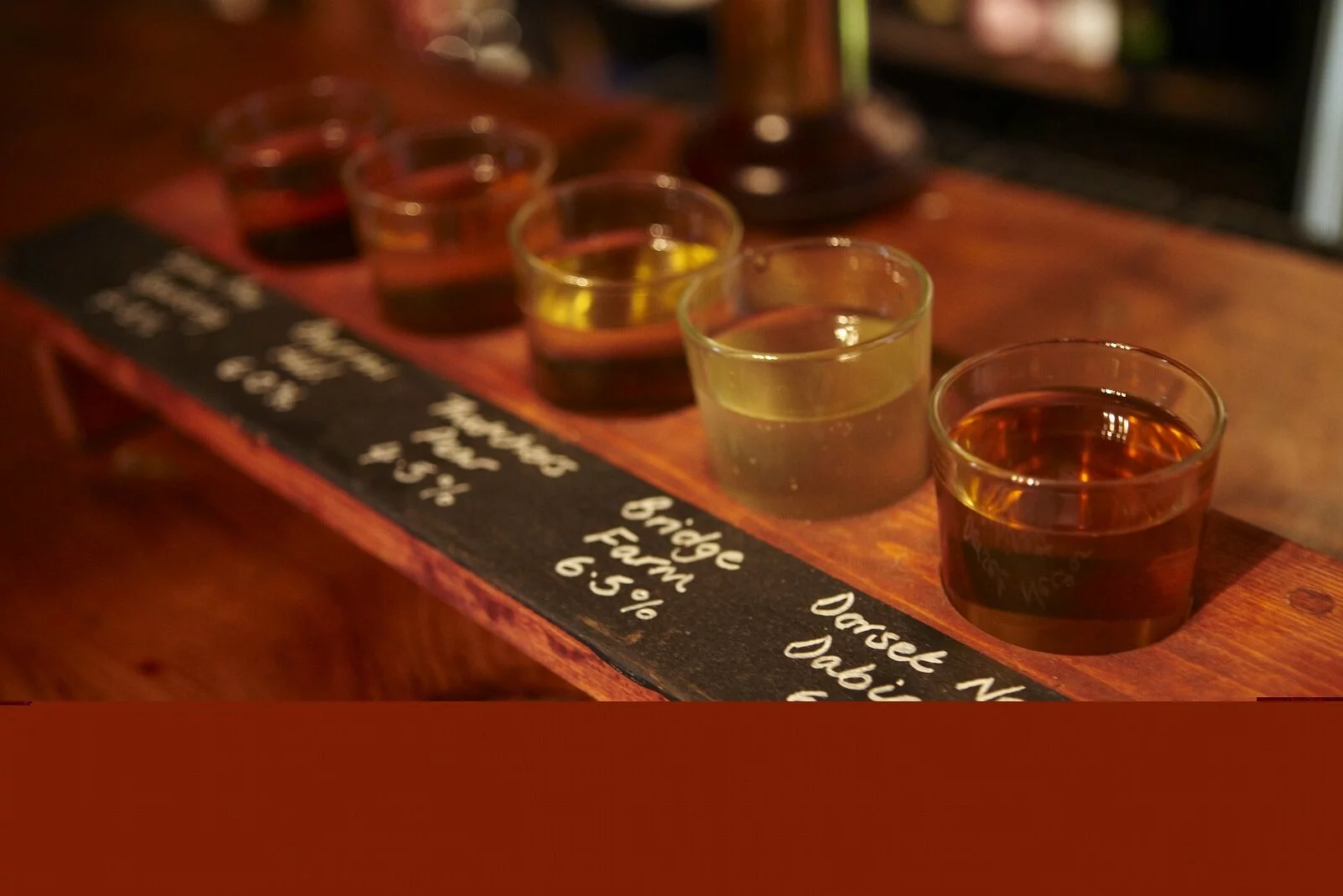 And although a hawaiian would never normally be a pizza I'd consider, the fresh pineapple and good, local ham did tempt me.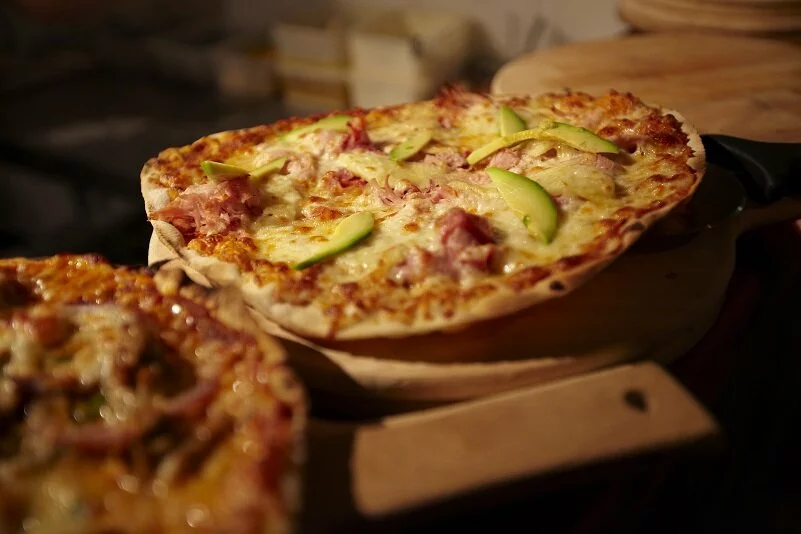 Believe it or not, there are lots of other things to do here as well as eat though. Bridport is such a vibrant place – a great mix of properly rural little market town (and it's a great market, lots of local produce but vintage goodies too) with a great arty, bohemian vibe too. Second-hand bookshops, near enough for me to pay a pilgrimage to River Cottage, lots going on but just behind the bustling streets there are wooded areas. Very close to both the sea and wonderful rural valleys too. How appealling!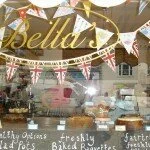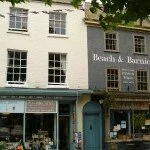 Guy caught 17 mackerel during our short stay here too, so he obviously had favourable feelings about the place. And of course The Bull, just to confirm the feelings we already had about the friendliness and service here, immediately offered to put them in their fridge for us until we left and added lots of ice when we did.
Definitely keen to return here, and would love to bring Ruby next time. The hot chocolates were rated highly by Ruby and Gracie and I have a feeling that although The Bull is a wonderful place to stay for a couple, it would be fabulous for a family stay too. The owners have 2 small children of their own and have made lots of efforts in the details (organic baby food and biodegradable nappies are available) but also in their general approach to make this a welcoming sanctuary for children as well as parents. There are colouring things available at mealtimes (we managed to amuse ourselves without them) and flexible dinner times. I imagine Ruby wouldn't let me have quite as much time in that gorgeous roll-top bath though.
Thanks so much to The Bull for our very lovely stay.