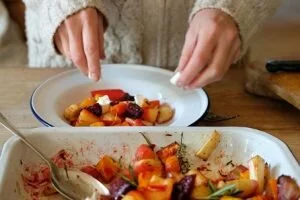 Last time I wrote here it was about Midsummer madness, now my feet are cosy in sheepskin slippers and I'm warming myself next to the wood-burner. This morning it was -2 degrees first thing, beautifully frosty outside but the garden is looking sadly bereft of vegetation. There are still lots of seed-heads and much as I like to think my tardiness when it comes to Autumn clearing is good for wildlife (I hate bare earth with all those nutrients being lost) it does now look decidedly scruffy.
Time to prepare the ground for some new planting I think. First though, there's the lovely winter pleasure of planning it all, dreaming of red speckled borlotti climbing up teepees and of rainbow chard edging beds – while I sip tea by the wood-burner.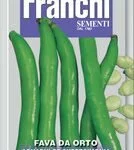 Having written recently about Hygge for Smallholder magazine I'm trying not to do that post-Christmas dreaming of Caribbean beaches and embrace the wood-burner cosiness of these chilly months. Maybe bake some salty, rosemary-scattered focaccia to eat with good coffee on a weekend morning.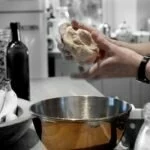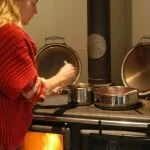 Hygge (pronounced hue-gah) is of course a Danish term used to describe cosiness, comfort and generally taking pleasure in the good things in life. The sort of feeling you get when snuggling up on a sheepskin, warmed by an open fire, maybe a mulled cider to hand and some home-reared pork effortlessly slow-cooking in the oven.
Candles would of course be lit and there would be friends and family around to share all this laid-back pleasure with.
Along with Scandi-chic, hygge is currently everywhere, in fact it's being used a lot by stylish and far too tempting home-wares stores to sell everything from Icelandic jumpers to expensive candles. With the bank balance reduced significantly by the festive period, I'm doing my best to resist. Trying to remember that hygge isn't all about lovely knitware; the point is surely that we should remember to celebrate the simple moments in our day whether it's noticing the first shoots of spring buds appearing or enjoying a mug of tea with a friend.
Danish winters are long and dark and perhaps call for a lot of nourishing of the soul! Hygge is a way of not just dealing with those winters but relishing them, an attitude that is just as relevant to our British way of life, when winter always seems just a month or two too long.
A lovely place for inspiration is Trine Hahnemann's 'Scandinavian Comfort Food. Embracing the Art of Hygge.' Many of Trine's recipes are so enticing for this time of year (meatballs with celeriac and apples or duck legs with potatoes, apples and brown cabbage) plus there are numerous healthily delicious recipes for home-grown vegetables. It's the spirit in which they're cooked, shared and enjoyed that seems to be vital though, along with the relaxed setting.
The more I explore hygge (including reading this lovely piece by Mrs Thomasina Tittlemouse) the more I'm reminded that my wood-burner cosiness is all the more enjoyable after being outdoors. Whether it's a run across the fields on a bright but chilly morning, half an hour stacking the logs in the wood-store or venturing out for a walk up the hill.
All that bracing fresh air cries out for some easy, imprecise, slow-cooking on the wood-burner to return to, maybe a tasty stew or roast vegetables using the last of my colourful stripy beetroot: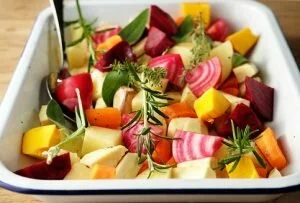 Roasted Vegetables with Winter Herbs – Recipe
Substitute herbs or veggies (celeriac or swede is also good here) according to personal favourites/gluts in the garden – most winter root vegetables go well with the robust flavours of woody perennial herbs.
Ingredients
Several sprigs of rosemary, thyme, sage and a couple of bay leaves (or substitute myrtle)
½ Squash such as butternut (about 250g) cut into 1 inch (2.5cm) wedges, no need to peel the skin off.
2 medium potatoes, cut into wedges
1 medium beetroot, scrubbed and cut into wedges
2 carrots
2 parsnips
2 medium onions, peeled and cut into wedges
6 garlic cloves, unpeeled but bashed with the blunt end of a knife
3 tablespoons rapeseed or olive oil
Sea salt and freshly ground black pepper
Scrub your vegetables well/peel if needed then dry on kitchen roll and place in a bowl with the garlic cloves, and herbs – all except the beetroot, which needs to be added at the last minute otherwise you'll stain all the veggies a vibrant pink. Season with salt and pepper and mix well so that everything is well coated with oil. You can cover the vegetable mixture with clingfilm and leave for a few hours before cooking if preparing ahead.
When you're ready to cook, preheat the oven to its highest temperature, or ensure the fire in your wood-burning stove is roaring. Lay the vegetables on a baking tray, then add the beetroot chunks, tossing carefully to coat in oil and herbs. Now roast in the hot oven for 35 minutes or so until tender.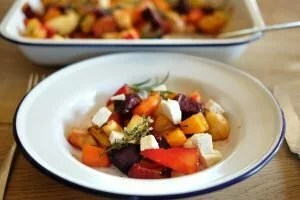 Serve as a side dish with meat or fish or scatter with chunks of feta cheese and rocket to enjoy with crusty bread as a warm winter salad.
Hopefully I'll be able to resist rushing out to buy hand-knitted socks and forget those thoughts around lottery wins and a month or so spent in the Caribbean. Remembering there's something about returning home at dusk after a winter walk, the smell of wood-fire in the air. I'll keep my fantasies to planting/harvesting dreams of purple beans snaking up canes and squash running amok. Making sure in the meantime that I have a pile of blankets to hand, a few candles and a good book.