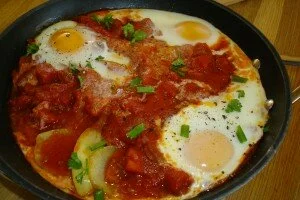 Very much loving the sunny weather we're having lately. I'm addicted to evening gardening at the moment, potting and digging until it gets dark and I'm in danger of planting weeds and digging up beans.
I've been tempted away from work for the last hour of the school day a little too frequently recently too. The compost heap has been luring me away from the computer. Conscious of the lack of nutrients in so many of our new beds I have a worrying addiction to turning the compost from one of the three bays to another, layering with comfrey as I go.
Often I mean to quickly change before setting off on the school run, but I think "just a few minutes more" as I dream of the verdant plants I'm going to grow from my compost. Before I know it I'm having to set off over the hill for school, still in my very old, ripped jeans – their muddy state giving plenty of clues to the fact that I've been bunking off in the garden.
The properly hot sunshine this weekend though has been making me think that I should be thinking of attire a little less muddy and definitely more summery than my wellies.
I've been browsing sandals, checking the John Lewis website for comfortable/practical footware that I also like the look of.
But looking at Merrell sandals such as these or these, it's just struck me though that even the sandals I like appear to have names like 'mimosa' 'hibiscus' or 'honeysuckle' while browsing the Gabor shoes range, the ones that appeal most seem to be called dandelion!
Back to the garden then – and to the pale yellow primroses to make Liz Knight's lovely primrose curd recipe. It seems so perfect for May and we enjoyed it with meringues and thick local cream with friends. The girls were very happy to pick yet more primroses to sprinkle on top.
I know that my Gypsy eggs recipe may not appear to be quite as summery a recipe as one with primroses. But although it does fit well as comfort food on colder days, I've made it a few times lately, including today when we ate it outside, under the shade of a wild cherry tree. And not only did it seem to have a holiday food sort of feel, eaten in the heat with a cool beer, it does honestly suit now. When it's a gorgeous weekend and you want to spend maximum time outside, not in the kitchen, it's so simple and quick to prepare. Then while it's in the oven, I found there was plenty of time to carry on constructing my extremely rustic bean wigwams. It's one of those one pot dishes that doesn't create too much clearing up and it creates something tasty out of the sort of ingredients that are normally in the house.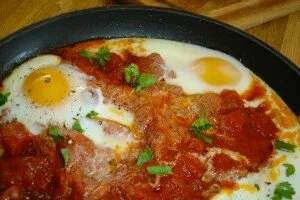 Gypsy eggs recipe:
This is the amount I made for 3 of us.
4 medium size potatoes
3 tablespoons olive oil
2 garlic cloves
1 tin tomatoes
1 dried chilli (optional)
2 inches chorizo chopped (optional)
1 teaspoon fennel seeds
3 free-range eggs
Preheat oven to 200C. Peel and thinly slice potatoes, place in an overlapping layer in an ovenproof frying pan or shallow baking dish, season with salt and half the olive oil. Cover loosely with greaseproof paper and place in oven for 40mins until soft.
Meanwhile make the tomato sauce: thinly slice garlic cloves, heat the remaining olive oil in a pan and add the garlic, chilli (I tend to leave this out if sharing it with my 5 year old, then we add fresh chilli individually at the end), fennel seeds. If you're using chorizo add now – I made this before we had lots of homemade chorizo without it and it's still very tasty.
Once the garlic has browned slightly add the tomatoes, half fill the tin with water and add, then cook for 30 mins or so until you have a rich sauce. Season to taste. Add the tomatoes to the potatoes, then crack the eggs on top, pop back in the oven for a few minutes until the eggs cooked. Great if you remove while the yolks are still runny – lovely to dip rustic bread, including flatbread into. I sprinkled a little parsley and Egyptian walking onion over the gypsy eggs too.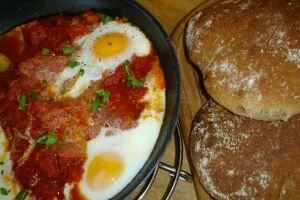 This post was sponsored by John Lewis. All opinions are my own.