In her latest book, Diana Henry explains her inspiration for writing about how to preserve fruit, vegetables, meat and fish: "I have a clear memory of sitting on the counter top in our small galley kitchen as she (her Mum) sliced warm wheaten bread and spread a piece with raspberry jam." The jam was made by Diana's Aunt Sissy and was the lovely soft set sort. In 'salt sugar smoke' Diana introduces us to the similarly soft-set jams of France and deliciously runny lower sugar preserves of Scandinavia but also wonderful savoury goodies such as moldavian pepper relish and maple hot-smoked salmon.  As she does so, her enticing descriptions and infectious enthusiasm for food make you feel as if you're similarly perched in Diana's kitchen, eagerly wanting to dip into her apple and lavender jelly or raspberry and violet jam.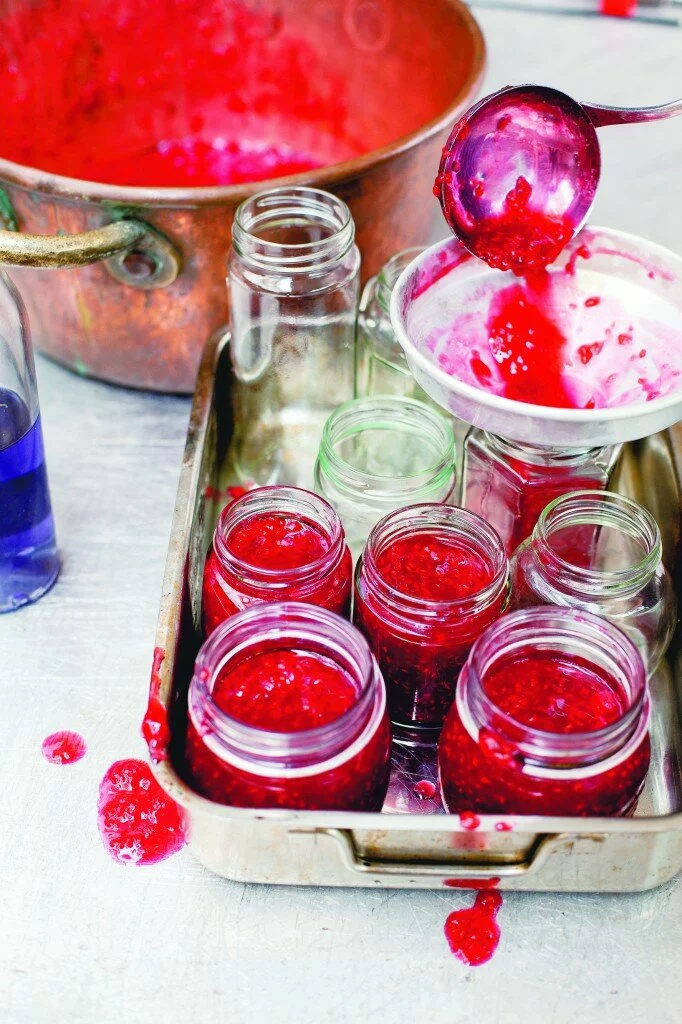 Arriving in the Autumn when I'm in the middle of my annual pickle fest, madly preserving some of the last of the years edible treats from the garden and hedgerows while wondering what else I can do with the freezer full of home-reared pig, this book offered wonderful inspiration. I love the recipes that add middle eastern exoticism to English ingredients: rhubarb, rose and cardamon jam sounds a wonderful accompaniment to greek yoghurt or creamy rice pudding, while I was totally seduced by the idea of orange and flower water jam ("a completely lovely, soft bitter sweet scented jam") dribbled over a brioche.
The culinary tour we're taken on in this book isn't just geographical, although the insights into Scandinavian salt-curing "in coolness, in silence and in shadow", American inspired maple-brined pork chops, Persian pickles and Indian achars are fascinating. We also skip back in time to Queen Henrietta Maria's "marmalade" of cherries from the seventeenth century and there are many traditional English recipes that the most formiddable W.I. preserver would be proud of. In between exotic foodie adventures, Diana's recipes bring to mind the lovely old fashioned feel of high tea: she quotes Betjeman on how fruit curds illustrate the "comfort and immutability" of afternoons in England".
Diana has done her research extremely thoroughly. She refers to several 17th century tomes and quotes Simone de Beauvoir on comparing jam-making to capturing time, adding her own slant: "But preserving is also about capturing and holding on to a season, a particular mood. You can find autumn in a jar of pear and chestnut jam."
Her own food writing manages to be both poetic and down to earth. She emphasises that she's a home cook, that you don't need masses of special equipment to cook from this book; plastic storage containers from Ikea are recommended for brining rather than expensive catering equipment. The recipes that I've tried so far work too. I'm particularly proud of the russet coloured quince cheese in my fridge and can't wait to try some of the middle eastern pickles – I'm hoping they'll add glamour to my home-grown carrots and beetroot! And the 'adobo' mexican paste is on my mental list of things to do with pork chops, while the country pork terrine looks like a great way of feeding lots of people well. With plenty of pickles on the side of course.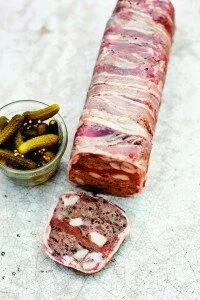 But you don't have to have a pig in the freezer or a garden full of vegetables to appreciate this lovely book. The ideas for "using gluts and not squandering abundance" can be applied to seasonal produce bought from the farmers market or grocers. It seems to me that ideas for making everyday food special are highly relevant to all of us in these cost conscious times. Salt Sugar Smoke has left me feeling that injecting some exoticism and loveliness into our larders can be a frugal but very enjoyable thing to do.
As Diana says, "One of the good constituents of a good life is the abillity to find pleasure in small things. A good jam for your toast in the morning. A chutney that is made from the apples you gathered last autumn. Cutting salt beef that you've made and can feed a dozen friends."
After keeping pigs this year I'd decided that pig was the new jam when it came to thank you gifts. But Salt Sugar Smoke has left me with an urgent need to buy vodka. Not that those dark winter nights in the Cotswolds are dreadful. Just that russian plum liqueur and sweet pear william sound like such deliciously useful things to have in the cupboard.
salt sugar smoke by Diana Henry is published by Mitchell Beazley.
For further information see www.octopusbooks.co.uk