Last weekend spicy food lured us down our hill two nights running. We were fed and entertained in sumptuous style at the Great Indian Food Feast and followed our noses to the wonderful spicy smells of Indian street food the following night. All in Chipping Campden, a great little Cotswolds town for eating and cooking, but perhaps better know for cream teas and roast lamb than Indian feasting.
Thanks to award-winning chef Indunil Sanchi and self-styled Urban Rajah, Ivor Peters, there was still excellent local lamb, but this time it was marinated in 24 spices and slow -cooked to produce a wonderfully tender, tongue-tingling dish. And the sweet treat involved an entertaining pancake master-class with honey coconut, sticky toffee ice-cream and caramel sauce.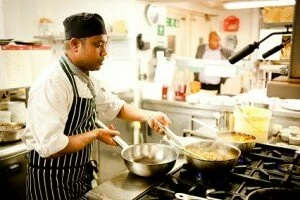 At the Indian Food Feast we were greeted with an Amuse Bouche of tasty little steamed lentil cakes before sitting down to a fabulous array of curries, pakoras and patties that ranged from Punjab street food to fabulous dishes fit for a Maharani. In between eating, we were taken on a foodie adventure around the Indian Sub Continent by Ivor Peters.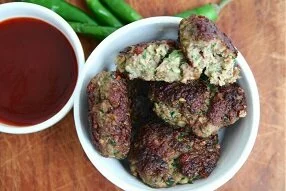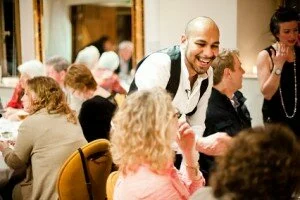 Imaginative chef, author of Curry Memoirs and pop-up restaurateur, Ivor is also a self-confessed dandy and a great entertainer.  Splendid in orange velvet jacket and with his signature perfectly groomed moustache, Ivor treated us to tales that leapt from Indian sieges to the chapatti shuffle in his grandparent's kitchen. He described childhood feasts of vividly spiced food, with big family groups sitting picnic style on luridly coloured sheets (this was the 1970s) and niftily skipped back to Victorian banquets. Encouraging us to chat about spices and get our own "curry clinic" going while we feasted on Spiced Red Lentil & Chicken Patties from Andra Pradesh and Masala Crusted Whitebait from the Malabar Coast.
Listening and eating, it felt like a celebration of all the imaginatively spiced  regional dishes that are so far removed from the dumbed down versions so many of us have experienced from takeaways or in jars.
I wrote a few months ago about Indunil's wonderful Black Lamb Curry that he cooks regularly at the Noel Arms. Now I'm hankering after his Cashew Nut and Green Pea curry, a dish that Indy ate as a child in Sri Lanka. Ivor told us that Indy soaks the cashew nuts before cooking to recreate the creamy texture of fresh cashews that he remembers from childhood.
My other favourite dish from the evening was Lucknowi Siege Lamb, so I was very excited when Ivor and Indunil were happy to share the recipe. They use mutton, which I'd like to try, but in the meantime I've been using lamb shanks in curries, cooking them on a really low heat for hours so that the lamb falls off the bone resulting in tasty, tender lamb. Also remembering Alex from Dale Cottage diaries reminder of the nutrition value of cooking meat on the bone slowly in dishes. The list of ingredients may seem a little scary but the curry powder and garam masala can obviously be made in decent quantities and stored in jars for future curries.
Lucknowi Siege Lamb
Serves 4–6
2 onions, sliced
4 tbsp olive oil
1kg boneless mutton, diced
6 green cardamom pods
2 tsp fennel seeds, pounded into powder
1 tsp paprika
1 tbsp ground coriander
½ tsp chilli powder
2 tsp garam masala
1 tsp curry powder
8 cloves
8 peppercorns
1½ tsp salt
2 tsp ginger and garlic paste
400g natural yoghurt
5 green chillies
250g tinned chopped tomatoes
500ml water
12 curry leaves
12 saffron strands
1 tsp kewra (aka screwpine water) or rosewater
Coriander leaves, chopped
Garam Masala
1 tsp fennel seeds
1 tsp cumin seeds
1 tsp coriander seeds
¾ tsp crushed bay leaves
1 tsp black peppercorns
4–5 green cardamom pods (or ½ tsp seeds)
4 cloves
4 large black cardamom pods (or ¾ tsp seeds)
1 cinnamon quill
1 piece of cassia bark
½ tsp caraway seeds
1 tsp black mustard seeds
6 juniper berries
½ tsp ground mace
1/3 tsp nutmeg
1 star anise pod
 Heat a frying pan on a medium heat, then add all the spices. Dry-roast for 2 minutes until they brown and start to scent the room. DON'T burn them. Leave to cool. Peel the cardamom pods and release the seeds into the other spices, tip into a pestle and mortar (or blender) and blast them.
Curry Powder
4 ½ tsp ground coriander
2 tsp turmeric
6 bay leaves
1 ½ tsp cumin seeds
½ tsp whole black peppercorn
½ tsp crushed red pepper flakes
½ tsp cardamom seeds
½ inch cinnamon stick
¼ tsp whole cloves
¼ tsp ground ginger
Pop everything in a blender and blitz for a couple of minutes
Fry up the onions in the oil until crispy and golden, then set them aside on kitchen towel to dry out. Keep the oil. In the same pan, using the onion oil, brown off the mutton, adding the cardamom, fennel, coriander, paprika and chilli powder. When the mutton is browned, drop in the cloves, peppercorns and salt and cook over a low heat for around 30 minutes, until the meat has started to cook in its own juices and the mix is looking darker. Blend the yoghurt, chillies, reserved fried onions, curry powder and tomatoes, turning it into a paste. Add the paste into the pan and swish the ingredients around until everything is coated. Turn up the heat to medium, tip in the garam masala, curry leaves and cook for a further 1½ hours, making sure you stir frequently. To stop the ingredients drying out and sticking to the bottom of the pan, add the water at intervals. The curry shouldn't be too runny. Just before serving, add a teaspoon of kewra or rosewater.
Serve with rotis or rice and garnish with chopped coriander. Recipe from Ivor Peters.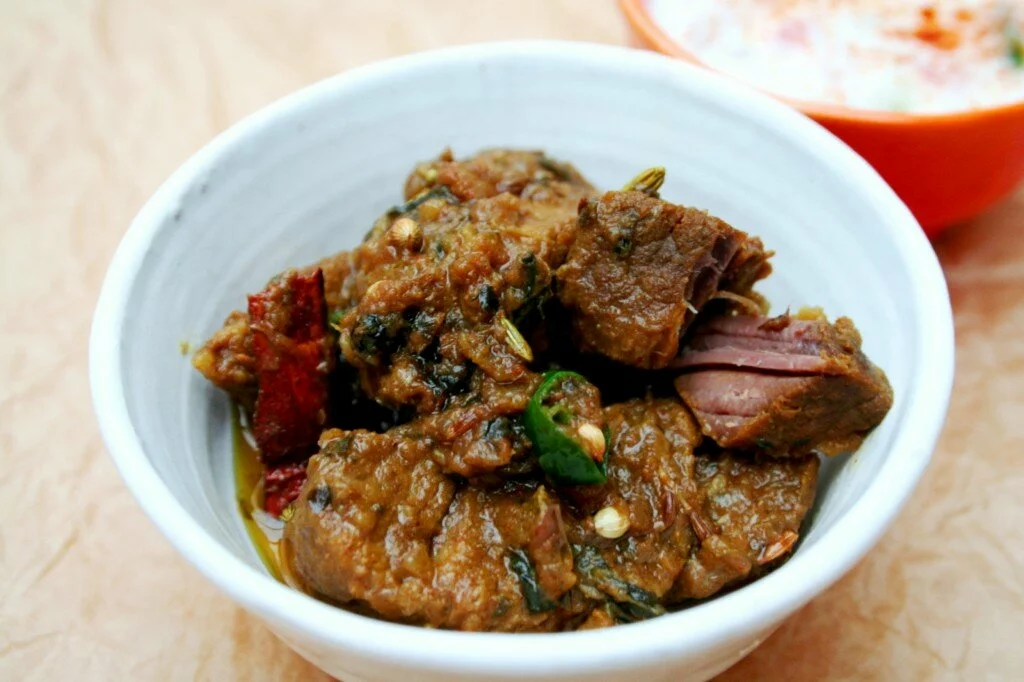 The night after our feast, thanks to the Bite Food Festival, there were reindeers, carols, a Christmas market and street food in Campden. Ivor was cooking tandoori chicken, lamb kebabs and masala paneer on an open grill to eat in wraps and we obviously couldn't resist a double-bill of spice.
Very exciting that there'll be Indian Food Feasting in Chipping Campden in February too as part of the week long Bite Food Festival. The Festival will run from Saturday 1st Feb to Sunday 9th Feb 2014 and will include all sorts of breakfasts, brunches, lunches teas and dinners, pop-up restaurants, master-classes, talks by celebrity chefs and food writers and artisan food markets.
I'm particularly excited by the idea of more Indian Street Food, a Peruvian pop-up restaurant,  of Elisabeth Luard visiting Campden (I'm a big fan of her books that celebrate wonderful rustic European cooking) and the fact that the festival includes lots for children. There's a Chipping Campden school cooking competition for 11-18 year olds and a Mad Hatters Tea Party run by the very stylish Burford Garden Company.
I love the fact that at the Mad Hatters Tea Party, which will be an edible rabbit-hole of wizardry, dancing, riddles and fancy dress, audience participation is optional but hats are essential. A full programme of events is here.
With thanks to Indunil and Ivor for spicing up the Cotswolds and for the great recipe  and to Bite for inviting me to the wonderful Indian Food Feast.