I may be missing dusk gardening. and all those summery meals outside, but my fig glut is reminding me that there are Autumnal consolations. There are squash in beautiful silvery blues and vivid oranges to harvest, root veg to use in warming stews and of course the cosiness of the woodburner to lure me in from the garden.
Which brings me to the woodshed. Cold Comfort Farm may be one of my favourite books, but I hadn't seen myself in the role of Aunt Ada Doom until recently. "There's something nasty in the woodshed" definitely sprang to mind after an afternoon of glitter, missing marrows and two girls playing in our garden though.
I did notice that Ruby and her friend seemed to be spending more time in the extra woodshed (the old pigsty is now a makeshift place to store more wood) than the tree-house, but as they seemed happy making up their own games, I thought nothing of it. Until we noticed just in time that a toddler brother who arrived later had picked up a large rotten marrow and was about to take a bite. I felt terrible that we had rotten marrows lurking and couldn't work out how it had got within toddler reach. Although marrows are still taking me by surprise, they're generally still growing, apart from a few rotten ones that I'd put in the wheelbarrow ready for the compost heap.
Then I noticed some telltale glitter. Pink glitter. And I remembered Ruby's penchant for stinky potions. It didn't take Inspector Montalbano (who would no doubt have some delicious ideas for eating my squash) to guess who'd transplanted the marrow.
I have plans of my own, involving roasting, garlic, chilli, pasta, risottos and soups, for these more attractive squash.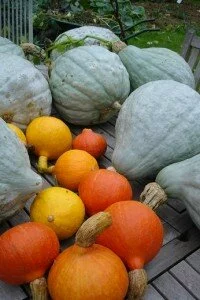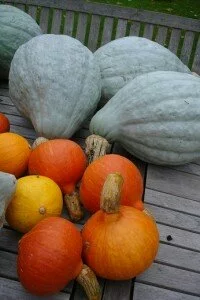 Clearing and harvesting is making me think about successes and failures in the garden this year and already putting ideas in my head for next year. The Mother Hubbard squash (those silvery green and blue hued monsters) were definitely easy peasy to grow for such bounty. They grew so quickly and had so many huge squash on each plant, I just hope they're as tasty as butternut squash, which I've previously struggled to grow up our hill. Apparently they store well, for up to 5 months – will report back on this.
I'll also grow parsnips in a block with cornflowers or nigella again. I just mixed the seeds together and scattered over a bed, then planted beetroot around the edge. They all grew happily together, the cornflowers looked very pretty while the parsnips grew slowly. The cornflowers finished flowering a while ago but we're now looking forward to eating the parsnips during the Autumn winter.
I tried the same method with Swede but, although the Swede grew well (we've started eating them) the flowers didn't grow, maybe the Swede established quicker and the large leaves didn't give them the flowers chance. So maybe flowers around the edge for Swede next time. Or more rainbow chard, which grows easily, looks vibrant and provides me with something to cook for ages.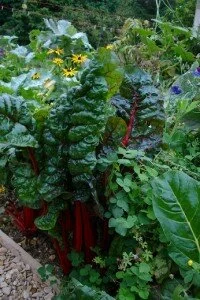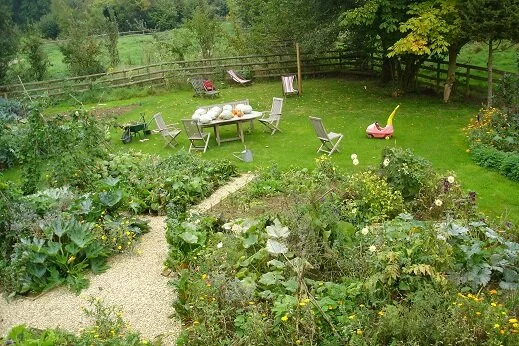 You can see from this view of our back garden that lots of things have finished flowering, have been cleared or are past their best and should've been cleared! Very grateful to the ever-cheery calendula, long-lasting cosmos and magenta coloured malva for some colour.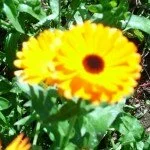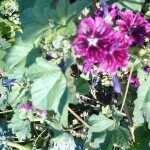 Also grateful for the very useful parsley hedge and a bonus late crop of broad beans. Although most have been cleared (I've planted chop suey greens for Autumn colour and eating and have over-wintering red onions and garlic to plant in some of the empty areas as well as in the patch soon to be completely vacated by squash) a few of the broad beans that I cut down are still providing me with a very late crop of surprisingly tender little beans.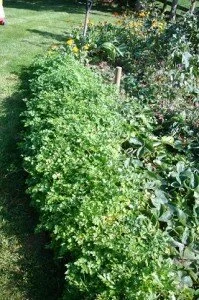 Away from my garden ramblings (which I'd like to link with Lizzie Moult's lovely Garden Share Collective) and back to my fig bread, it's the perfect energy giving snack for a gardener's coffee break.  Great for a weekend breakfast too though, which is what I'm planning and it uses gluts from the garden plus walnuts from a walk. I have to admit to trying fig and cobnut bread first, thinking it would be a tasty combination. The cobnuts somehow gave my bread a bitter taste, would be interested to know if anyone has ideas why.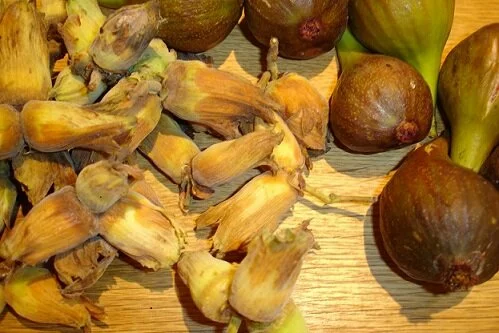 Have just been reading how figs are really high in iron, potassium, calcium and zinc, and decided this definitely makes my bread feel healthy.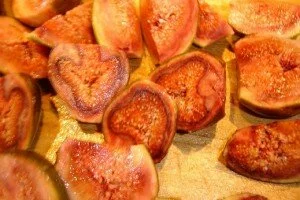 I used the recipe here from my food hero, Hugh Fearnley Whittingstall but substituted fresh figs for the dried ones. I also substituted a few tablespoons of the white bread flour for spelt flour for extra flavour.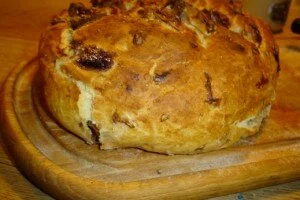 It's lovely with honey – we just tried it with the precious jar produced by the bees of Ruby's great friend Grace's Grandad, I wrote about his bees here. I'm also planning to try this figgy bread later with red wine and blue cheese and am looking forward to it toasted with honey and eaten with coffee in the morning.