In my kitchen…..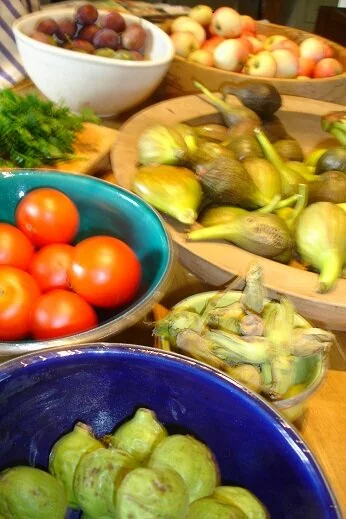 …..I'm loving the abundance of great ingredients at this time of year. There's still plums, apples, and lots of veggies from the garden, including beetroot, swede, rainbow chard and squash. We've been enjoying the last few greengages from the farm-shop, while the hedgerows and fields keep tempting me to cook and eat far too much; blackberries, elderberries, sloes, walnuts, mushrooms seem to be everywhere I turn. Or at least everywhere I walk.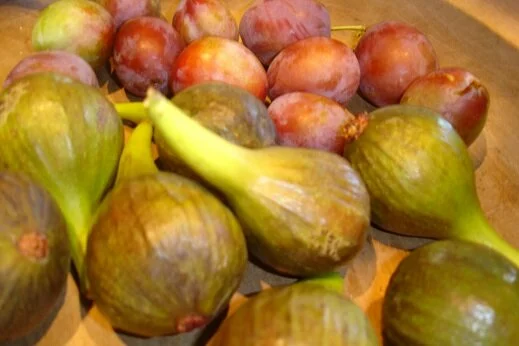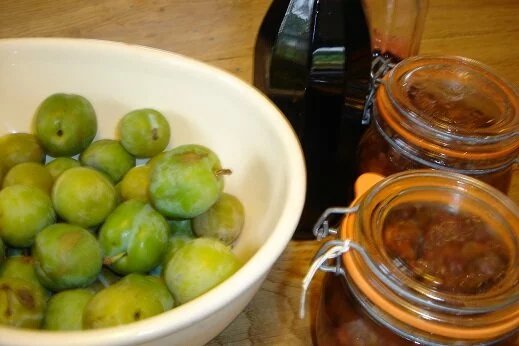 We have our first fig glut too which I'm thoroughly enjoying. Our fig tree grows up against the south facing side of our house and does seem to flourish against the sunny wall, but until this year we'd only ever had a couple of ripe figs a day to pick. Partly because the birds seemed to get to them long before they ripened. A brutal pruning (it was growing across a window) two years ago and the arrival of Tiger and Mog may have had something to do with the plentiful supply at the moment.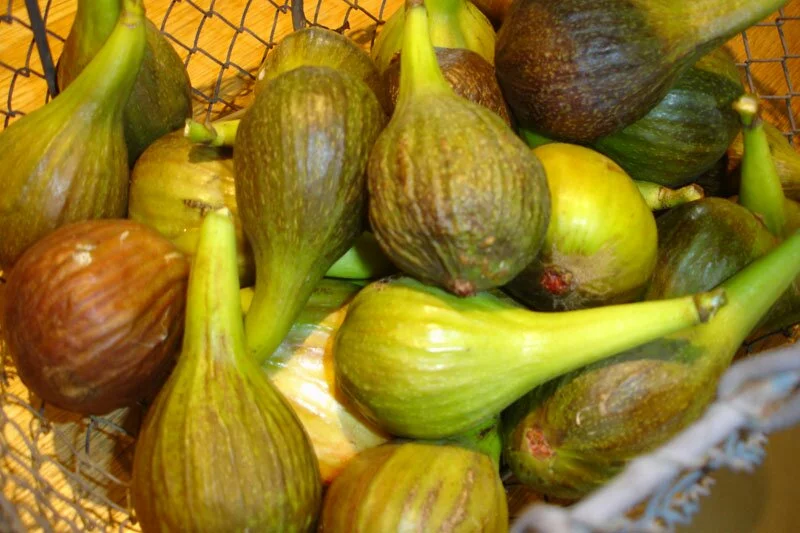 I'm loving figs on granola for breakfast, have made the fig liquer here and I roast them with honey to scoff with yoghurt. When a friend gave us a  large bag of cobnuts from their garden, I tried an Italian recipe too for figs with mascarpone and hazelnuts. I shelled and roasted the hazelnuts first (about 10 minutes in a medium oven) then chopped them, mixed with mascarpone and honey. Having made a cross in each fig and placed them on a baking tray, they were given a spoon of the mascarpone mixture and roasted for 10/15mins.
In my kitchen….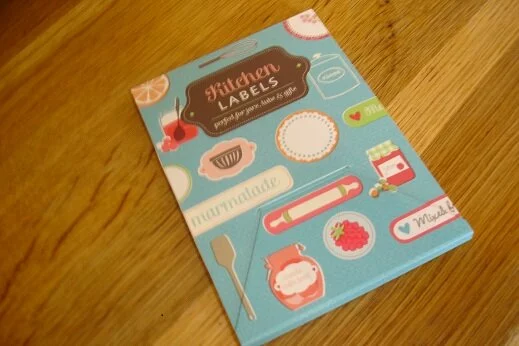 …..there are some very prettty labels. It was my birthday in September and Ruby bought these for me – apparently she totally chose them herself. They touched me almost as much as the squashed tomatoes and stew card that she'd written beautifully. I'm obviously always pleased with any presents off Ruby, including the home-made ones and the novelty items she's been adamant that I really need. But this is the first birthday that my daughter has given me something tasteful that I'll actually use.
On reflection this gave me uneasy feelings. Was my 6 year old growing up so fast and getting all sophisticated? I could even read everything she'd written easily on the card for goodness sake, what was happening? How reassured I was when she told me tearfully that she couldn't remember where the other present was, the special conkers that were all wrapped up in a bit of paper and THREE elastic bands.
In my kitchen…..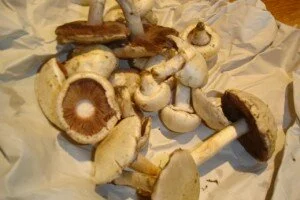 …. there are field mushrooms. We've had quite a few warm but damp days and there seems to be a plentiful supply of mushrooms in the fields below us. They're so tasty, even just used for mushrooms on toast.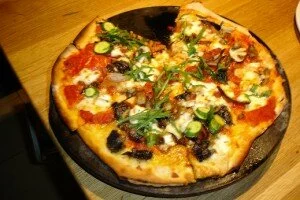 They've been going on homemade pizzas along with our courgettes and tomatoes, and I recommend this lovely roast mushroom version from Louisa of Eat Your Veg.
There's also lots of pickling and preserving going on. Elderberries have lured me into making more cordial (runnier this time, the last batch is being used as a sauce for ice cream) and I'm trying elderberry wine for the first time; a demijohn is bubbling away under the stairs.
A jar of blackberry whisky is sitting in the sun on the windowsill (we obviously won't go thirsty this winter) and I've made a few jars of piccalilli. Cauliflower,courgettes, onions and runner beans from the garden were the main ingredients for this while Autumn chutney used lots of plums, apples, figs and  marrow. Those labels will obviously be needed.
We took Ruby to London on the train at the weekend, she hasn't been for ages and just seeing her marvel at the gradual change from little country toy-town stations to bustling cities with huge buildings and lots of trains was brilliant. She loved the dinosaurs and seeing a real Ruby jewel in the Natural History Museum, whiile we were all wowed by the London skyline from Embankment after stepping out of the tube station. But I did feel a bit of a chutney making country mum when my daughter asked, a few tube stops after Paddington, if we were getting off at PICCALILLI circus.
Would love to link this once again with Celia of Fig Jam and Lime Cordial's  In My Kitchen, where we get to enjoy peeping into kitchens around the world.