I spent a day watching Ruby and friends playing in a Cotswold stream this week. Loving the simple pleasure they took amusing themselves for hours, just with a fishing net, a  few buckets and lots of water. Oh and crocs which they did their best to lose in the stream. Last night we slept in a tent in the garden after toasting marshmallows of course.
Now I'm very sleep deprived but thinking how much I'm loving these summer holidays. I don't want to dwell on quite how fast they're flying past, I'd be quite happy with a few more months of picnics in playgrounds and trips to the seaside.
Yet I know I can't ignore these forever: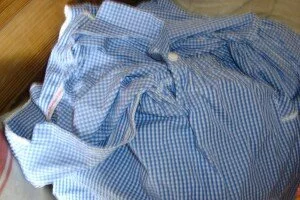 School dresses have been languishing somewhere in the forgotten ironing pile for a long time. And somewhere there are school cardigans that I retrieved from Lost Property at the end of term. I'm always sure that I label all of the school uniform and can't quite work out how much of it ends up either in Lost Property or just disappearing forever into the cloakroom black hole.
My shoddiness obviously has something to do with the answer. I reviewed Sew Simple a while ago here and loved this very easy to use fabric glue – anything that saves me from my own inept sewing has to be a good thing. It's been very useful for adding name labels to uniforms and when a pocket was hanging loose from one school dress I was very happy with the quick solution of fabric glue. But I think I often forget to add labels when it comes to grabbing woolly hats, sunhats, gloves and random but very necessary items just as we're about to leave for school. And then there are the pre sew simple items where I'd added Ruby's name in indelible ink which turned out to not live up to its name.
So when I was asked to review Sew Simple advanced (dries in minutes, good for badges, turn-ups and patches as well as sewing name labels on) I was very happy to give it a go.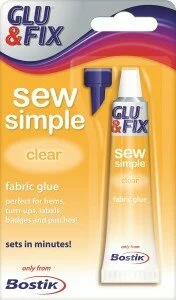 To be honest I was very happy with the original version, but this is excellent, very easy to use and fabric glued with it  seems secure after repeated cycles of the washing machine.
Hopefully its easiness to use will mean I'll be a bit more thorough this time in adding name labels to everything that can possibly be going anywhere near school. .And save me time so I can still fit in more picnic, paddling and playgrounds!
With thanks to Bostik for my review samples.