Unruly calendula are taking over the garden but their orange cheeriness combined with edible usefulness is making me very relaxed about the situation. The wonderfully sunny summer we've had is of course a factor in my mellow approach to most things at the moment.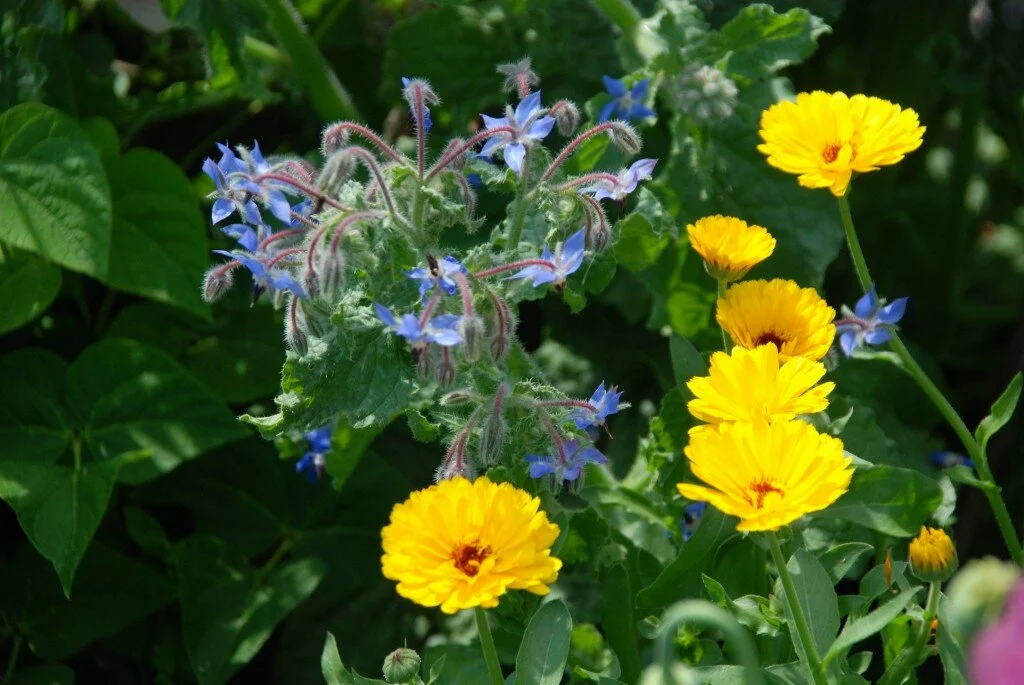 It's also meaning that, although I occasionally have wistful thoughts about past holidays in Spain and Majorca with long shady lunches enjoying paella by the sea, I'm more focused on sorting out our garden furniture, raiding the flower and veggie beds and concocting leisurely weekend lunches at home. Ever optimistic after one sunny summer, with fantastic time spent on the coast at the Llyn peninsula and at The Bull in Dorset (rewritten about over the next couple of days, I promise)  my daydreams about future holidays are focused more on camping trips and wild swimming excursions locally. Obviously the fact that flights in summer holidays aren't exactly within our budget has nothing to do with it!
So while daydreaming about these lovely deckchairs and the Alfresco dining that could be enjoyed using the Naples recliner (I know, I think it's the name that tempts me, with all those connotations of fragrant lemons and pizza margarita) we've been taking more immediate measures. Guy borrowed a pressure-washer from a baker friend and we found that our scruffy old wooden garden furniture scrubbed up very well, ending up nicely faded but without the grime.
Our ebay bargain purchase of a steamer chair has yet to be given this treatment and is as yet, more rain sodden than pressure-washed. In need of some pretty cushions too.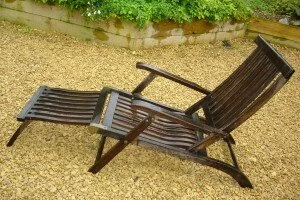 We're still in need of more garden furniture if we are to have the sort of big alfresco family dining scene that the Spanish and Italians are so good at when all the cousins, grandparents, aunties and uncles turn up for the bank holiday weekend. And I am still very tempted by this children's deckchair.
In the meantime, though, my garden paella on a sunny evening in the garden gave me the sunny holiday feeling at home I was after. It also made good use of the ubiquitous calendula petals. I was inspired to use them as 'poor man's saffron' after reading a great Mark Diacono article about edible flowers here.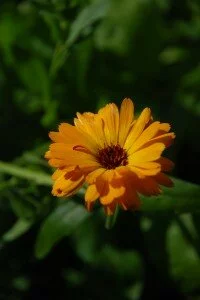 You simply crush the calendula petals in a pestle and mortar with some olive oil and add the orange/yellow paste towards the end of cooking a paella. I scattered some petals over the finished dish too.
Of course this is in no way a genuine/authentic Spanish paella dish – purists would probably be horrified by my omission of saffron and addition of courgettes. It made good use of seasonal, home-grown vegetables and flowers that were to hand though (when Granny turned up half way though cooking with some runner beans from her garden, I even added these to the paella) and was very tasty, especially eaten in a sunny garden!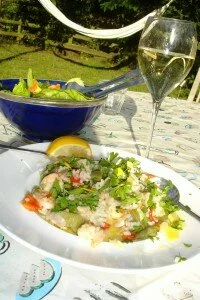 Garden Paella:
Serves 4
2 – 3 tablespoons olive oil, plus extra for calendula paste
3 garlic cloves, finely chopped
4 chicken thighs (or other free-range chicken pieces, I used these as they're affordable, tasty and were in the freezer) skin removed and meat chopped into bite size pieces
A handful of organic prawns
A handful of calendula flowers, petals removed
A handful of shelled broad beans and peas
A handful of green beans/runner beans – I used both as they were plentiful
I red pepper chopped (optional)
! green & 1 yellow courgette diced
1/2 teaspoon Spanish paprika
375g paella rice
About 1 litre of chicken or vegetable stock
Parsley & lemon wedges to serve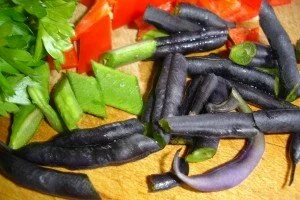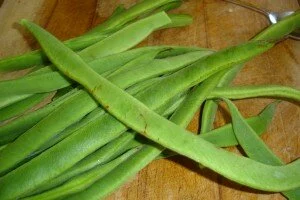 Heat the stock in a saucepan. Heat a tablespoon of the olive oil in a pan (paella pan or a large shallow pan large enough to take the rice in a single layer) and cook the chicken until browned but slightly under-cooked and remove from the pan. Add the garlic and red pepper to the pan, stir then add the remaining vegetables and paprika.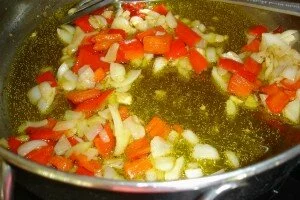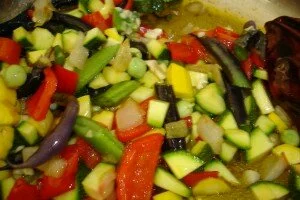 Sprinkle in the rice and add enough stock to submerge everything completely (you'll need roughly 2 measures of liquid to each measure of rice). Leave to simmer without stirring for 12 minutes, adding more hot stock if the surface dries out. Spread the chicken evenly over the rice, gently pushing it under the juice. Cook for 5 more minutes or until there is just a little liquid left.
Meanwhile crush calendula petals with a tablespoon of olive oil in a pestle and mortar.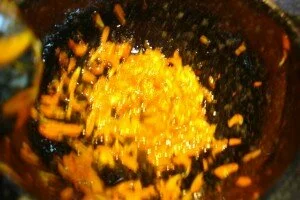 Add the prawns and calendula paste and cook for a further 5 minutes until the prawns are cooked. Turn off the heat, cover tightly with foil, and let the rice sit for  a few minutes before serving scattered with calendula petals, parsley and with lemon wedges. Ideally with a glass of chilled white or rose in the garden.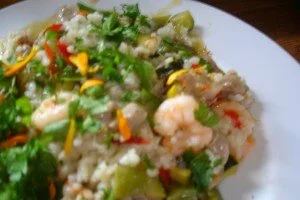 I'm now thinking this would be lovely cooked outside on a camp fire one evening. Hope we have more sunshine to come!
This is a sponsored post but as usual, all rambling opinions are my own.