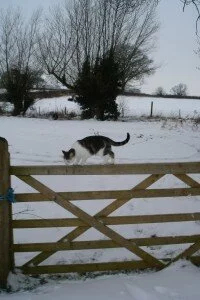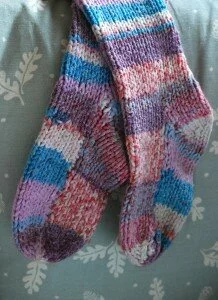 While I'm getting breakfast most mornings, a tapping at the glass doors by our kitchen table alerts me to the fact that I have another mouth to feed. Often it's just as I've sat down to eat my own breakfast. Soft as I am, I leave my porridge to jump up and reach for the handy jar of seeds and corn. The semi-wild guinea fowl who roosts in our Oak tree appears at most mealtimes in fact. He's getting on a bit and he looks so pitiful at this time of year that I always spring to my feet.
At the moment he often appears later than normal. Poor guinea doesn't like the cold (these fowl were originally from warmer climes) and each step across the icy ground looks difficult for him. I take pity and put out far too much food – anything left by the guinea fowl attracts lots of garden birds who are of course very welcome too. In fact must make more birdfeeders with Ruby. We have some large pine cones to pack with fat and seeds.
Often Guinea looks as if what he really wants is to come in for a warm. Don't blame him, I'm lighting the woodburner ever earlier, loving the stove-top coffee pot on a weekend morning.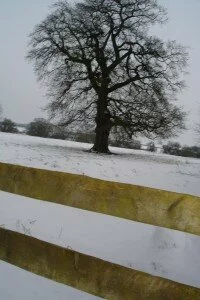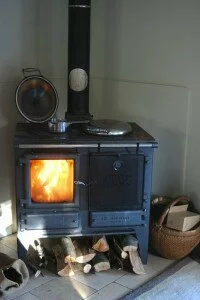 In the increasingly chilly evenings though, my treat by the woodburner is to either browse seed catalogues and read Joy Larkcom for planting inspiration or to reach for my knitting bag. I know, it's wild here in the Cotswolds.
But honestly, for those who don't yet partake, it's so cosy and relaxing to knit. I'm addicted and other blogs such as the wonderfully creative Soule Mama and welsh hills again keep reminding me of the lovely things I might make.
Then I remember my capabilities. And a look inside my knitting bag reveals lots of unfinished projects. There are some beautiful fingerless gloves – well, they're beautiful on the pattern photo which was passed on to me by a more capable knitting friend. I believed her when she said they were "so easy." Then there's a charcoal chunky woollen cardigan in gorgeous Debbie Bliss Glen wool that will be so warm in this snowy weather. Except of course, at my speed, it'll probably be more like summer when it's completed.
But for anybody who has my sort of enthusiasm for making things, but a beginner's ability, I can definitely recommend a very satisfying, easily achievable project. Welly socks. For children's socks particularly, they're so quick (even for me) to complete. Giving you lots of relaxing time knitting in front of the fire on a chilly evening, with that lovely feeling you get when making something that isn't very taxing to the brain; you half switch off, can watch telly at the same time but have the satisfaction at the end of the evening that you've achieved something.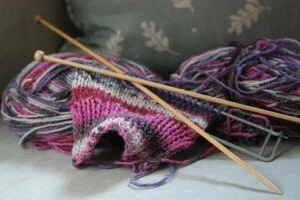 The pattern I've used is Sirdar Crofter and uses nicely chunky wool and big needles so knits up very quickly as well as being simple to follow. There's a pattern in the wool that also knits (with no skill at all on my part, thankfully) into a fairisle style just by knitting straightforward stocking stitch. Magic wool I call it.  I love to support (and am addicted to browsing in) my local knitting shops but as they don't stock Sirdar, I bought this from Deramores online.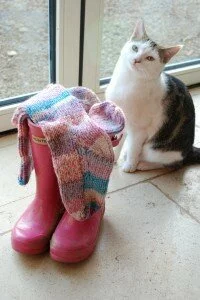 My daughter loves her hand knitted socks and has been putting them to the test on this very snowy weekend.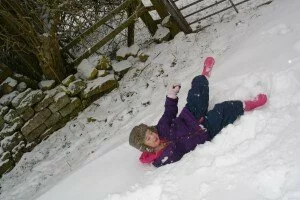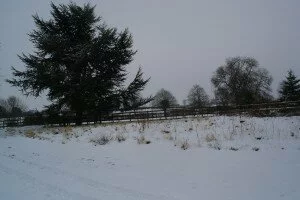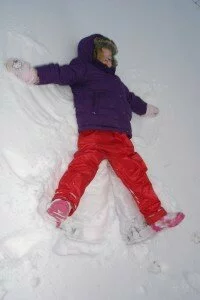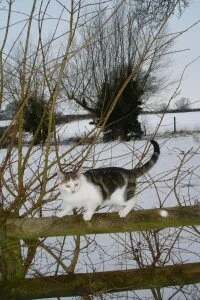 They've kept her snug in her wellies while she's sledged, made snow angels and built a snow house. I'm starting knitting the next pair for her – in fact Ruby has been reminding me today that I need to get a move on! My own feet seem rubbish at keeping warm though. Despite three pairs of socks inside my wellies, I feel like poor Guinea in the snow. Maybe homemade woollen ones are what I need. So there's the next project….