I'd heard wonderful things about Demuths, a restaurant with a passion for vegetables in a Georgian townhouse in Bath, from my vegan friend and food photographer Chava.
Chava raved about the puddings here, particularly "THE BEST sticky toffee pudding" and the chocolate cake she'd scoffed here previously. She told me that she ate here after being vegan for several years and the choice of vegan puds was a revelation: "I didn't think I'd ever eat a dessert like this again!"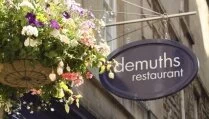 I'm totally passionate about growing, cooking and eating vegetables but have spent the last 4 months enthusiastically making chorizo, salami and air-dried ham from my own rare breed pigs. So a restaurant review from the two of us of a vegetarian restaurant seemed an interesting idea.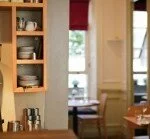 We arrived feeling extremely relaxed, even before the lovely sparkling wine that we sipped as we perused the menu. Having just spent a blissfully decadent day at ThermaeBathSpa, where we'd floated in mineral rich warm water and had aromatherapy hot oil massages, our bodies were soothed from all the Christmas rushing around and we felt amazing. We probably looked like the main course of 'Mike's Beetroots, cooked several ways'  with oily hair from the wonderful head massages.
Settling into the panelled alcove we were seated in, I did wonder if this was so that we didn't put other diners off their meals. But having enjoyed the cosiness as well as the evening view of Bath Abbey from the large georgian window, I can definitely recommend it.
I can also definitely recommend the starters, possibly my favourite part of the meal. My local leeks with hickory smoked potato, hazelnuts, apple and pickled yellow mustard was delicious, each unique taste (maybe I live a sheltered country bumpkin life but I'd never come across hickory smoked potato before) going so well with each other. Chava had wild mushrooms with a rich mushroom jus, rosemary onions, sunchoke mousse and a sunchoke crisp and, having cheekily tasted hers too, it was fabulous, full of robust flavours.
When I first looked at the menu I loved the fact that it was short, offering 4 or 5 choices for each course that seemed to be making great use of seasonal produce. This concise menu changes monthly, enabling Demuths to make best use of newly available ingredients, maybe kale in January or local strawberries in summer. The only thing that I was a little uneasy about were the number of options with a 'jus' or a  'fondant' or 'emulsion.' Being a big fan of cooking great ingredients in an unpretentious way, I had slight qualms as to whether this food was going to be a tad fancy for me.
The 'rich mushroom jus' and the 'sunchoke mousse' with the wild mushroom starter and the 'orange gel' that went perfectly with the mulled chocolate ganache with candied beetroot pud, actually turned out to be some of my favourite tastes of the evening though. Nothing poncey about them at all, just delicious ways of highlighting and sometimes intensifying the flavours of fabulous fruit and vegetables.
It's inspired me to dig more jerusalem artichokes from the garden to puree in fact, so memorable was the sunchoke mousse. I hadn't realised until my Demuths visit that jerusalem artichokes were originally natives of north america – intrigued by the lovely sounding 'sunchoke' describing something that tasted very much like the knobbly artichokes from my garden, I googled them afterwards and found that this is their native name.
For mains, Chava had a twist on the veggie classic, nut roast – a tempura version, this came with a cider and cranberry puree and cider gravy (which she loved), brussel sprouts, carrots and potatoes. I had soft ricotta gnudi with roast butternut squash, pickled onion squash, and cavelo nero in sage butter and thyme pesto. The ricotta gnudi was a little too rich for me – but I have to take the blame here for not making the best choice knowing my own tastes. When choosing I think I was seduced by the butternut squash and cavelo nero, two of my favourite veggies, and they were fabulous.
Some of the other mains such as curried cauliflower and spiced potato reminded me that Rachel Demuth, who set up this restaurant in 1987, is very much inspired by international cooking. Her two passions are food and travel and she also inspires others with her sense of adventure in The Vegetarian Cookery school, next to the restaurant. Guest chefs such as Yotam Ottolenghi, Tom Herbert and Celia Brooks join Rachel at the Cookery school where courses include Thai and Vietnamese, Southern Indian, Plot to Plate and Flavours of the Middle East.
Rachel also manages to fit in writing cookbooks (Green Seasons Cookbook and Green World Cookbook – beautiful food photos from the books look great on the walls at Demuths) and writing a blog with tempting recipes. Her January recipe for Moroccan Orange and Sultana Salad looks lovely with its blood oranges, fresh mint and pomegranite syrup. She travels regularly, always on the lookout for culinary inspiration and arranges vegetarian cooking holidays in Spain, Italy and India.
I'm often keen to use my home-grown Cotswold ingredients in some far-flung escapism during the winter months, so Rachel's way of sourcing the best seasonal produce (whether local cheese, artisan bread or fresh vegetables from a local market garden) and adding some culinary exoticism to them, really appeals to me.
As did the puds on the menu at Demuths. Even though we were very well fed, Chava and I really liked the sound of the date and pistachio 'baklava', the carrot cake with homemade mascarpone and the vanilla pannacotta with fresh plums and a plum gazpacho. We opted for the chocolate ganache, very rich but perfect to share.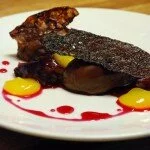 The mellow music and relaxed atmosphere at Demuths suited our mood perfectly but this is a lovely, intimate restaurant where you'd feel just as comfortable popping in for a slice of carrot cake as you would turning up for a special meal.
Chava, who took the fab pictures above of our food, had turned up with high expectations after previous visits. She said the food was just as wonderful as her memory had led her to believe.
I found the imaginative use of great local produce really exciting and definitely didn't miss meat or fish. In fact I didn't really think of my Demuths visit as a vegetarian dinner, just as delicious food that had been really well sourced and very thoughtfully put together.
Many thanks to Demuths for a lovely meal!
Demuths Restaurant
2 North Parade Passage
Bath
BA1 1NX
To book a table email