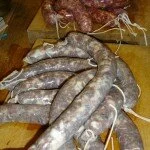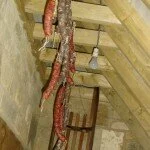 My friend Katie turned up this morning with her sausage making machine. A huge relief after spending yesterday evening attempting to squeeze minced pork flavoured with red wine, garlic and fennel seeds into hog casing using only a chopped off water bottle.
We still have plenty of meat from our Berkshire pigs in the freezer and now the temperature's dropped I was keen to make chorizo and salami to air-dry outside. Optimistic as usual I thought it may be possible to squeeze the mixture for a few salami into hog casing with a bit of improvisation. After lots of trial and errors last night and a very tired daughter insisting, "Mummeeee, I want to make sausage NOW" I gave up.
How lovely and decadent it seemed to have a couple of child-free daytime hours to concentrate on making chorizo and salami with a good friend and her sausage maker. We even had the woodburner going, coffee pot steaming on it while we worked.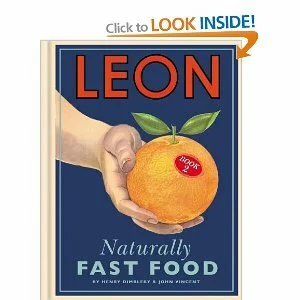 Having come across Leon:Naturally Fast Food Book 2 (full of wonderful family recipes) in a charity shop recently, I tried out their recipe for Salami. The recipe specifies that once you've filled your hog casing with meat, you need to wipe it with vinegar and then with the whitened skin of an existing salami. I had visions of taking my slippery salami into a deli and when it got to my turn in the queue, asking for a quick rub of their salami mould. Thankfully I decided against this and splashed out on a small salami. Now it's got very vinegary skin, has been rubbed on a lot of hog casing and I'm wondering if it will still be okay to cook with.
Before you start the recipe below, make sure you have handy: sausage maker ready to go, scissors, butchers string (cut into handy lengths ready) a large baking tray to put each salami on as you go. Once you're dealing with slippery hog casing and have greasy hands, rummaging through the cupboards isn't ideal.
Leon Strategy Salami
Ox-runners, soaked overnight
2 teaspoons fennel seeds
1 clove of garlic
1.5kg pork shoulder (I actually used mix of shoulder and other cuts)
500g back fat (We have lots from our pigs in the freezer but it's worth asking a butcher for this as it's often wasted)
2 teaspoons peppercorns
salt (2% of the weight of combined meat and fat)
400ml red wine (I used a fruity, full-bodied Sicilian)
a ready-made salami (this will help the right sort of mould develop)
Soak ox-runners overnight in large bowl of cold water. Put each end up to the tap and rinse through with cold water.
Dry roast fennel in a pan. Peel the garlic and crush finely. Coarsely mince the pork and chop pork fat into little squares. Put all ingredients except wine in a bowl amd mix thoroughly. Make sure you weigh salt carefully. Too much and it will be too salty, too little and the salami may go rotten. Add wine to bowl gradually and mix it into the meat until it's all absorbed.
Fill your sausage filler, stick two fingers into the end of ox runner and dip it under the water. Now slide whole runner on to the end of your sausage filler (I found some of the runners trickier than others, being very wet helps and if they tore, we just ended up with a few short salami which should be handy).
Squeeze out a little of the mix to make sure there is no air in the runner. Fold over the runner and tie it with a single knot, then flip over loose end and tie it again. Fill runner carefully, making it as tight and air-free as possible without the runner tearing. When you have a sausage at a length you like (20cm -30cm plus I did a few shorter ones, thinking they'll be good Christmas presents with homemade preserves etc), tie it off again with a single knot, then flip it over and tie a double knot. Leave enough loose string to hang the salami. Continue until you are out of the mix.
Rub the skins with a cloth soaked in vinegar then rub on the whitened skin of an existing salami to the skin of your salami to transfer some mould. Hang the salamis in a cool airy place (I'm going to hang them under a high covered porch where we have a handy log store).
Wait between 4 and 12 weeks, depending on the climate and how hard you like your salami.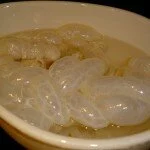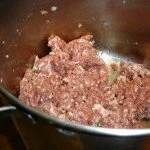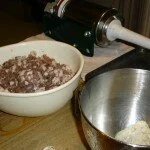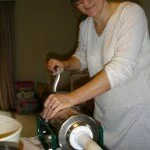 I also minced some pork meat and back fat to make chorizo. Taking Alex's advice at florasposts I bought the chorizo kit from weschenfelder as even it seems a good way of buying the hogs casing (which I used for the salami too) preserving salts, seasonings and starter culture (to encourage growth of the right sort of mould) in manageable quantities. The Original River Cottage Cookbook has some great chorizo suggestions too. Mine are going to hang to dry alongside the salami and should take similar time – although if you want cooking chorizo you can use a lot earlier. So I may try one after a couple of weeks but wait until Christmas to try 'raw'.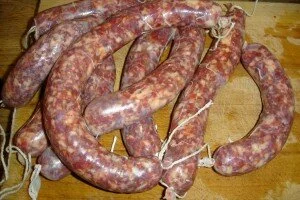 In the meantime there was some of the salami mixture leftover which will make great meatballs with pasta and tomato sauce. And I have a good portion of Hugh Fearnley Whittingstall's great mexican tupperware chorizo (minced pork flavoured with paprika, garlic, red wine, chilli, salt)  from "River Cottage Everyday" in the fridge if I need a chorizo fix.
These all seem great ways to me of making good, well-reared meat go a long way, adding flavour to so many meals. Equally relevant whether it's with pork from your own pigs or meat bought from a farmer or butcher.