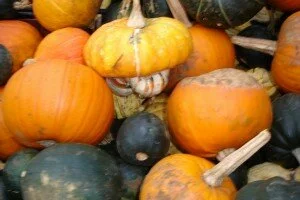 Each time I go into the garden at the moment I'm conscious that the brussels and leeks may be doing fine but mostly things are fading fast. Which reminds me, at breakfast this morning, Ruby asked, "Mummy, why are there all those creases on your face?" Moving swiftly on, there are still a few sunny looking calendula hanging on in there and the ever hardy chard is as resilient as ever. But for how long?
My mind focused on making best use of what I have, ideas are rattling around my head for dinners involving chard and squash. They go well together in so many dishes: a family favourite mid-week supper involves roasting chunks of squash with garlic and olive oil, then layering it with a simple tomato sauce, cooked spaghetti and ricotta mixed with cooked chard. Toasted pine-nuts are good in the squash layer too, you can add chopped chorizo if you like for any raving carnivores and some grated cheese on the top before baking is yummy. I tend to make a couple at a time, keeping one in the freezer for a night when an easy supper is essential.
Another favourite is a laksa style noodle dish with squash and chard. I sometimes add prawns for a treat but it's still a tasty, warming Autumn supper without them. And I like mint sprinkled over the noodles to finish, while it's still around, but not essential in the winter.
Noodles with Squash, Chard and Prawns
serves 4
350g squash
3 deseeded chopped chillies
2 cloves garlic, chopped
handful of coriander leaves
handful of chard
2 handfuls raw king prawns (optional)
2 tablespoons rapeseed oil
600 ml stock (you can make a simple stock with prawn shells, use vegetable stock or see the stock recipe below)
400ml can coconut milk
2 tablespoons thai fish sauce
1 lime
1/2 teaspoon turmeric
150g dried noodles, cooked as on packet and drained
Peel, seed and chop squash into bite-sized chunks. Remove white stalks from chard and chop then shred green part. Heat oil, add garlic, ginger, chilli and cook for couple of minutes then add coconut milk, stock, turmeric and thai fish sauce. Bring to simmer then add squash and cook 8 mins (unless it's a squash that you know softens very quickly, you need it still to be undercooked at this point). Add white chard stalks for a few minutes then add prawns. After a few minutes as prawns are starting to turn pink, add noodles and greens, stir until chard wilts. Take off heat, add lime juice to taste and scatter with plenty of coriander and mint to serve.
I made Louisa's butternut squash,feta and red onion tart with thyme from Chezfoti a few days ago and we all loved it. Wondering if this would work with chard too? Either way, I need to grow more squash next year.
I've struggled growing butternut squash ever since we moved here. They're so tasty and I grew them successfully at our allotment just a couple of miles from here, so the first bad year I put it down to particularly poor summer weather. I've come to realise that although we live in the Cotswolds, hardly a bleakly remote spot, we're quite exposed up our hill and I need to choose easier varieties. Having read an article by Val Bourne recently, I was reassured that butternuts are dodgier to grow and that she's failed in her cool Gloucestershire garden to grow them too. So next year I'm following her recommendations for tasty squash that are productive even in English summers and opting for :
Kabocha squash
Uchiki Kuri or Red Onion Squash : those lovely sweet, bright orange ones. Apparently crop well even in our cool summers.
A Hubbard type squash – I love those beautiful silver/grey skinned squash that reveal bright orange flesh when you slice. These store well too.
It's lovely as this year's harvest fades to plan planting the next year's crop isn't it. And I'm also planning to make more use of the edible treats that I don't plant. Poppy seeds for example. We have poppies self-seeding like crazy all over our garden and they're such a pretty mix of colours from delicate lilacs to rich magenta that I'm far too weak-willed to pull many up. Yet ridiculously, considering this free bounty, I haven't used the seeds in food this year at all. Prompted by Hugh's 3 Good Things last week, I'm planning to use poppy seeds in cakes, with beetroot, in fact on a topping for a beetroot and chocolate cake sounds good. Also like the look of Jen at Blue Kitchen Bake's poppy seed biscotti.
Of course the one area where I'm always trying to make best use of what I have is with our pork. Alex at Flora's posts has even convinced me that I need to render lard, if only for the fabulous roast potatoes. I was very keen to keep the bones to make stock, one went in the veg-filled soup I made this week for easy lunches for Guy and me. But I'd also been wanting to try making vietnamese pork stock, imagining it would be great to have in the freezer, ready to add flavour to all sorts of noodle dishes. I based my stock on the Nuoc Leo Heo recipe from Pauline Nguyen's wonderful "Secrets of the Red Lantern". This is one of  those books that are as lovely to read and look at as it is to cook from. It has so many fabulous vietnamese recipes that I plan to use our meat in.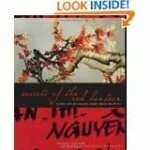 Have to admit I was too lazy to drive to a shop for spring onions when I had baby leeks in the garden and likewise I substituted lemon balm for lemon grass. Anyone less shoddy can obviously adhere to the original.
Nuoc Leo Heo (pork stock)
1 kg pork bones
chicken carcass
5 cm piece of ginger
1 bulb of garlic
A few sprigs of lemon balm (or a lemon grass stem if you live nearer to shops than me)
4 small leeks or chopped Egyptian walking onions from the garden, they're a great, easy perennial (or 4 spring onions)
5 litres water
Wash the bones under cold water, then place them in a large saucepan. Slice the ginger and garlic bulb in half, put in pan wit other ingredients. I just cleaned and chopped ends off leeks, adding all of the green part. Bring to boil, skim surface impurities, reduce heat and simmer for 2 hours (obsessed with woodburner cooking at the moment, I enjoyed the free element of cooking for such a long time on this while I worked at kitchen table). Pour stock through a sieve, then you can portion into smaller amounts. The stock will last in the fridge for 3 days or in the freezer for 3 months. I'm looking forward to using it in asian noodles dishes and a vietnamese dish for slow-cooked pork shoulder with shrimp paste and lemon grass from "Secrets of the red lantern". Any other ideas would be great.